9 Best Laravel Hosting 2023 (Shared & Cloud Servers)
This post may contain affiliate links. Please read our disclosure policy.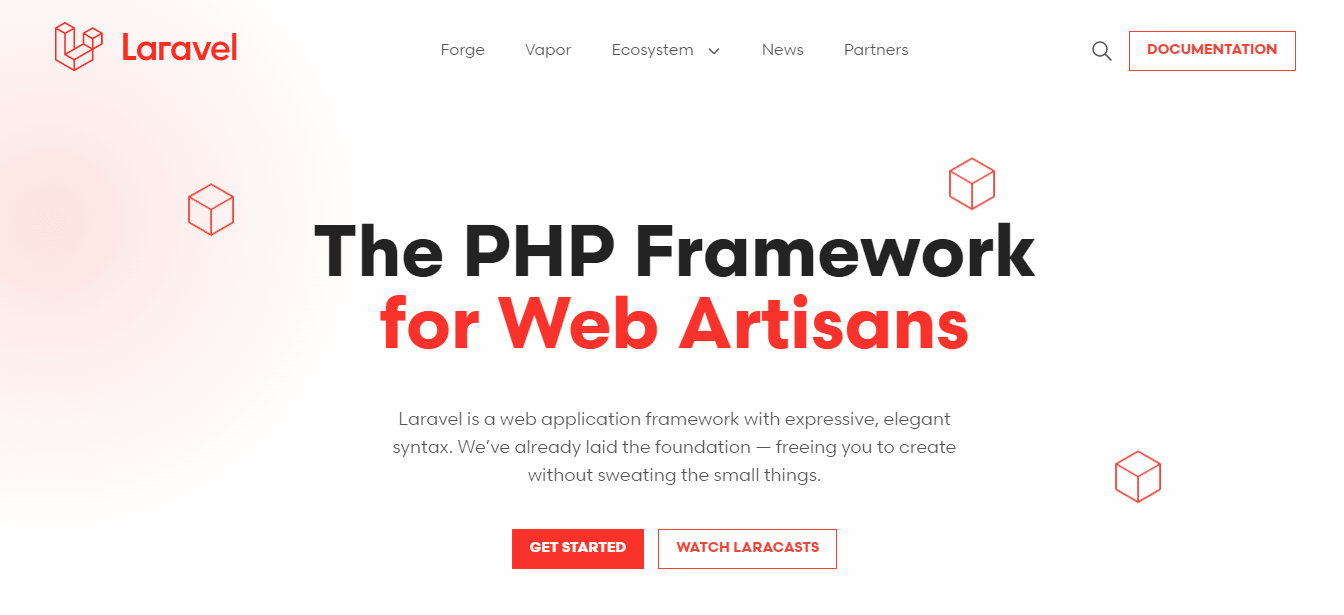 Laravel is a PHP framework that has gained popularity due to its focus on simplifying website development. It is an excellent choice for developing high-quality web applications.
The best web hosting for Laravel is typically a managed Laravel hosting service that includes all of the necessary tools and services for running a Laravel application.
When choosing a web hosting provider for Laravel, it is important to select a provider that offers good support for the framework.
9 Best Laravel Hosting
1. Cloudways – Best Managed Hosting for Laravel
Pros
1-click Laravel installation
A lot of data centers to choose from
Free trial
Managed servers
Scalable
Cons
Not cheap as it is a managed server
Support is just OK
When it comes to Laravel hosting, Cloudways is often considered the best option. Cloudways offers a variety of plans that are optimized for Laravel, and it provides a wide range of features that are perfect for Laravel development.
With Cloudways, you can easily deploy and manage your Laravel website in the cloud. Take a look at the sample below on how you can add Laravel with just a few clicks on Cloudways.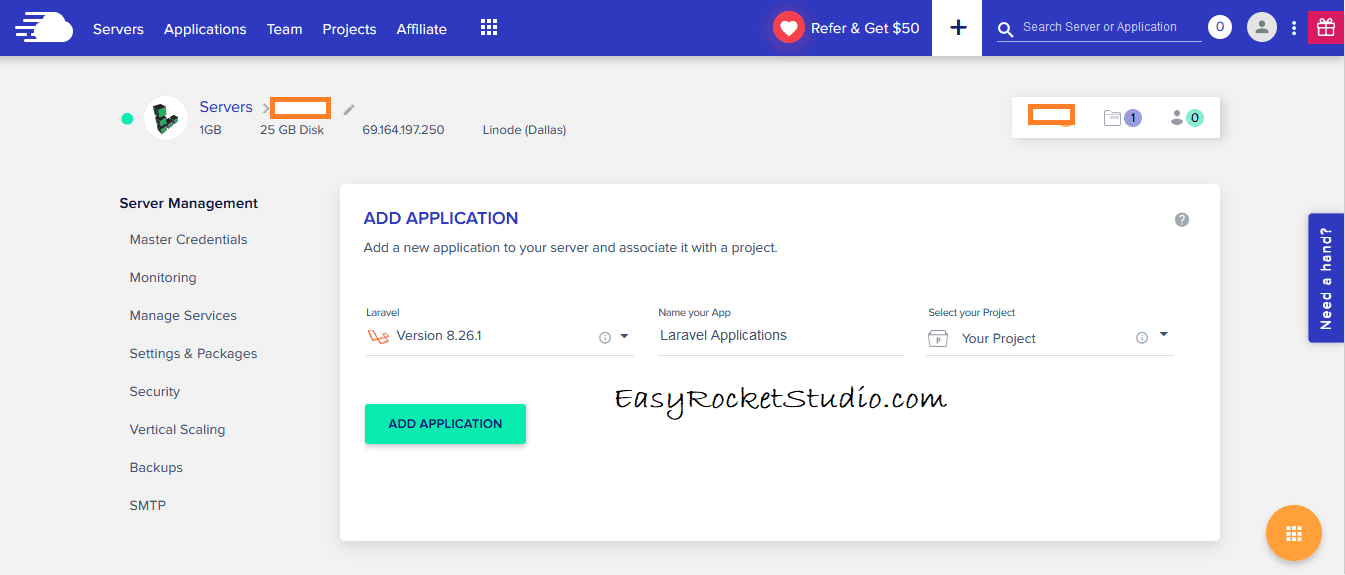 You can easily scale your server up when you needed more power for your Laravel applications.
You can choose from 5 different servers with different locations worldwide. Choose from Digital Ocean, Linode, Vultr, AWS and Google Cloud.
As far as their uptime guarantee, I have experienced 100% in a year.
Cloudways Laravel hosting starts at 1GB RAM, 1 Core Processor, 25GB Storage, 1TB Bandwidth at $10 per month. It includes many features such as SSH and Git access to your applications, unlimited Underlying OS Updates and Patches and more.
Cloudways hosting is managed so you don't need to maintain your server yourself. In addition, they have 3-day free trial that doesn't require credit card.
---
2. Contabo – Affordable Unmanaged Server
Pros
Affordable unmanaged server
Powerful specs
Huge storage space and bandwidth
10 data centers worldwide
Cons
You need to manage your own server
Setup up fees when paid monthly
Contabo provides high-performance hosting services ideal for Laravel applications. Contabo's VPS and Dedicated Servers offer the power and flexibility needed to run any Laravel application with ease.
With Contabo, you get the power and flexibility of a Virtual Private Server (VPS), the security and performance of a Virtual Dedicated Server (VDS), and the reliability of a Dedicated Server – all at an affordable price. Contabo also offers affordable Object Storage, which is perfect for hosting large amounts of data, and Web Hosting, which is ideal for small to medium-sized Laravel applications.
Contabo's VPS plans start at just $6.99/month, and its Virtual Dedicated Servers start at $49.99/month. Contabo also offers a wide range of features that are perfect for Laravel hosting, such as SSD storage, a free SSL certificate by Let's Encrypt, and 24/7 support.
Contabo's VPS server starts with 4 vCPU cores, 8 GB RAM, and 32 TB bandwidth and 50 GB NVMe or 200 HDD, making it more than capable of handling even the most demanding Laravel applications.
While their Virtual Dedicated Servers are powerful enough, you only need this if you have bigger application consumption. Their VDS specs starts at 3 Physical Cores, 24 GB RAM, 180 GB NVMe, 250 Mbit/s Port and 32 TB Traffic.
If you want a smaller and cheaper hosting plan, you can try their Web Hosting that starts at $3.99 per month. You'll get 50 GB space, 20 MySQL Databases, 1 Domain and 1000 Email Addresses.
Contabo is unmanaged server. Meaning if you'll install Laravel, you need to install the requirements first like PHP before installing Laravel. Take note that you'll be the one responsible for maintaining your server.
---
3. Linode – Cheap Cloud Hosting for Laravel
Pros
Affordable cloud for Laravel applications
Free credits to try out
Scalable
Great support and uptime
11 data centers to choose from
Cons
Knowledge in installing Laravel prerequisites needed
Maintaining your own server
If you're not into managed Linode hosting on Cloudways, you may opt for their unmanaged services.
Linode offers fast performance, excellent customer support, and a wide range of features that are ideal for Laravel applications. Linode is a hosting provider that I have used for a Laravel project. I found Linode to be simple, easy to use and very reliable. The project was up and running in no time.
And when I had trouble with my code, their support team was very responsive in helping me fix the problem. In addition, Linode offers a wide range of products and services, so you can find the right hosting solution for your project. I would definitely recommend Linode to anyone looking for a reliable and easy-to-use hosting provider.
Linode is a Linux-based web hosting company that offers both virtual private servers and dedicated servers. Linode has been in business since 2003 and has a wide variety of plan options to choose from.
Linode offers Dedicated CPU Plans, Shared CPU Plans, High Memory Plans and GPU Plans. Linode also offers a managed service called Linode StackScripts. StackScripts allow you to provision and manage your Laravel applications with ease. Linode also has a wide range of add-on services that can be used to further customize your Laravel hosting experience.
Linode's servers are located in 11 different data centers around the world, so you can select the location that is best for your audience.
Linode also provides free credits to try their hosting.
---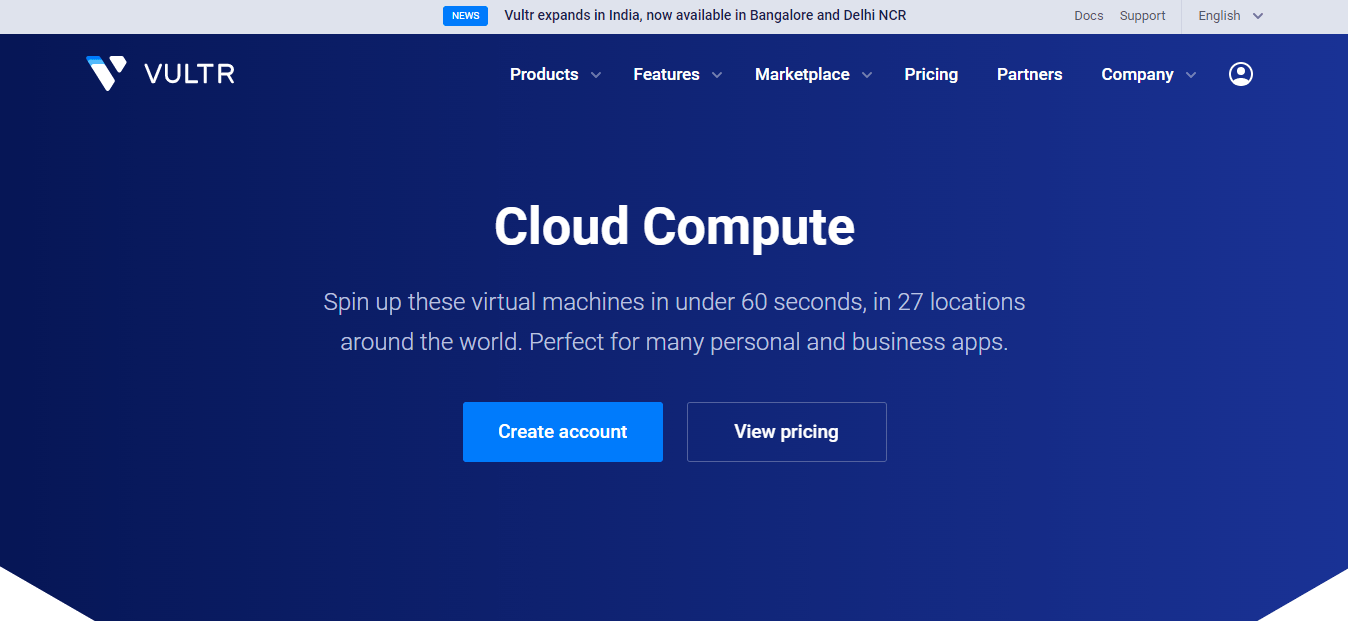 Pros
Affordable cloud hosting for Laravel
Free trial
27 worldwide locations
Scalable
Cons
Knowledge in server management needed
You need to install Laravel prerequisites yourself
Vultr is often lauded as one of the best hosting providers for Laravel applications. Just like Linode, you need to have a knowledge in server management because you will be the one installing Laravel yourself.
Vultr offers Cloud Compute, Optimized Cloud Compute, Cloud GPU and many more for hosting Laravel.
Vultr's Cloud Compute plan is a great option for those who need a simple and reliable Laravel hosting solution. The Optimized Cloud Compute plan is perfect for those who need more power and flexibility if your Laravel applications need more powerful performance.
Vultr provides its users with a wide range of options for operating systems. Vultr's operating system choices include some of the most popular OSes on the market, such as CentOS, Ubuntu, Fedora, and Debian.
They also offer users the ability to choose between a variety of Windows, such as Windows Server 2012 R2 and Windows Server 2016, Windows Server 2019, and Windows Server 2022.
Vultr has 27 data centers worldwide, allowing you to choose the location that best meets your needs. All of their data centers are equipped with high-performance hardware and their own global network.
Vultr's data centers are located in North America, Europe, Asia, and Australia. Each Vultr data center has multiple 10 Gigabit Ethernet connections to tier-1 transit providers. Vultr's network is designed for reliability and performance.
Vultr's global footprint provides you with the flexibility to deploy your applications close to your users for the best possible performance. Vultr's data centers are located in: North America – Dallas, Los Angeles, Miami, New Jersey, New York, Seattle, Silicon Valley Europe – Amsterdam, Frankfurt, London Asia – Bangkok, Hong Kong, Mumbai, Seoul, Singapore Australia – Melbourne, Sydney South America – Sao Paulo.
---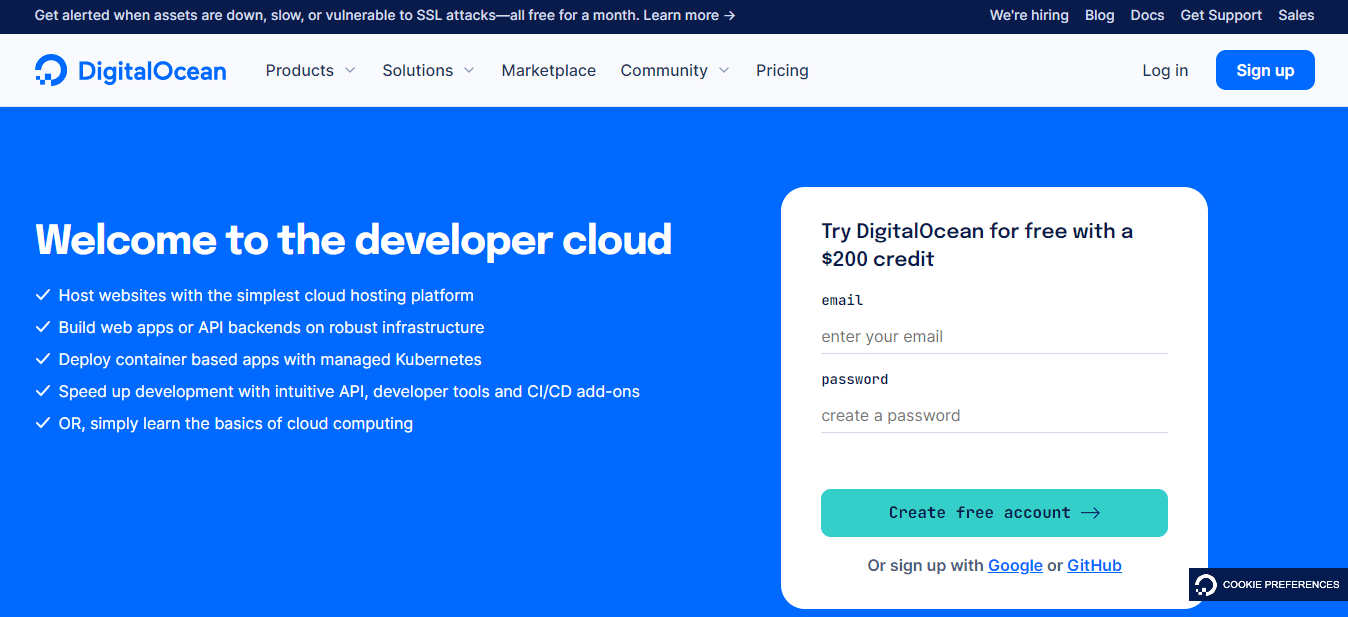 Pros
Cheap cloud hosting
Free add ons
$200 free credit to try their service
Scalable
Cons
Server management knowledge needed
You need to install Laravel prerequisites yourself
Digital Ocean is another great choice for hosting Laravel applications. The hosting company offers a variety of features that are well-suited to the needs of Laravel developers.
First, Digital Ocean provides a simple and straightforward way to set up and manage servers. This makes it easy to deploy and maintain Laravel applications.
Second, Digital Ocean offers an excellent set of tools for monitoring and managing server resources.
This ensures that your Laravel application always has the resources it needs to perform optimally. Digital Ocean provides top-notch security features to keep your Laravel application safe and secure.
Digital Ocean offers a variety of hosting services that are priced differently. Their App Platform and Functions start at $0 per month, while their Droplets and Kubernetes start at $4 and $12 per month, respectively.
Digital Ocean's services are designed to be scalable so that businesses can grow their online presence without having to worry about increasing costs. Their pricing structure is designed to be competitive and they offer a variety of features that are included in their base prices.
In addition, Digital Ocean provides a number of helpful tutorials and articles on their website to help you get started with hosting your Laravel app on their platform.
Digital Ocean operates data centers all around the world in order to provide customers with the best possible service. The company has invested heavily in infrastructure and has a team of experts who are constantly working to improve performance and availability. Digital Ocean's data centers are located in North America, Europe, Asia, and South America.
This provides customers with the ability to connect to their applications and services from any location. Digital Ocean's data centers are also home to a variety of security features, including firewalls, intrusion detection systems, and physical security measures. These features help to ensure that customer data is safe and secure.
Digital Ocean also has excellent customer support, and their pricing is very competitive. Overall, Digital Ocean is an excellent choice for hosting Laravel applications.
I would highly recommend their services to anyone looking for a reliable and affordable hosting provider.
---
6. Liquid Web – Robust Managed Hosting for Laravel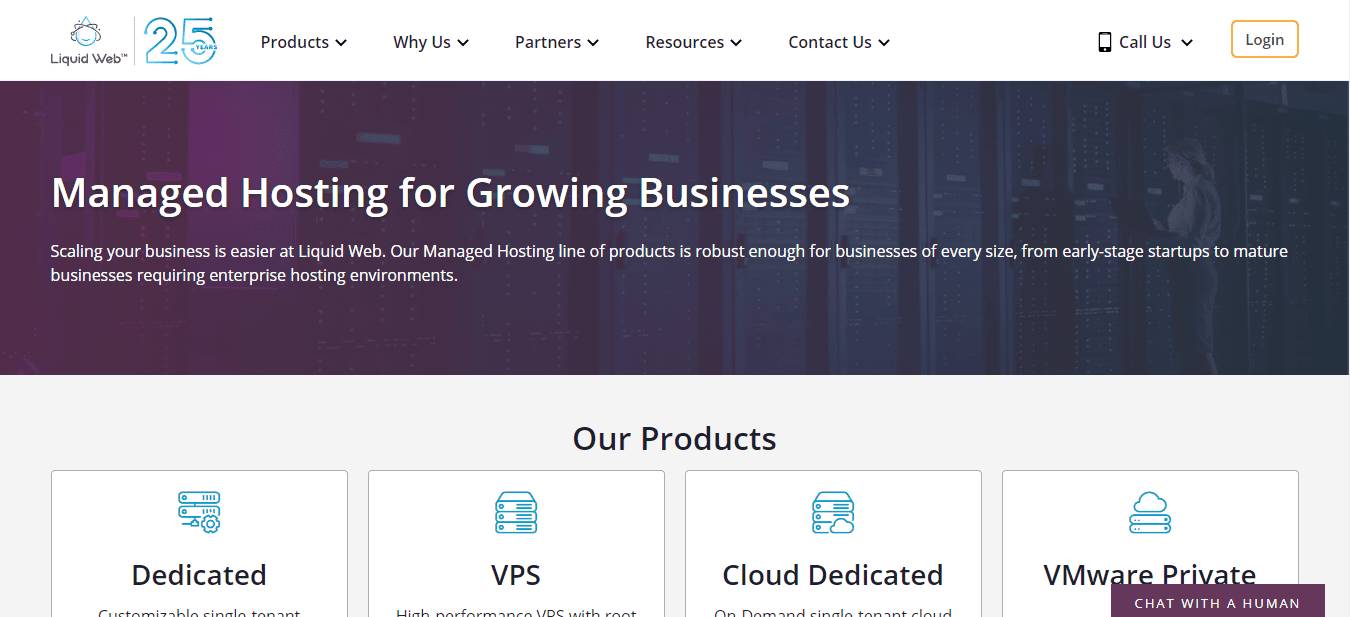 Pros
Performance at its finest
Managed hosting platform
Scalable
Dedicated forum for Laravel users
Cons
Expensive because of its managed environment
US and Europe only data centers
Liquid Web offers a managed hosting platform that is well-suited for hosting Laravel applications. Their platform is robust and reliable, and they offer excellent performance.
Liquid Web's managed hosting platform is built specifically for frameworks like Laravel, providing you with the optimal server configuration for your application. This can be a valuable service for developers who want to focus on their code, rather than on server administration.
In addition, Liquid Web provides a number of features that are essential for running a Laravel application in production, such as performance monitoring and security hardening.
Liquid Web VPS and Dedicated Hosting are two of the most popular web hosting options available. Liquid Web VPS offers virtual private servers that are ideal for Laravel applications that need more power than a shared hosting plan can provide, but don't want to pay the higher prices of a dedicated server.
Their Dedicated Hosting provides even more power and flexibility, making it perfect for applications with high traffic or complex hosting requirements.
Their VPS plans starts at $25/mo and their Dedicated Hosting plans starts at $169/mo. Liquid Web's VPS plans includes 2 vCPU Cores, 40 GB SSD Storage and 10 TB Bandwidth. Their Dedicated Hosting plans include 4 cores @ 3.9 GHz Max, 16 GB RAM, 2 x 240 GB SSD Primary Disk, 1 TB SATA Backup Disk, 5 TB Bandwidth, 250 GB Acronis Cyber Backups and with cPanel.
While Liquid Web is more expensive than some other hosting providers, the robust performance and features that they offer make it worth the price.
In addition, Liquid Web's customer support is excellent, and they offer a money-back guarantee if you're not satisfied with their service. Overall, Liquid Web is an excellent choice for hosting Laravel applications.
---
7. Hostinger – Great for Exploring Devs
Pros
Easy Laravel installation through their hPanel
Free email and domain
Great specs for a shared hosting
Cons
You need long term commitment to get the freebies
Need the Premium Shared Hosting Plan to have SSH access
Hostinger is a great hosting for developers who are still exploring Laravel. Hostinger offers a wide variety of features to its users, making it a great choice for those who are still exploring Laravel
Hostinger's support for the latest versions of PHP and MySQL makes it an ideal platform for developing Laravel applications. In addition, Hostinger provides a wide range of features that are specifically designed to make life easier for Laravel developers.
For example, Hostinger's one-click installer makes it quick and easy to set up a new Laravel project. And, Hostinger's extensive documentation means that developers can quickly find the information they need to get started.
Hostinger offers a great deal of freedom and flexibility when it comes to web development. One of the many advantages of using Hostinger is the ability to install Laravel through their own hPanel.
While technically you can install Laravel on any hosting platform, Hostinger's support for the framework makes the process much simpler and more straight-forward. In addition, Hostinger's support for Laravel ensures that you'll have access to the latest features and security updates.
As a result, you can be confident that your website will be running on the most up-to-date version of Laravel.
If you're looking for a hosting platform that will make developing Laravel applications quick and easy, then Hostinger is a great start.
---
Pros
Easy Laravel installation
Free domain and SSL (except Core Plan)
SSH access on all plans
Cons
InMotion Hosting offers hosting for Laravel on a shared environment. InMotion Hosting is a leading provider of web hosting services. They have been in business since 2001 and offers a variety of hosting plans, including Shared, VPS, Dedicated, and Reseller plans.
InMotion Hosting makes it easy to install Laravel through the Softaculous one-click installer. In a few clicks, you can have your Laravel project up and running without having to manually install it.
Softaculous automatically installs all the dependencies for you, so you don't have to worry about that either. After that, Softaculous will do the rest for you. In no time at all, you'll have a fully functional Laravel project that's ready for development.
InMotion Hosting's shared hosting plans are some of the most competitive in the industry, starting at just $2.99 per month. Their shared hosting plan is an affordable way to get your Laravel applications up and running.
For as little as $2.99 per month, you can have a professional-looking website that is fast, reliable, and secure. Plus, with InMotion Hosting, you get a free domain name, free SSL certificate, and unlimited storage and bandwidth. There are also no setup fees or hidden costs.
One-click Laravel installation
Affordable hosting
SSD storage
Cons
InterServer's Laravel hosting is one of the best hosting plans for this framework. They have been in the hosting industry for over 20 years and provides a wide variety of hosting services such as shared, VPS, cloud, and dedicated.
InterServer offers a wide range of features that are ideal for Laravel application development, including unlimited SSd disk space and bandwidth, a free SSL certificate, and support for multiple PHP versions compatible to Laravel.
InterServer's easy-to-use hosting platform makes it a great choice for those looking to build a Laravel-based website or application. InterServer offers two options for installing Laravel: through Softaculous or manually.
Softaculous is an auto-installer that InterServer offers on all of its hosting plans. With Softaculous, you can install Laravel with just a few clicks.
If you prefer to install Laravel manually, InterServer also provides detailed instructions on how to do so.
InterServer offers shared, VPS and dedicated hosting for Laravel framework. Their hosting plans are fully compatible with the requirements of the Laravel platform and offer a variety of features that are essential for running a Laravel-based website or application.
InterServer's shared hosting plans start at just $2.50 per month, making them an affordable option for those just getting started with Laravel.
InterServer's VPS and dedicated servers offer more power and flexibility for larger Laravel websites and applications; $6 per month for VPS hosting, and $44 per month for dedicated hosting.
InterServer's Laravel hosting includes a free migration, free SSL certificate, and free email account. InterServer also offers a 30-day money-back guarantee.
---
What is Laravel?
Laravel is a free, open-source PHP web development framework created by Taylor Otwell and intended for the development of web applications following the model–view–controller (MVC) architectural pattern. It is considered to be one of the Laravel most popular PHP frameworks available.
It has an expressive, easy-to-understand syntax that emphasizes readability and maintainability over code brevity. Laravel attempts to take the pain out of development by easing common tasks used in the majority of web projects, such as authentication, routing, sessions, and caching.
Laravel aims to make the development process simple and efficient by providing an environment for developers where they can write code that is simple and easy to maintain. Laravel takes care of all the tedious tasks that are common in large scale web applications.
Laravel makes it easy to perform CRUD operations on databases. MVC architecture makes Laravel application more structured and helps in keeping the business logic separate from presentation logic. This separation of concern keeps Laravel code clean and maintainable.
Laravel also implements PSR standards which helps in code reusability. Overall, Laravel offers many benefits over other PHP frameworks available making it a very popular choice among developers these days.
Some of the key differences between Laravel and other PHP frameworks are:
Laravel follows MVC design pattern while other frameworks like CodeIgniter do not enforce any specific design pattern.
Laravel has its own templating engine called Blade while other frameworks use traditional templating engines like Smarty.
Laravel comes with Eloquent ORM (object relatio! nal mapping) while other frameworks come with different ORM.
'Artisan' is Laravel's command line interface which can be used for performing various tasks like generating skeleton code, database migration etc., Other frameworks do not have such a powerful CL.
Laravel includes unit testing support out of the box while other frameworks require additional configuration or third-party libraries.
Consequently, Laravel is an excellent choice for anyone looking for a powerful yet easy-to-use PHP framework for their next web application project.
How to Choose the Right Laravel Hosting?
1. Consider Your Needs
When choosing hosting for Laravel, you'll also need to consider your application's requirements. Laravel 8 requires PHP greater or equal to 7.3, so you'll need to make sure your host can provide that.
It is also important to first consider your needs. What kind of traffic are you expecting? How much storage do you need? Do you need a hosting provider that can offer additional services, such as email or database hosting? Once you have a good understanding of your needs, you will be able to narrow down your options and choose a provider that is a good fit for your application.
2. Compare Features
Once you have a good understanding of your needs, you can start comparing the features offered by different hosting providers. Some things to look for include storage space, bandwidth, email hosting, database hosting, and customer support. Make sure to read the fine print so that you understand what is included in each plan.
3. Choose a Host That Supports Laravel
Not all hosts support Laravel, so you'll need to make sure you choose one that does. Many hosts offer pre-installed applications, so you'll want to make sure Laravel is included in that list.
Managed cloud hosting like Cloudways and Liquid Web have one-click Laravel installation. This is great if you don't have system administration knowledge. Also, shared hosting like Hostinger and InMotion Hosting have also one-click installation on their respective control panels.
In addition, you need to take note that unmanaged hosting like Contabo and Linode requires you to install Laravel prerequisites.
You can check to see if the host offers SSH access, as this will allow you to install Laravel yourself.
4. Evaluate the Host's Support Options
If something goes wrong with your Laravel application, you'll want to make sure you have access to quality support from your host. Many hosts offer 24/7 support, so you can always get help when you need it.
You should also check to see if the host offers any resources specifically for Laravel developers, as this can be helpful when troubleshooting problems. Liquid Web has a dedicated forum designed for Laravel enthusiasts.
5. Compare Prices
Of course, one of the most important factors to consider when choosing a hosting provider is price. Make sure to compare the prices of different providers so that you can find one that fits within your budget.
Keep in mind that you usually get what you pay for, so don't sacrifice quality for a lower price. Managed hosting are usually expensive compared to unmanaged and shared hosting.
6. Ask for Recommendations
If you know someone who has experience with Laravel development, ask them for recommendations on which hosting providers they use and why they like them. This can be a great way to get some insight into which providers are worth considering.
7. Take Your Time
Don't rush into choosing a hosting provider for your Laravel application. This is an important decision that will impact the performance and stability of your application, so take your time and choose wisely.
8. Use These Tips!
By following these tips, you should be able to find a great hosting provider for your Laravel application without any problems. Just make sure to do your research and take your time so that you can make an informed decision
Frequently Asked Questions
What are the benefits of using Laravel?
There are many benefits to using Laravel over other PHP frameworks. Some of these benefits include its simple syntax, clean codebase, built-in testing tools, large community support, and comprehensive documentation.
What is Laravel hosting?
Laravel hosting refers to the hosting of Laravel applications on a web server. This can be done either through shared hosting, dedicated hosting, or cloud hosting.
What are the requirements for Laravel?
In order to host a Laravel application, you will need a domain name and a web server with PHP and MySQL installed. Additionally, you will need to install the Laravel framework on your web server.
What is shared hosting?
Shared hosting is a type of web hosting service where many websites are hosted on the same server. This is in contrast to other types of hosting services such as dedicated hosting or cloud hosting, where each website is hosted on its own server.
Shared hosting is often the most affordable type of web hosting service, but it also comes with some drawbacks such as reduced performance and security risks.
What are some of the drawbacks of Laravel?
Some drawbacks of Laravel hosting include its relatively steep learning curve. Additionally, because Laravel is a relatively new framework, it has not yet been widely adopted by the hosting community and thus there are not as many providers offering Laravel-specific plans.
How much does Laravel hosting cost?
The cost of Laravel hosting varies depending on factors such as the type of plan you choose, the provider you use, and the features and options you select.
Generally speaking, however, you can expect to pay anywhere from $5 to $100 per month for a basic shared hosting plan.
Managed hosting pricing can range from $10 to $2000 per month while unmanaged hosting $2.5 to $1500 per month.
In Summary
So, what web hosting did you consider for your Laravel project? If you're looking for a great host that will work well with Laravel, I recommend checking out Cloudways for managed hosting or Contabo or Linode for unamanaged hosting while Hostinger or InMotion Hosting for shared.