Namecheap Black Friday & Cyber Monday Deals 2022
This post may contain affiliate links. Please read our disclosure policy.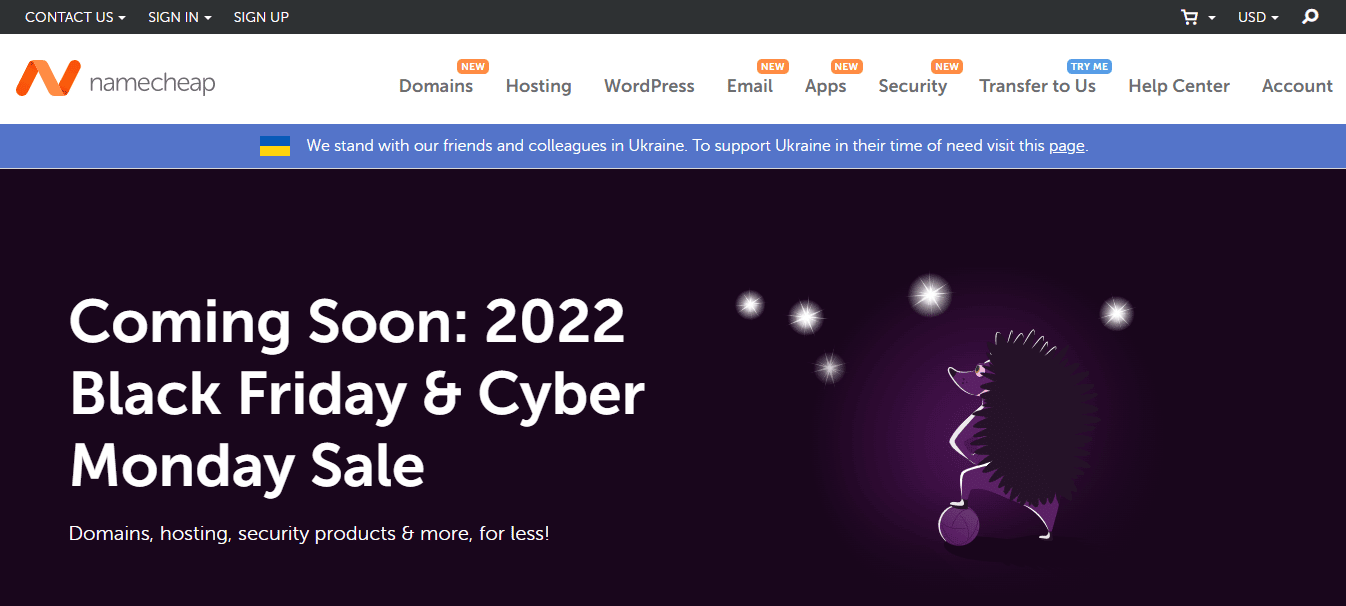 Namecheap is excited to announce its Black Friday & Cyber Monday Deals for 2022! This year, they're offering deep discounts on their domains, hosting, VPN, PremiumDNS, SSL certificates and more.
If you're looking to build or expand your online presence, it is time to take advantage of these Namecheap Black Friday amazing deals!
The sale starts at 12 AM ET on Friday, November 25th, 2022 and ends December 4, 11:59 PM ET.
About Namecheap
Namecheap is a domain name registrar and hosting company, founded way back in 2000. They are headquartered in Los Angeles, California.
Namecheap is one of the largest registrars in the world with over 10 million customers and more than 17 million domains under management.
Namecheap offers domain name registration, email hosting, WordPress hosting, SSL certificates, VPN and web hosting products at some of the best prices in the industry.
Namecheap Black Friday Deals
Namecheap is pleased to offer early bird Black Friday deals on a selection of domain, shared hosting, Managed WordPress hosting, Email hosting, PremiumDNS and VPN products.
What to expect on Namecheap Black Friday & Cyber Monday?
Namecheap is a leading provider of affordable domains, hosting plans, PremiumDNS, SSL Certificates, FastVPN, and other security products.
Namecheap Black Friday deals offer incredible savings on these products, making it the perfect time to buy.
Namecheap domains are some of the most popular in the world, and their hosting plans are known for being reliable and feature-rich.
What Services Namecheap Offer?
Namecheap is a popular domain name registrar that offers low prices and a variety of features. The company makes it easy to find the perfect domain name for your website, and their friendly support team is always available to help if you have any questions.
Namecheap also offers free Whois privacy protection for life, which hides your personal information from public view. In addition, Namecheap provides free DNS management and URL forwarding, making it easy to keep your website running smoothly.
Namecheap has a variety of hosting plans to choose from depending on your individual needs. If you're just starting out, Shared Hosting is a great option as it's more affordable than some of the other options.
However, if you're expecting a lot of traffic to your site, you may want to consider Reseller Hosting which allows you to sell Namecheap's hosting services to your own customers.
For those who are looking for an all-in-one solution, WordPress Hosting comes with Namecheap's easy-to-use WordPress plugin which makes setting up your blog or website a breeze.
And for those who need a little extra power, Namecheap also offers VPS Hosting and Dedicated Hosting plans.
Namecheap Email Hosting provides a secure, scalable solution for businesses that rely on email communications. Their email hosting services are designed to provide maximum security and uptime for your email communications, with features like two-factor authentication and encryption.
Namecheap's email hosting plans include up to 75GB for emails, support for multiple aliases, and a 99.9% uptime guarantee.
Their email hosting platform is also highly scalable, so it can grow with your business. It works with Gmail as well!
Namecheap is well-known for being a domain name registrar, but they also offer a suite of security services to help protect your online presence.
Namecheap Security FastVPN is a Virtual Private Network service that encrypts your internet traffic and hides your IP address, so you can browse the web anonymously.
Namecheap Domain Privacy protects your personal information by hiding it from Whois databases, so you don't have to worry about your data being collected and sold.
Namecheap PremiumDNS is a managed DNS service that provides you with enhanced security features like DNSSEC and DDoS protection.
And finally, Namecheap SSL Certificates are used to secure communications between your website and its visitors. By encrypting the connection, SSL Certificates help to protect against data breaches and ensure that sensitive information stays private.
Namecheap Black Friday & Cyber Monday Deals 2022
You don't want to miss out on Namecheap's 2022 Black Friday & Cyber Monday sale! Be sure to mark your calendars for November 25, 2022.