Rocket.net Review: Is This the Fastest Managed WordPress Hosting?
This post may contain affiliate links. Please read our disclosure policy.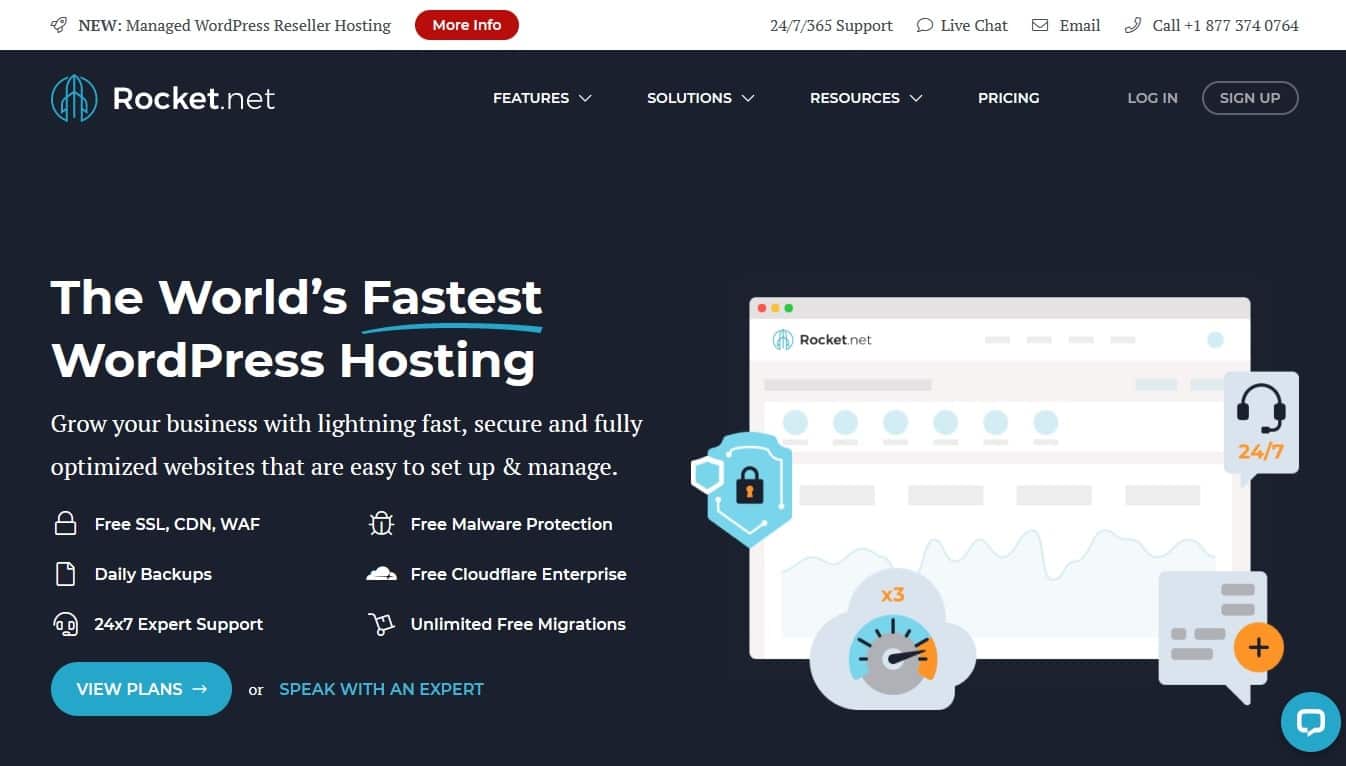 Rocket.net is unbelievably fast and lives up to its name "Rocket". Their simplistic way of hosting WordPress is out of this world but their plans don't come up cheap.
Pros
100% uptime (since 2022/02/09)
Helpful support
Staging site
Fast-loading WordPress websites
Simple and user-friendly dashboard
Cons
Speed comes with a price
Small storage size and bandwidth
As you may have noticed, this site of mine easyrocketstudio is hosted on Rocket.net. In this review, I'll share with you my experience using Rocket.net as a managed WordPress hosting provider and explain why I think it's a great choice for web developers and people who want fast managed WordPress hosting with excellent customer service.
Rocket.net Quick Overview
| | |
| --- | --- |
| GTmetrix Grade | A |
| GTmetrix Performance and Structure | 100/100 |
| Web Vitals (US) | LCP: 395ms TBT: 0ms CLS: 0.05 |
| PageSpeed Insight Performance | Mobile: 97 Desktop: 100 |
| Average Server Response Time | 2.9ms |
| Average Load Time | 499ms |
| Uptime | 100% for the last 60 days |
| Free SSL | Yes powered by Sectigo |
| Free Domain | No |
| Free CDN | Yes powered by Cloudflare Enterprise |
| Free Email | No |
| Web Application Firewall | Yes powered by Cloudflare Enterprise |
| Data Centers | Atlanta, Ashburn, Chicago, Dallas, Los Angeles, New York City, Phoenix, Sydney, London, Frankfurt, Amsterdam, Singapore |
| 1-Click Staging Site | Yes |
| Support | Live Chat, Email, Phone and Knowledge base |
About Rocket.net
Rocket.net is a managed WordPress hosting provider that offers a variety of features and services designed to help WordPress users grow and manage their websites.
Rocket.net was founded in 2020 by Ben Gabler and Josip Radan and provides customers with access to a team of WordPress experts who can help with everything from choosing the right hosting plan to optimizing WordPress performance.
In addition to managed WordPress hosting, Rocket.net also offers a range of other services such as Agency Hosting, Reseller Hosting, and WooCommerce Hosting. Whether you're just getting started with WordPress or you're a seasoned pro, Rocket.net can help you take your website to the next level.
Features
Rocket.net boast themselves as the fastest and  most secure managed WordPress hosting. Let's dive in why they prove to be what they claim in my experience hosting this site with them.
Enterprise CDN – No Configuration Needed
Content Delivery Network, often abbreviated as CDN, is a system of servers located around the globe that deliver content to users based on their location.
Rocket.net leverages Cloudflare Enterprise, the most advanced feature of Cloudflare. Because of this, you don't need to install and configure a CDN plugin. They handle it for you.
Cloudflare Enterprise has 250+ locations around the world. For instance, this website is hosted on New York data center, if users from other countries, say for example Australia, visits my website, CDN takes place.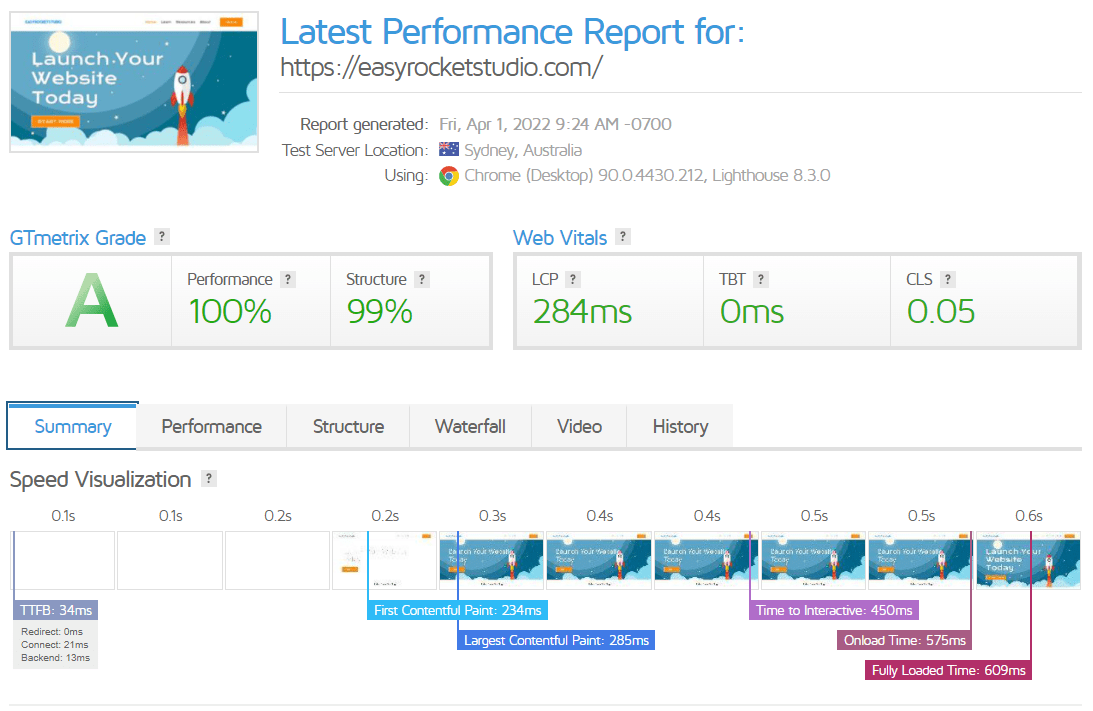 In your WordPress website, you will see a CDN Cache option on your Admin menu bar. This plugin will be automatically installed during WordPress installation and it is a must-use plugin – meaning that it can't be deleted. This replaces your traditional caching plugin.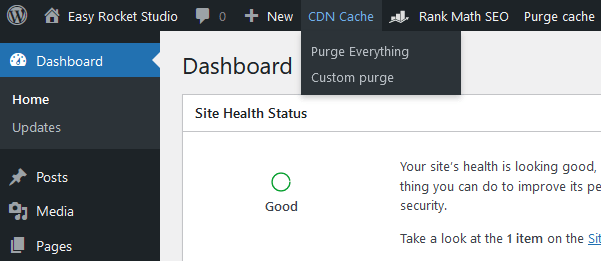 Aggressive Web Application Firewall
Traditionally, I always use security plugins. WordPress is not totally secure and you are responsible for making it invulnerable to attacks like DDOS and brute force.
But with Rocket.net, they professionally handle it on their end. Some web hosts protect their servers with security firewall but only on the server level, not on the application level. Which means that whatever application you install, you are not covered with their security firewall.
After several months with Rocket.net, I have never dealt with DDOS attacks unlike my previous web hosting. On top of that, I don't need anti-spam plugin for comments.
Malware Protection Powered by Imunify 360
One of the causes of hacked website is a malware. WordPress has free themes and plugins by which could be vulnerable to attack if not coded or updated properly. For instance, take a look at iThemes security vulnerabilities where they list themes and plugins that have security issues.
Rocket.net uses Imunify360 to combat malware. Non tech-savvy users could benefit such feature.
Automated and Manual Backups Made Simple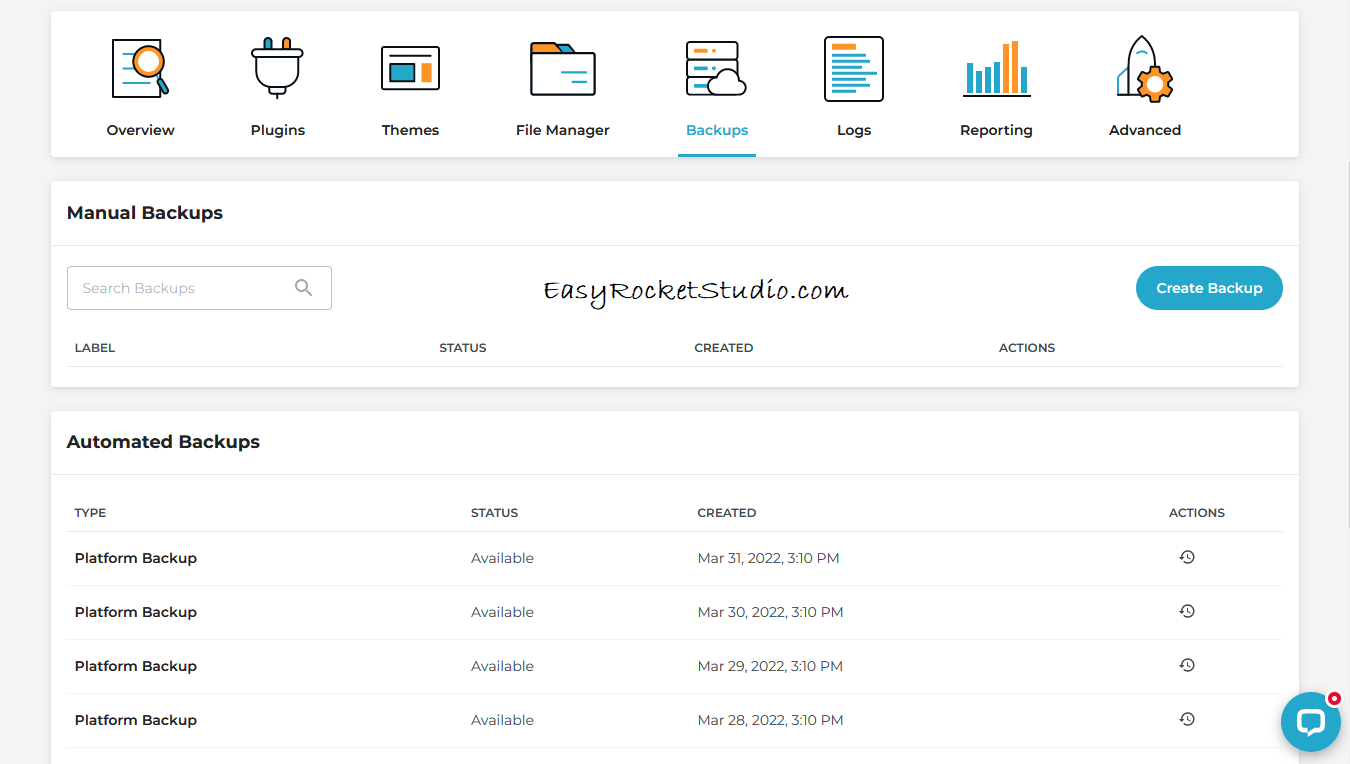 Backups are essential in web hosting. This is one of my criteria in choosing a web host. First, you don't know what will happen to your site – either you'll break it by installing incompatible theme or plugins or worse getting hacked.
Rocket.net automates your backups daily. But only within 14 days, you can keep a backup. You can also manually create backups.
Staging Site for Development
Staging environment is very important feature especially if you are currently developing a website or even for future developments.
Most managed WordPress hosting have this feature. I'm not surprise this feature is available on Rocket.net. They even made it one click away.

---
Walking Through Rocket.net
I'll share with you the the environment where I host this website on. With this you'll find an idea what environment you will be expecting when you choose Rocket.net.
Simple Dashboard and User-friendly Control Panel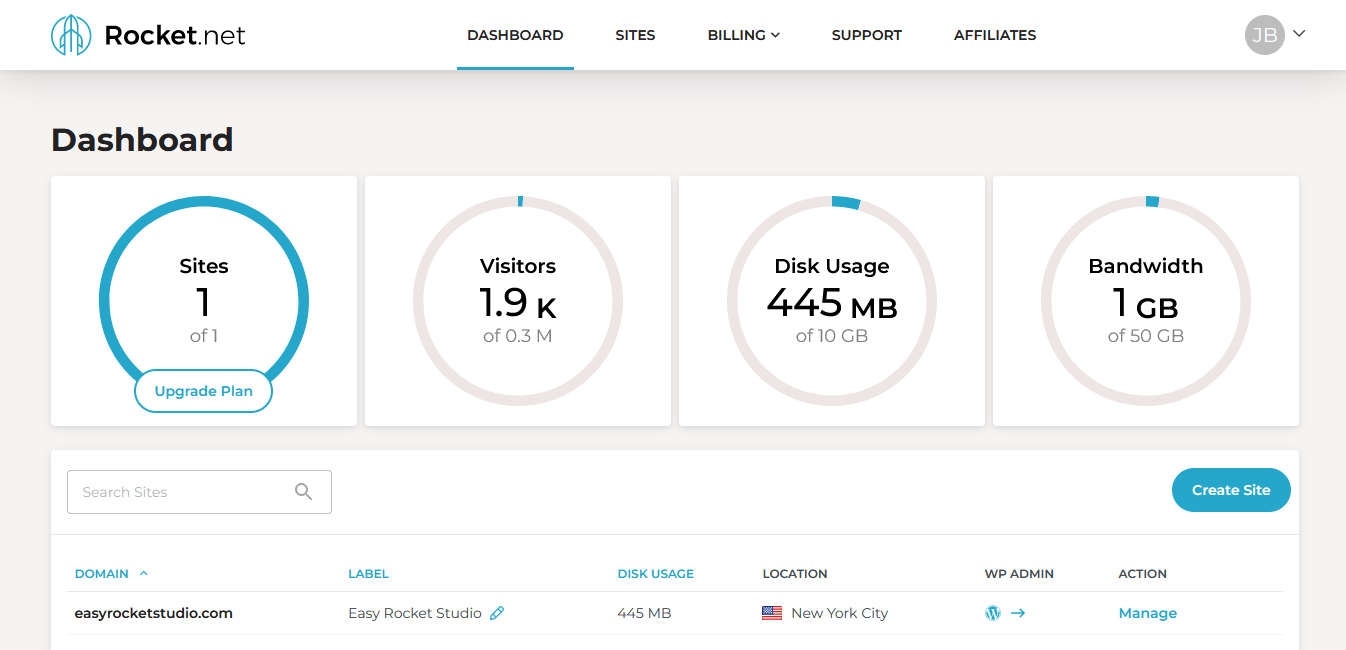 Rocket.net's dashboard is clean, simple, and efficient. With just a few clicks, you can launch a new WordPress site or manage an existing one.
I love its design and you can easily distinguish where you would go. There's no need to wade through complex menus or hunt for the right setting – everything is right where you need it. From managing you website to billing to support – you got it all right there.
If you have already installed WordPress, you can see the statistics of your website. There is a link to go to your wp-admin if you'll notice it on the image above. Yes your dashboard is connected to your website. More about this after we explore the control panel.
Now let's go forward to management – the control panel.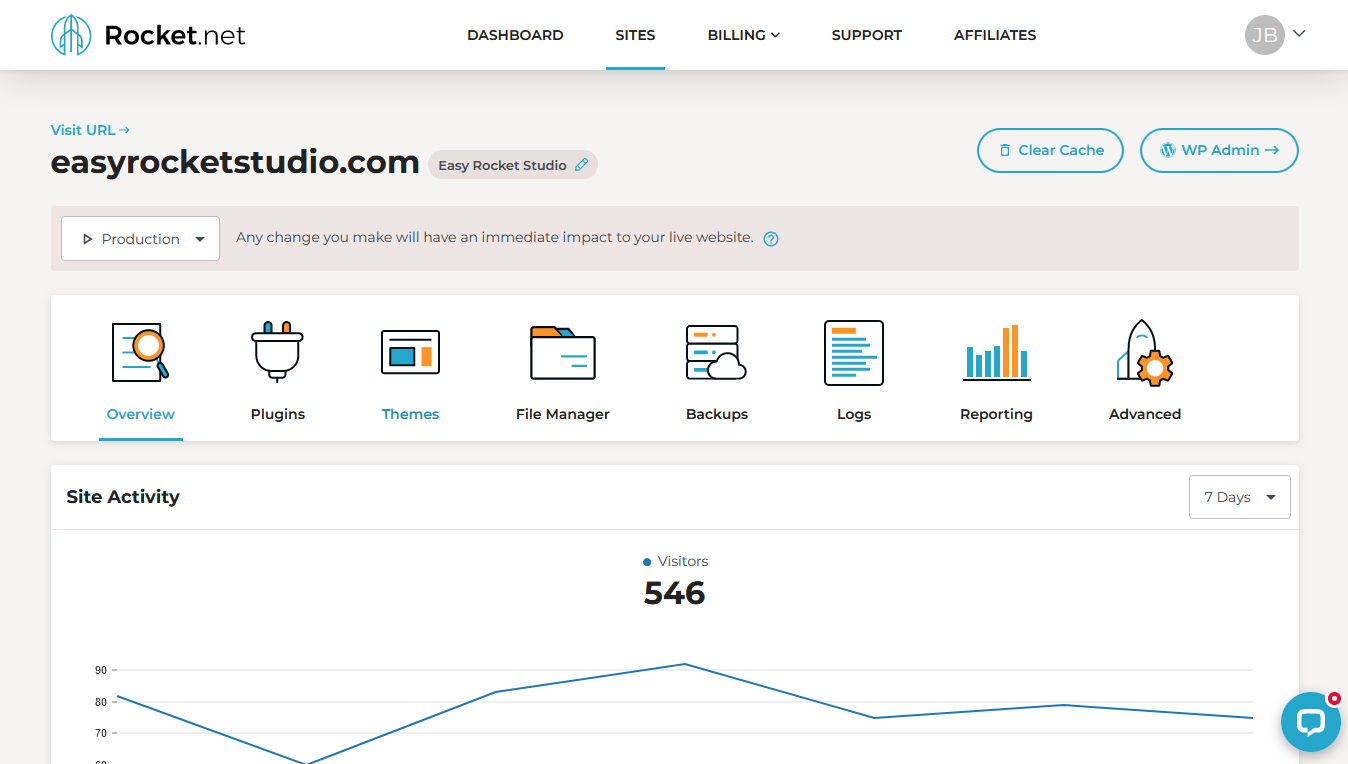 Rocket.net's control panel is seamless. You get all the tools you need to publish and manage a website just like in cPanel.
In the Overview tab, you'll see how many visitors your site have. In my experience, the visitor number is not just actually humans. It consists of actual visitors and bots. You might want to check your Analytics to check real, human visitors for that.
Below the Site Activity, you have your Site Information, Domains and FTP account information.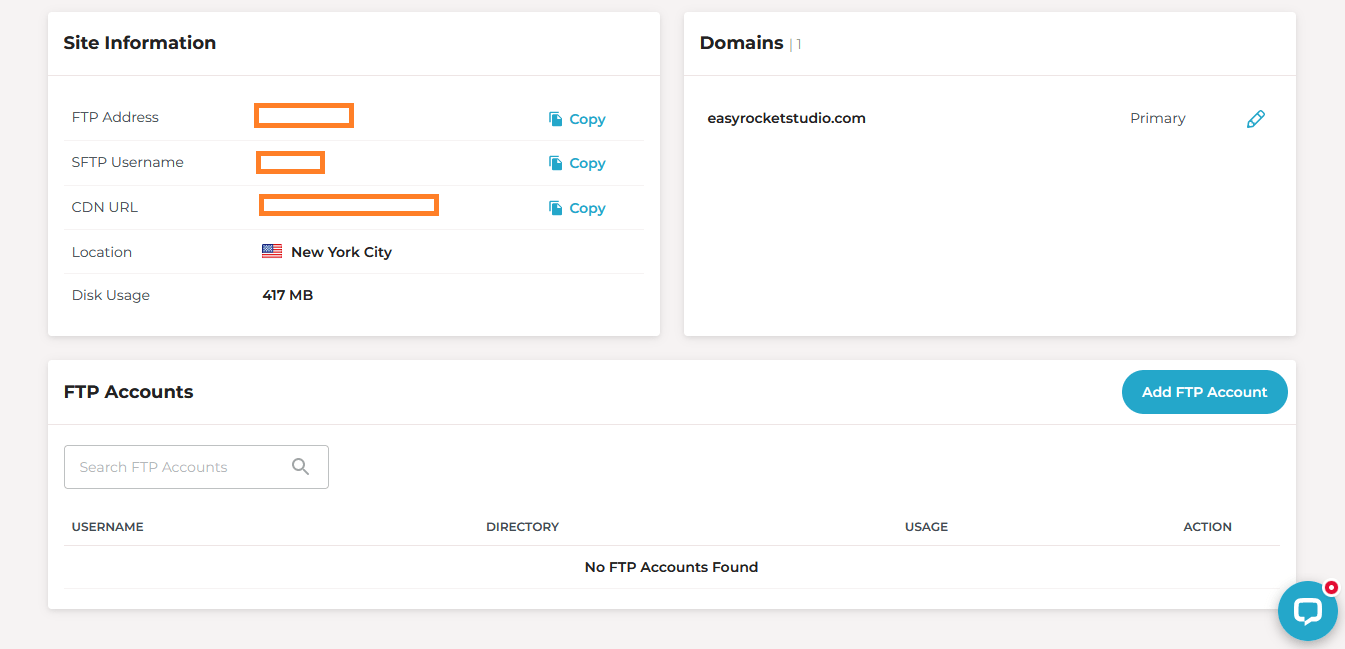 Next on the Plugins tab you will see the plugins you installed on your WordPress website. What you install here will also be installed on your website and what you will install on your website will also reflect here.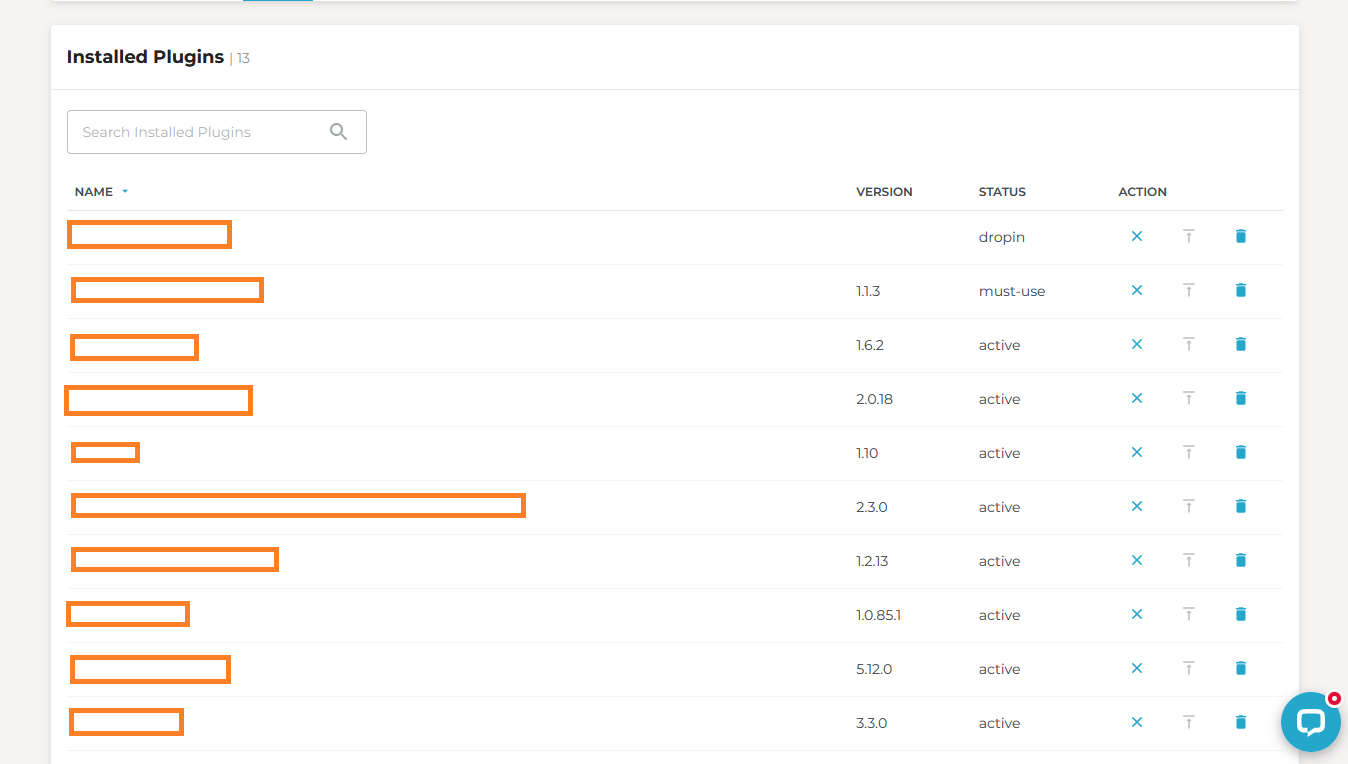 Below the Installed Plugins you can also search for plugins and install plugins. This search area is connected to the WordPress plugins directory so you it's like installing in your wp-admin.
But what I like about this is its categorization – Caching, Optimization and eCommerce. You can easily choose and compare plugins you'd like to install on you WordPress website.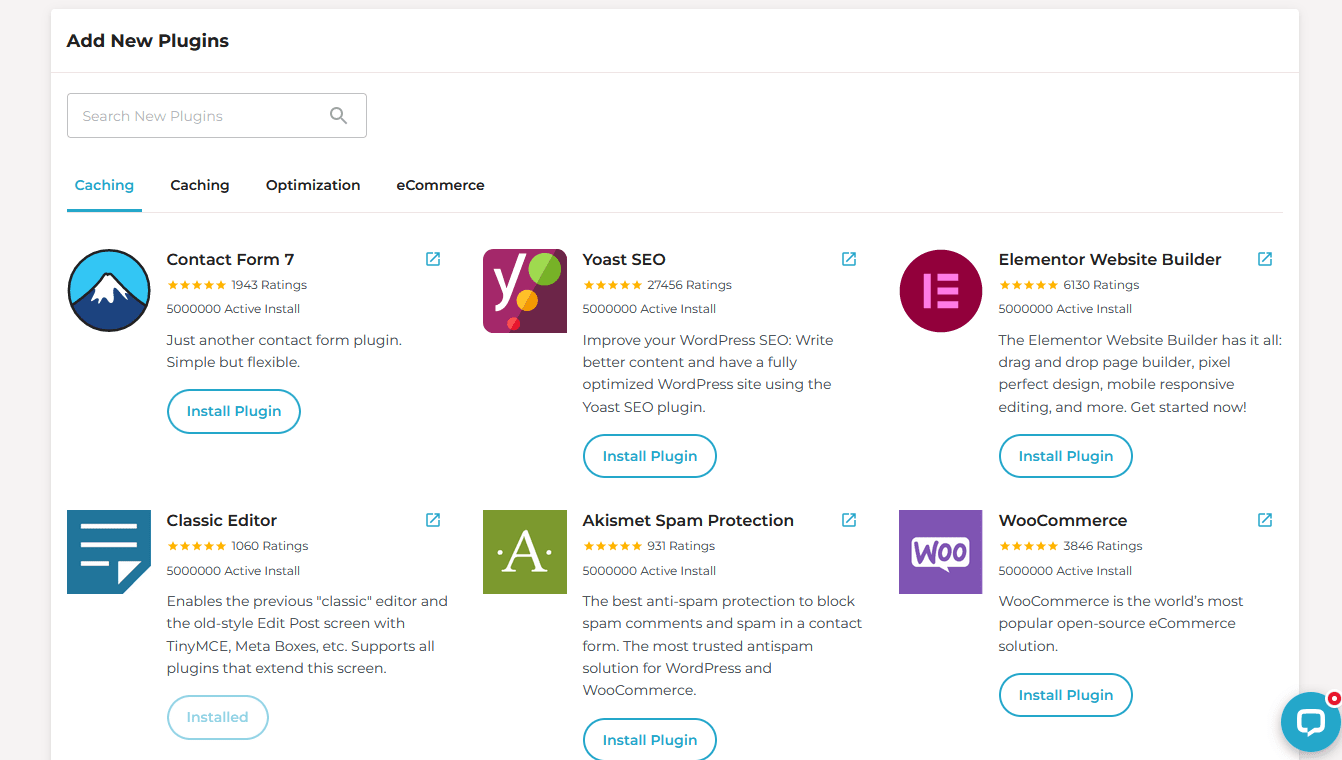 Just like the Plugins tab, you can also check for themes on the WordPress theme repository on the Themes tab.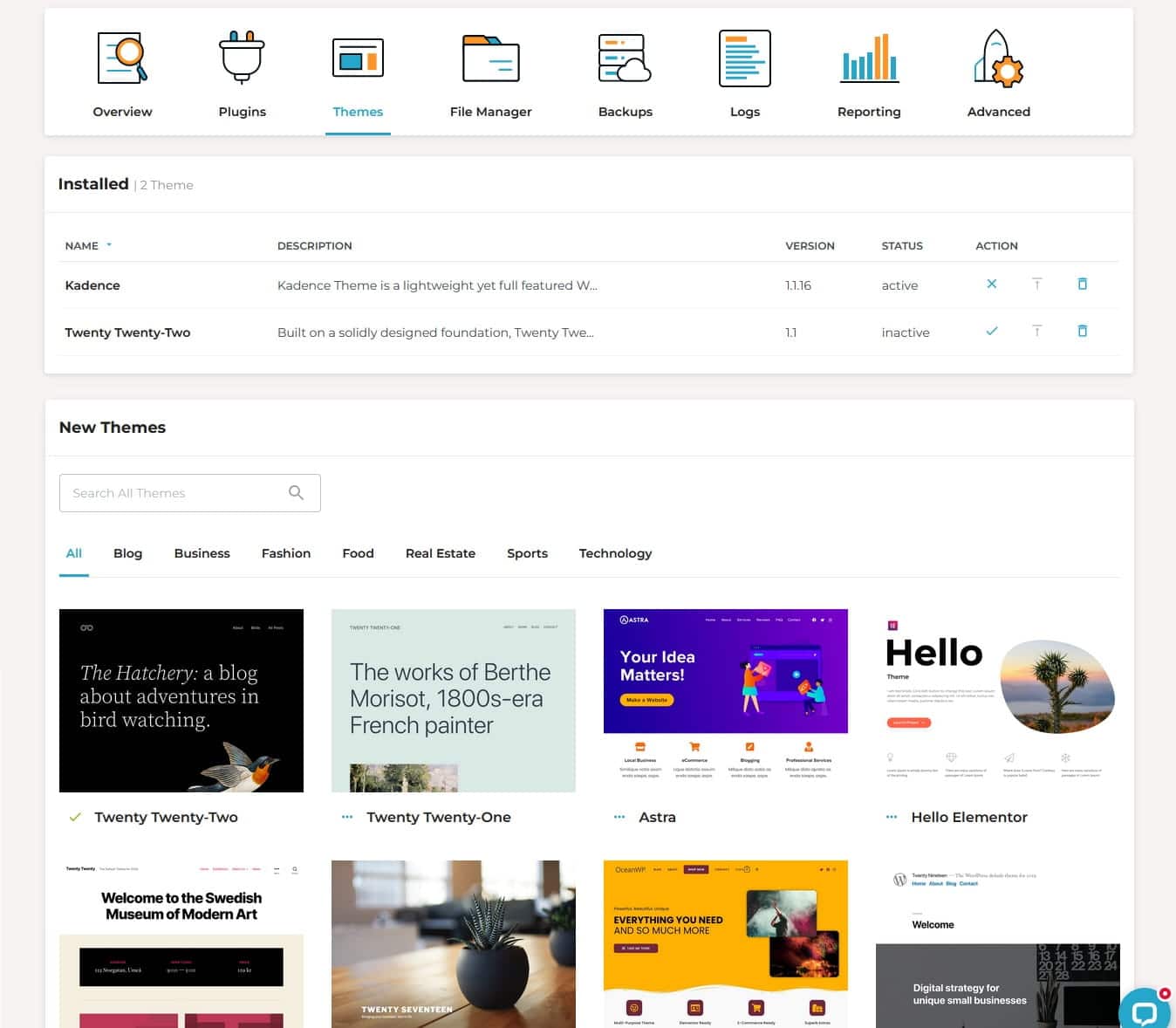 Just like in cPanel, you can upload, edit, change permission and create a new file. This is very helpful if you're not a technical person.
You can also access your root directory through FTP. Just create an FTP account under the Overview tab.
Backup is free on Rocket.net. What's great is its automated. Be wary though that all backups are stored in 14 days. They have daily backups so you can keep your files intact.
Rocket.net logs every user who logins into your WordPress administrative panel. I don't enable it unless there will be more users who login into your WordPress.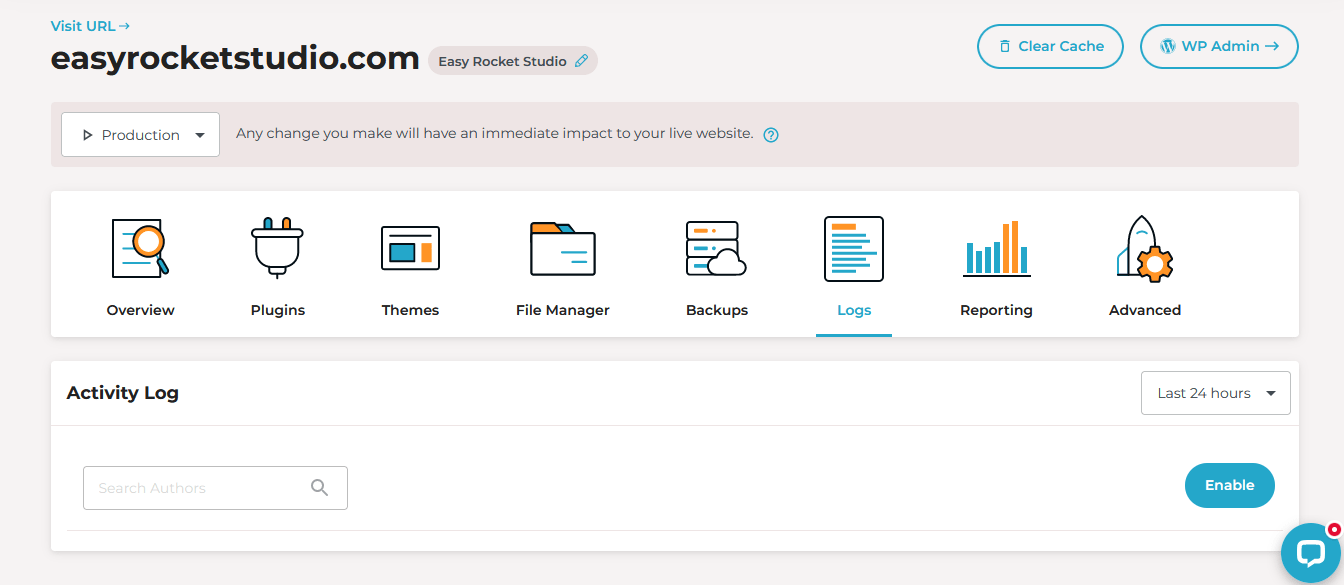 Rocket.net also has a detailed reporting of CDN and WAF.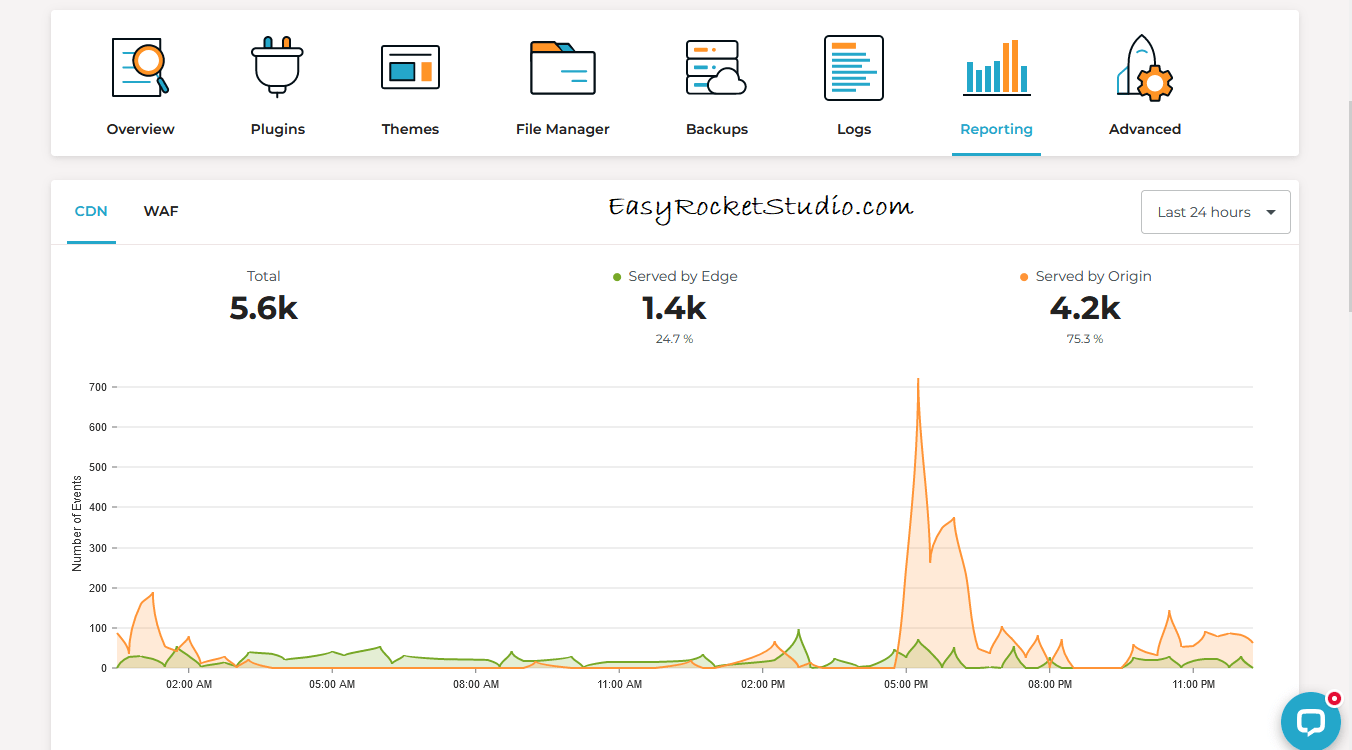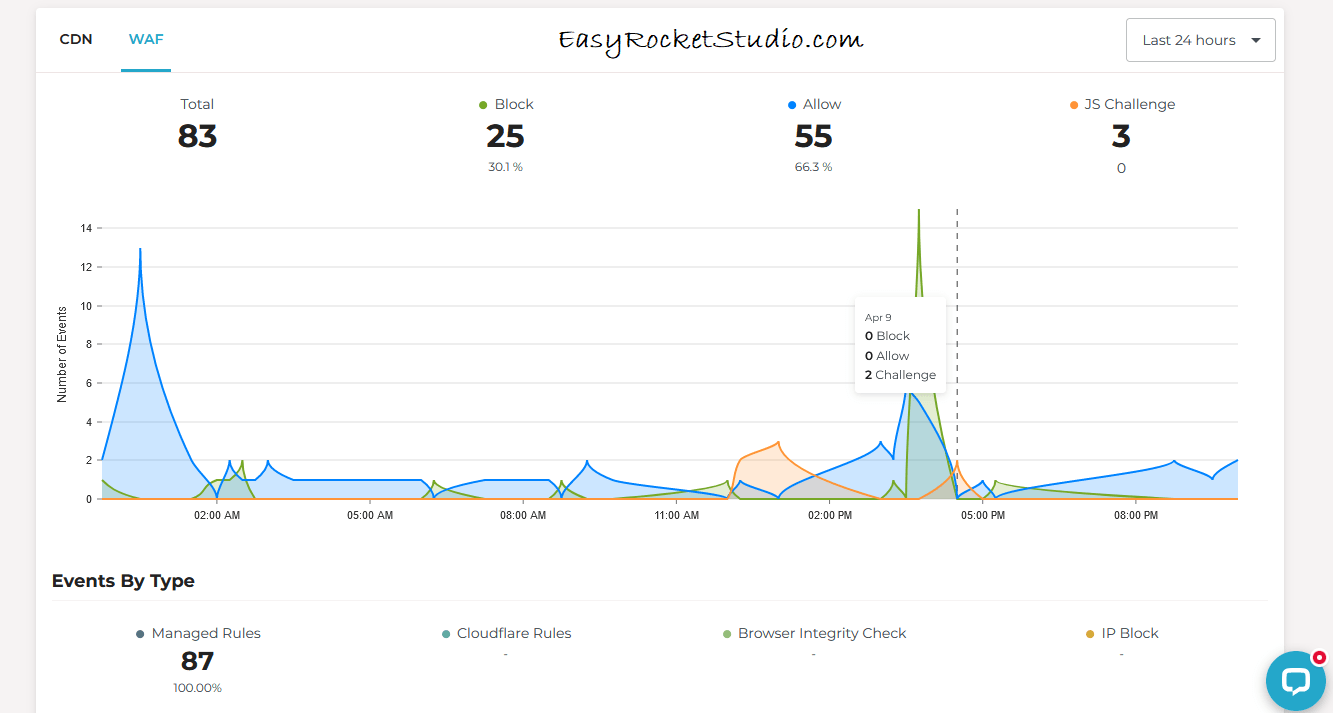 For the techie savvy out there, you can access PHPMyAdmin and edit databases on Rocket.net under the Advanced tab. You can also type in command line and manage your WordPress website through SSH.
You can also change PHP version and set to automatically update your WordPress core, plugins and themes. For changing PHP version, be sure your themes and plugins are compatible otherwise it will break your website.
---
Easy WordPress Installation
Installing WordPress on a managed WordPress hosting should be a breeze. On Rocket.net, it's a no-brainer.
I'll show you how and why.
First, just click Create Site on your dashboard. Then fill out the details.

Next, just enter your WordPress information for wp-admin.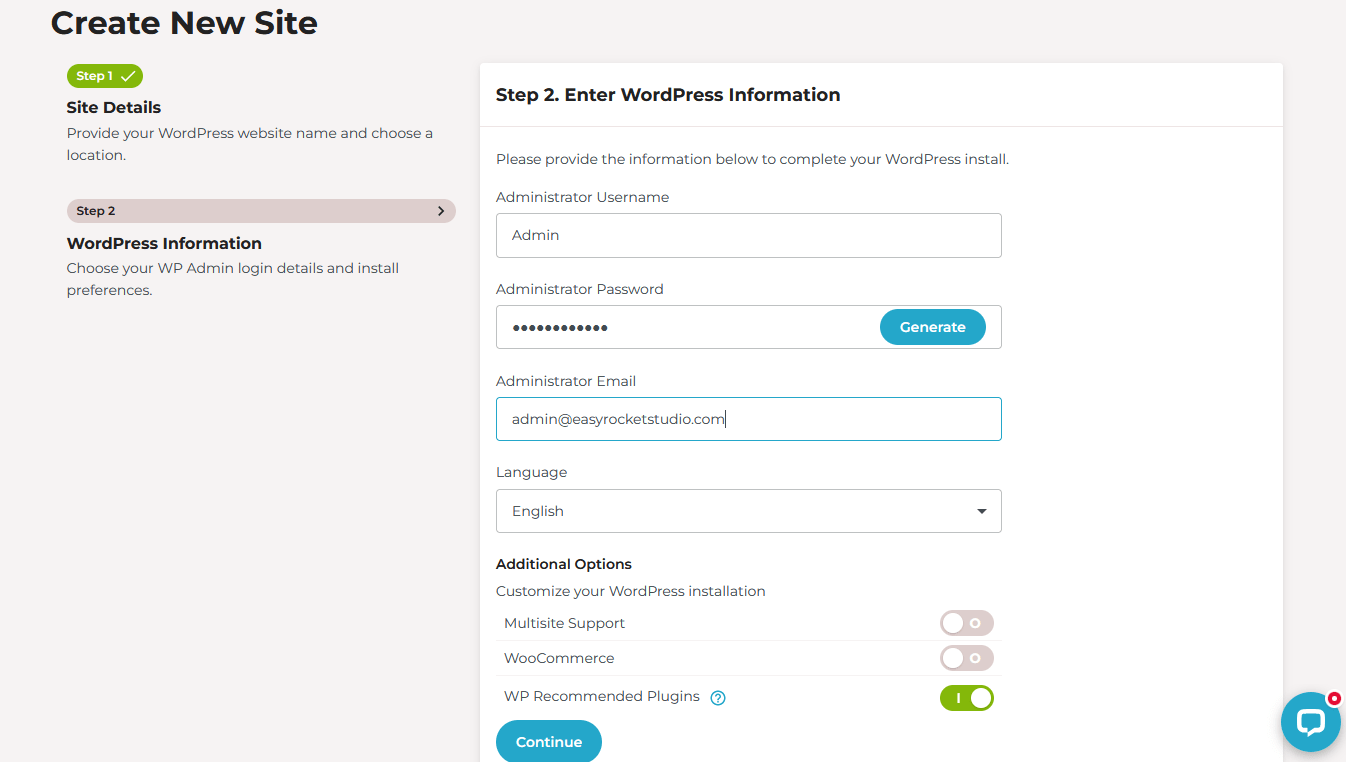 Next, make your site live. Enter your site address. If you don't have a domain name, register one on Namecheap.


Once you are done, configure SSL by adding TXT record on your domain registrar.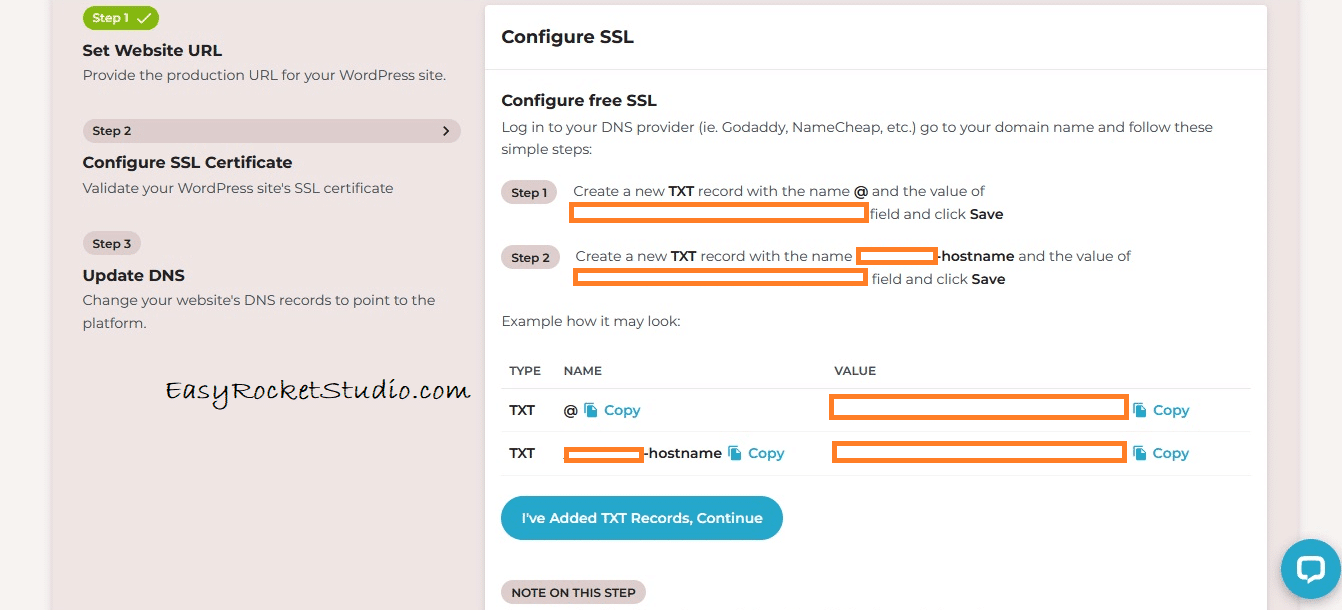 Check out the links below on how to add TXT record on popular registrars.
Finally update your DNS records to point to Rocket.net's platform. Mostly, DNS propagation takes 24 hours.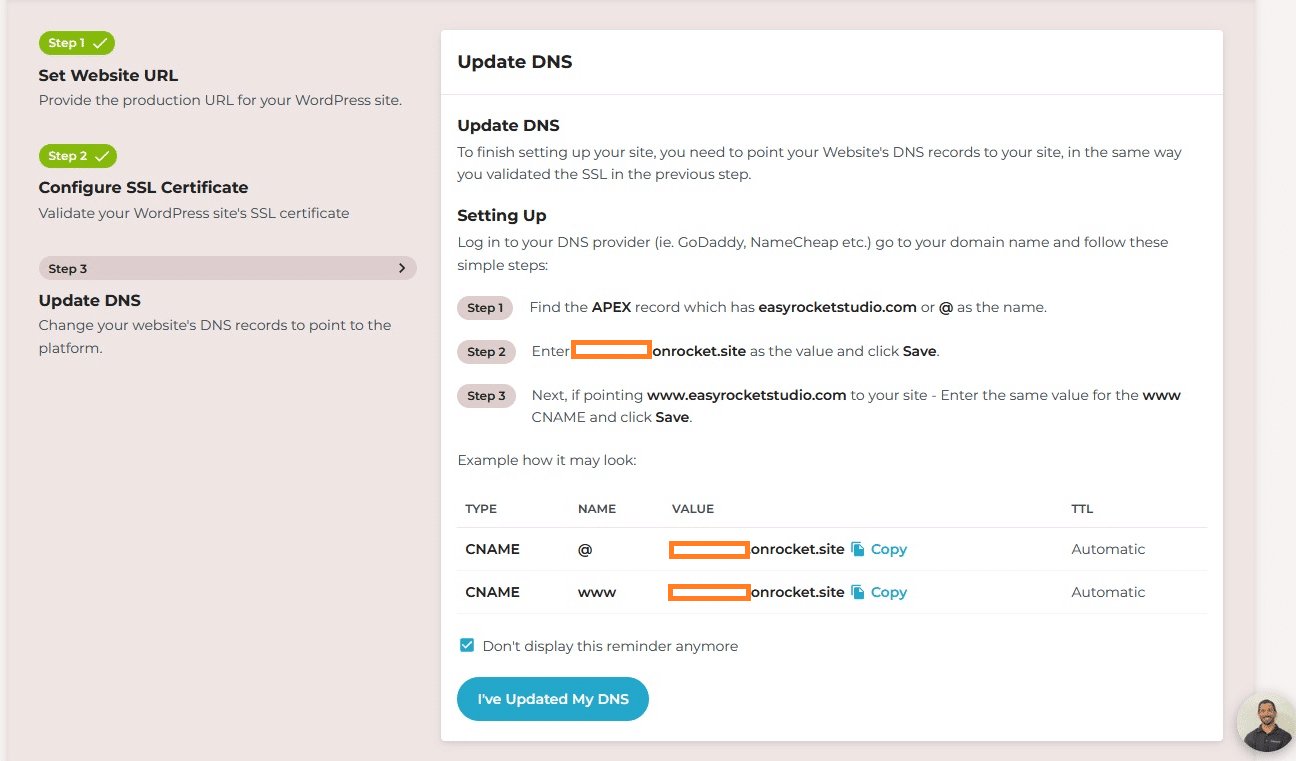 Now you're done. Isn't that easy to install WordPress on Rocket.net?
---
Performance
Rocket.net has an incredible performance. Well, it won't boast its tagline for nothing.
Fastest Cloudflare Enterprise Managed WordPress Hosting
I have been with 4 different web hosts but Rocket.net is by far the fastest managed WordPress I have used without a lot of configuration needed.
Let's take a look at its performance tested on GTmetrix and PageSpeeed Insights.

GTmetrix results are incredibly excellent! The results show that my website is fast with a GTmetrix grade of A. It passed with flying colors.
What about other countries? Let's test it on South America, Europe and Asia.
Brazil

London

And India.

There you have it. CDN is very important if you have worldwide audience. Rocket.net proved to be a fast managed WordPress hosting base on our testing on GTmetrix.
On the other hand, let's test the mobile version using the PageSpeed Insights.
According to Statcounter, 57.88% of internet traffic comes from mobile. Not only you should care about mobile, but Google check your site first on mobile for indexing.
So how did the test went?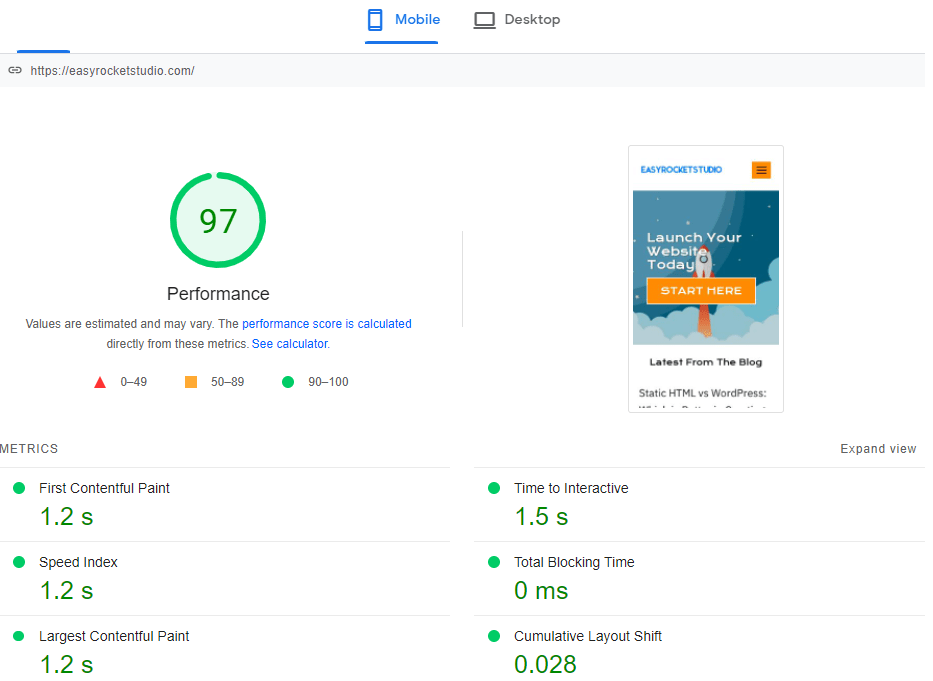 Base on PagesSpeed Insights, my website performs very well. I have this big hero image on my homepage so I did not reach a 100% but I did not even configure the mobile version . What more if I had?
I mean that's the power of Cloudflare Enterprise – you don't need much optimization.
I also tested it on peak hours and still got a 97.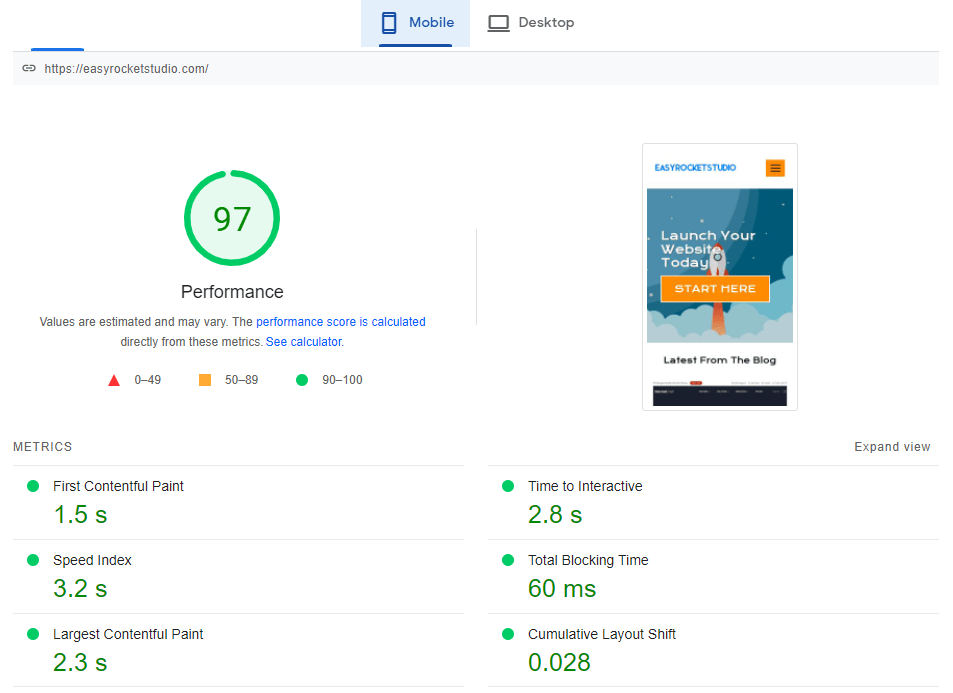 Lesser Plugins Installed
Ever since I encountered WordPress, plugins are very essential. They make it easier for me to make a fully functional website. They save time by not creating plugins from scratch but I still love to make plugins in the future for my personal needs.
Compared to my other websites, I really cut 6 plugins. These plugins are necessary plugins for my website to run perfectly but with Rocket.net, you're on a plugin diet.

Compared to Cloudways:

17 plugins – that's quite a lot! With Rocket.net, I only manage to use 11.
Excellent Uptime and Server Response Time
Since the inception of this website, I monitored its uptime using Uptime robot. Man, I got 100% since the beginning.
Uptime is also an important factor I really consider when choosing a web hosting. Rocket.net so far has an excellent uptime. You can tell that their WAF is very effective in mitigating DDOS.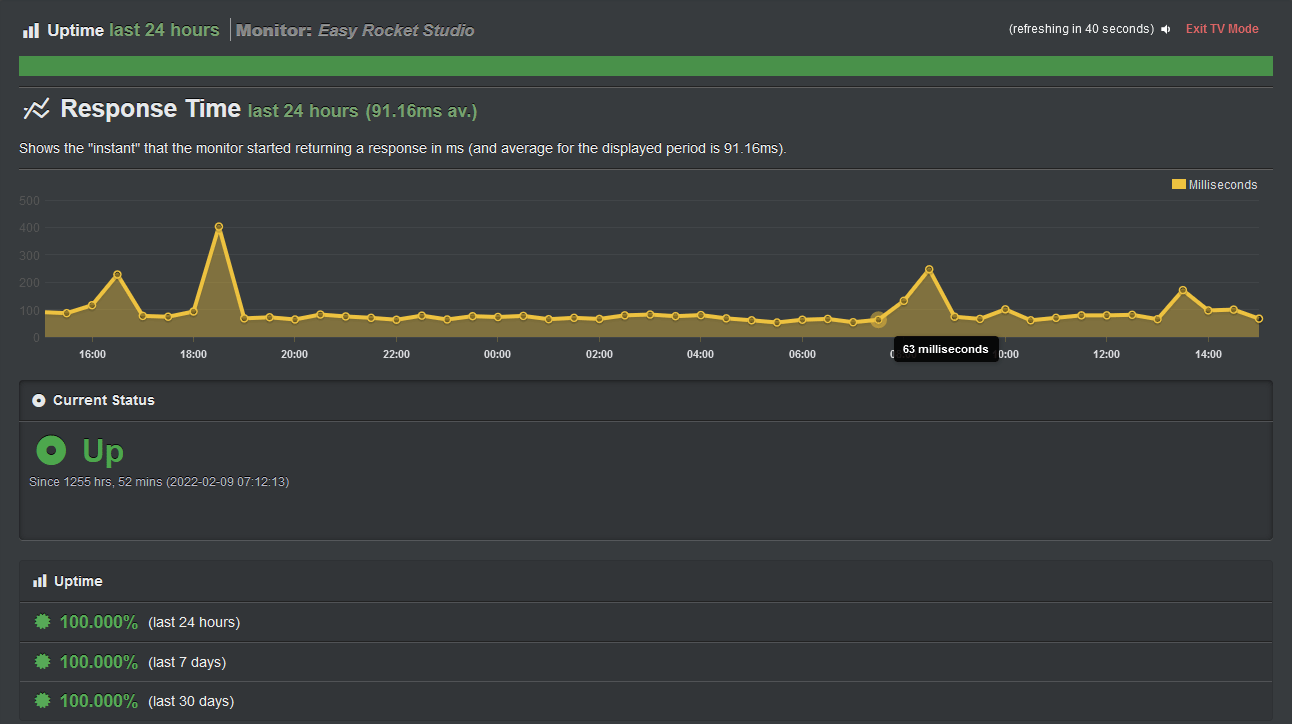 Moreover, server response time tested from 10 different countries are incredibly great.

---
Support
Nothing compares to a web hosting that has fast and prompt support. Rocket.net goes an extra mile to give me the best answers to my queries.
Incredibly Helpful Support
The fastest way to get help is through chat support, unless you have perks to call a US number.
Rocket.net's support consists of experts in WordPress and in the web hosting platform.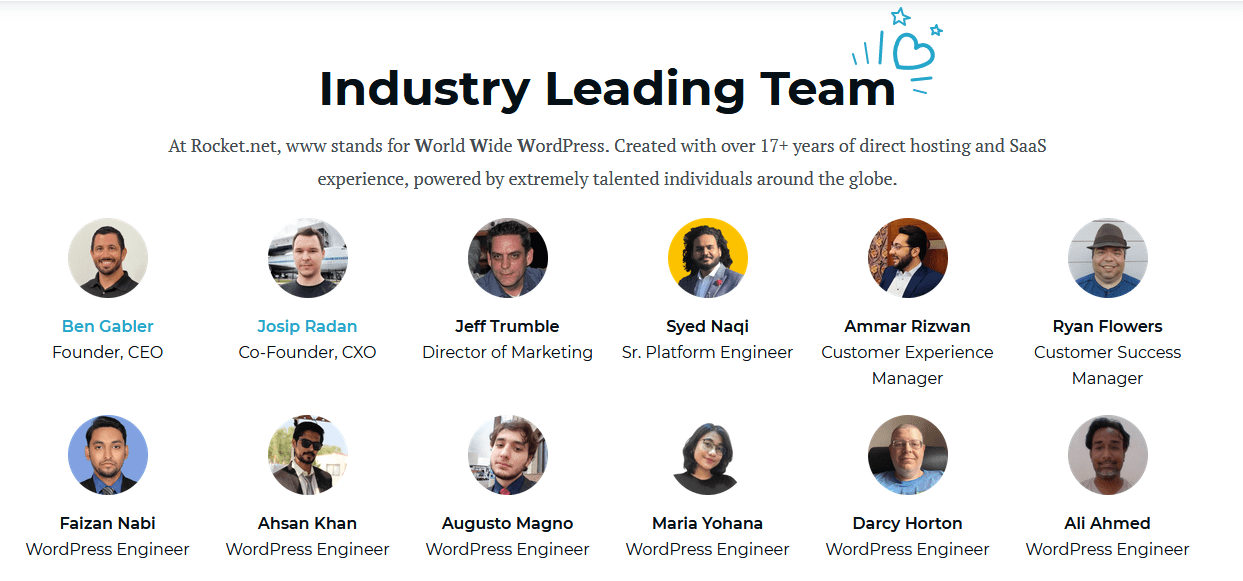 I've encountered four people on this team, and one of them was the CEO himself. So technically I had a problem with connecting my DNS records with their platform.

Their support would find a solution to my problem. It really depends on your domain name registrar on how easily their records adapt to every web hosting platform. In this case, using a free Cloudflare comes in handy. Yes, you can still use a free Cloudflare even Rocket.net has already an Enterprise. It won't cause conflict as the CEO himself suggested.
If you don't to use a free Cloudflare, your domain name registrar would be fine. I recommend Namecheap as they have the best price and with a user-friendly dashboard.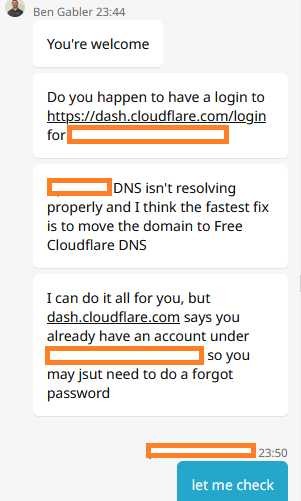 Other than that roadblock, I don't have any more problems. But I hope I won't have a problem in the future regarding with their platform. My support ticket is empty, which means, so far I don't have any issues encountered.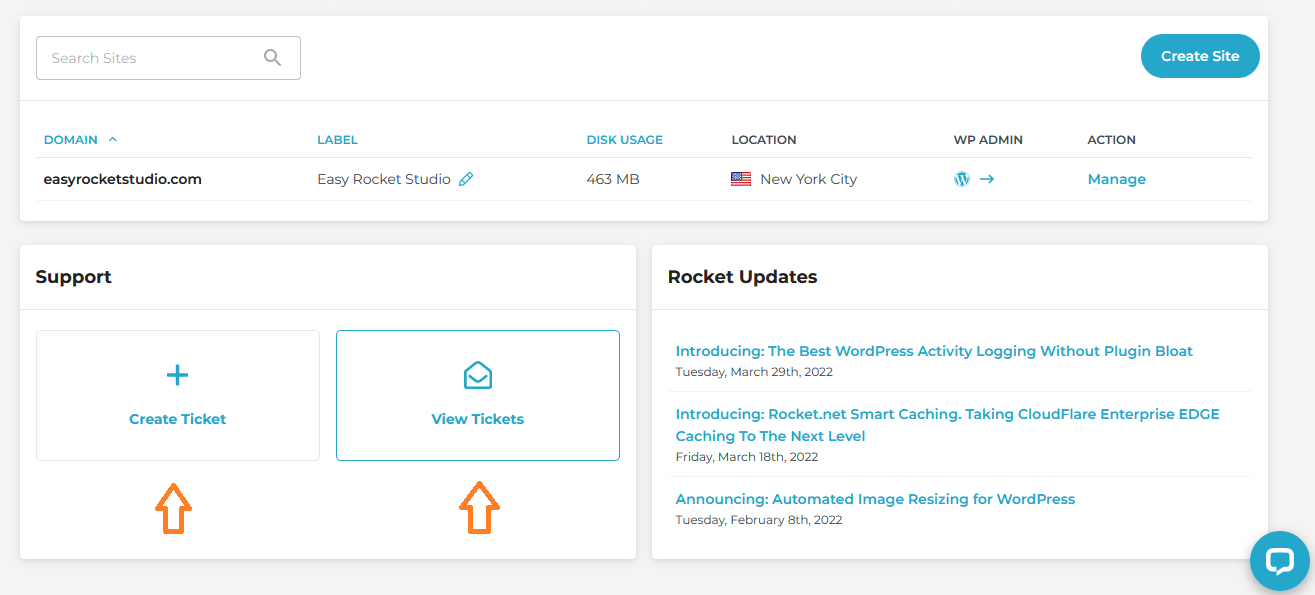 ---
Pricing
If you are new to managed WordPress hosting, most web hosting providers don't come up cheap. Premium managed WordPress hosting price ranges from $23-$30.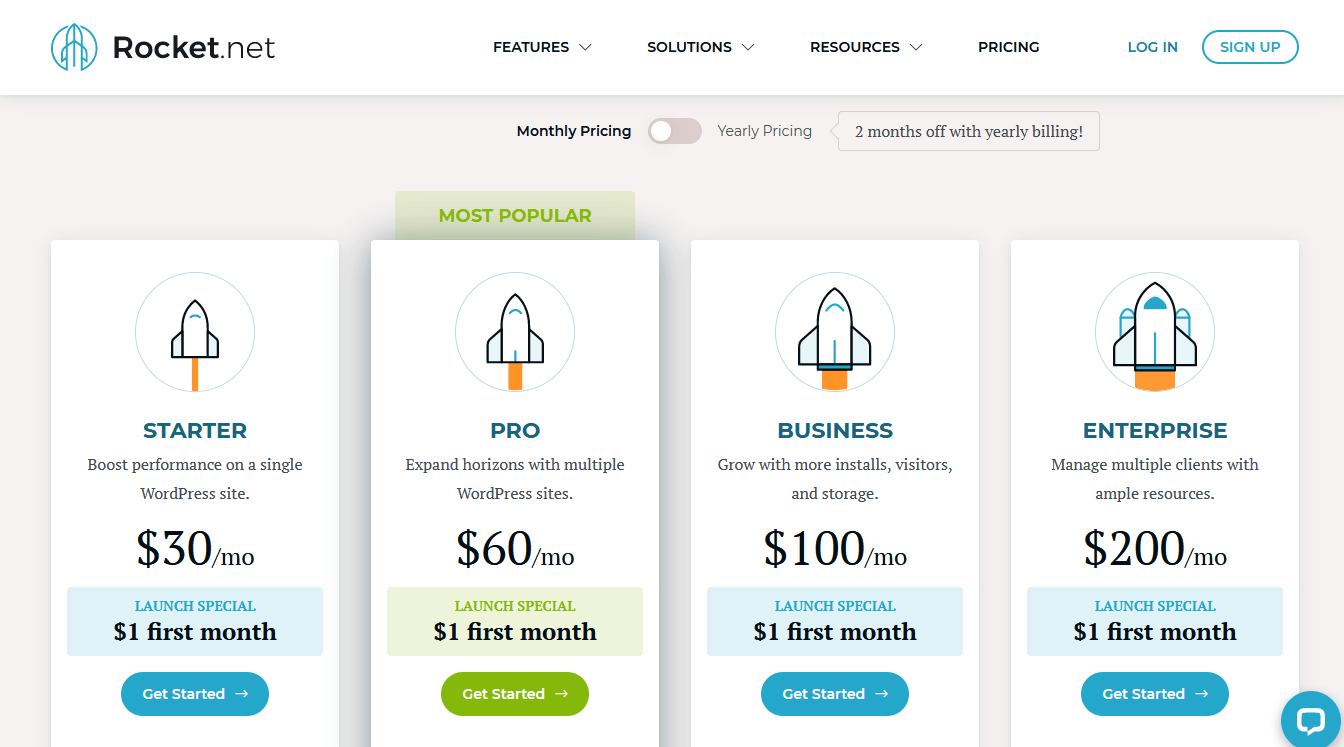 Rocket.net Manage WordPress starts at $30 per month. If you pay annually, you'll get free two months – that would be $300. They offer $1 for the first month for monthly option. This could be your way to try their platform out.
On the other hand, Rocket.net also offers reseller hosting. In case you want to sell your own Managed WordPress hosting, they've got you covered.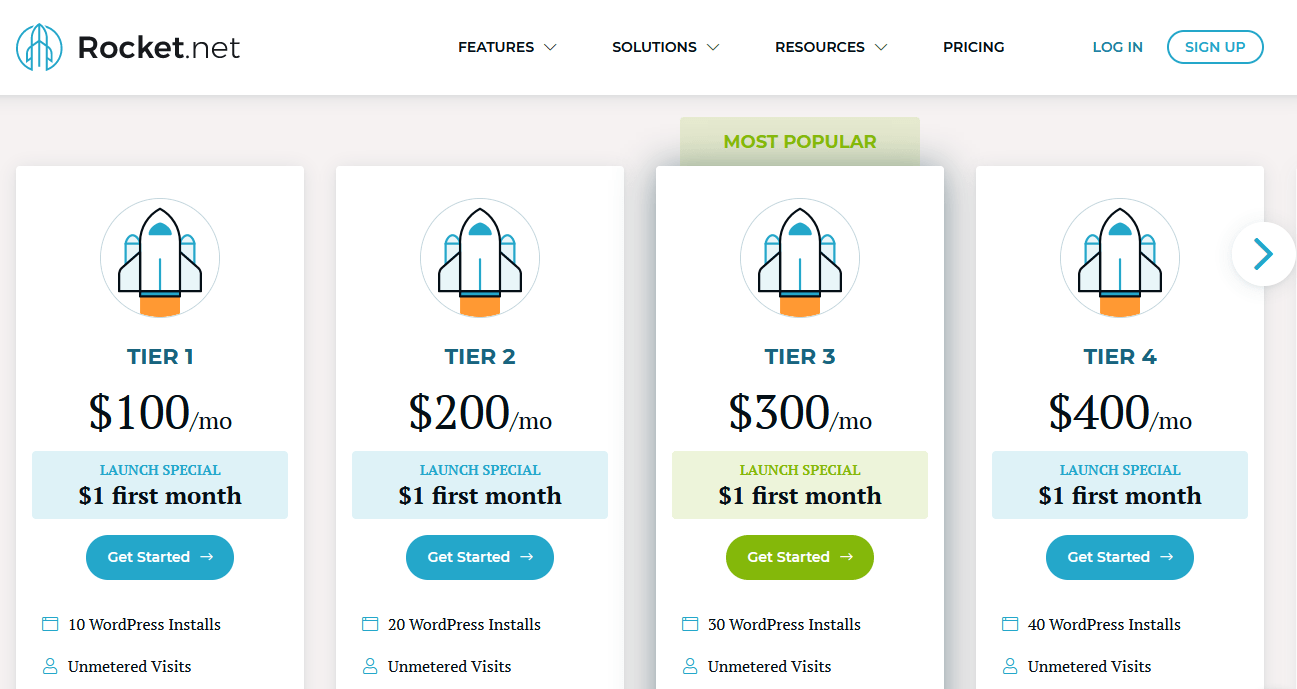 Once again, it is much cheaper to pay annually.
---
Who is Rocket.net for?
Small to medium enterprise
Rocket.net is the perfect platform for businesses that want the power and flexibility of WordPress without the hassle of managing it themselves. They take care of all the technical aspects of running WordPress, from hosting and security to updates and backups, so your clients can focus on running their businesses.
Their service is also scalable, so they can support your businesses as they grow. For small to medium enterprises that want to make the most of WordPress, Rocket.net is the perfect solution.
Bloggers who want to step up their website performance
Rocket.net is perfect for bloggers who are looking for a reliable managed WordPress solution. Rocket.net offers fully managed WordPress clients an easy way to get started with their blog without having to worry about the technical details.
Rocket.net takes care of updates, security, and performance so that bloggers can focus on creating content. In addition, Rocket.net provides a wide range of features and plugins that bloggers can use to customize their blog.
Rocket.net is also perfect for bloggers who want to scale their blog and add more features as they grow. With Rocket.net, bloggers can easily upgrade their plan and add more features as they need them.
Agencies
Rocket.net provides a great solution for agencies that manage WordPress clients. With Rocket.net, you can easily manage and update multiple WordPress sites from a single interface.
This makes it easy to keep your clients' sites up to date and running smoothly. Rocket.net also includes a number of other features that are beneficial for agencies, such as site backups, security scanning, and performance monitoring. Overall, Rocket.net is an excellent choice for agencies that manage WordPress clients.
Ecommerce
Rocket.net is a great platform for managed WordPress clients who are looking to set up an eCommerce store using WooCommerce. Rocket.net offers a wide range of features and integrations that make it easy to get started with WooCommerce.
Additionally, Rocket.net's team is always on hand to help with any questions or issues you may have. Overall, Rocket.net is an excellent choice for anyone looking to set up an eCommerce store with WordPress.
---
Rocket.net Alternatives
There are many Managed WordPress hosting out there but these are the alternatives to Rocket.net I can recommend.
The table below shows the starter plan for each web hosting. You may choose a higher level if you need a free domain or CDN depending on the hosting.
Pricing is based on their monthly, not introductory.
| | | | | | |
| --- | --- | --- | --- | --- | --- |
| Rocket.net Alternatives | Websites | Disk Space | Bandwidth | Inclusions | Pricing |
| WPEngine | 1 | 10GB | 50GB | CDN, SSL | $20 |
| Nexcess | 1 | 15GB | 2TB | CDN, SSL, Email | $19 |
| Hostinger | 1 | 30GB | 100GB | SSL, Email | $9.99 |
| InMotion Hosting | 2 | 10GB | Unlimited | CDN, SSL, Email | $11.49 |
| Flywheel | 1 | 5GB | 20GB | CDN, SSL | $15 |
| Hostpapa | 1 | 25GB | 25GB | SSL, CDN, WAF | $19.95 |
| Kinsta | 1 | 10GB | Per 25k Visits | SSL, CDN | $30 |
| A2Hosting | 1 | 50GB | Unlimited | SSL, Email | $23.99 |
| Nestify | Unlimited | Unlimited | Per 25k Visits | CDN, SSL | $9 |
| Cloudways | Unlimited | 25GB | 1TB | SSL | $10 |
Frequently Asked Questions