How Much Does a Website Cost in 2023 + Free Calculator
This post may contain affiliate links. Please read our disclosure policy.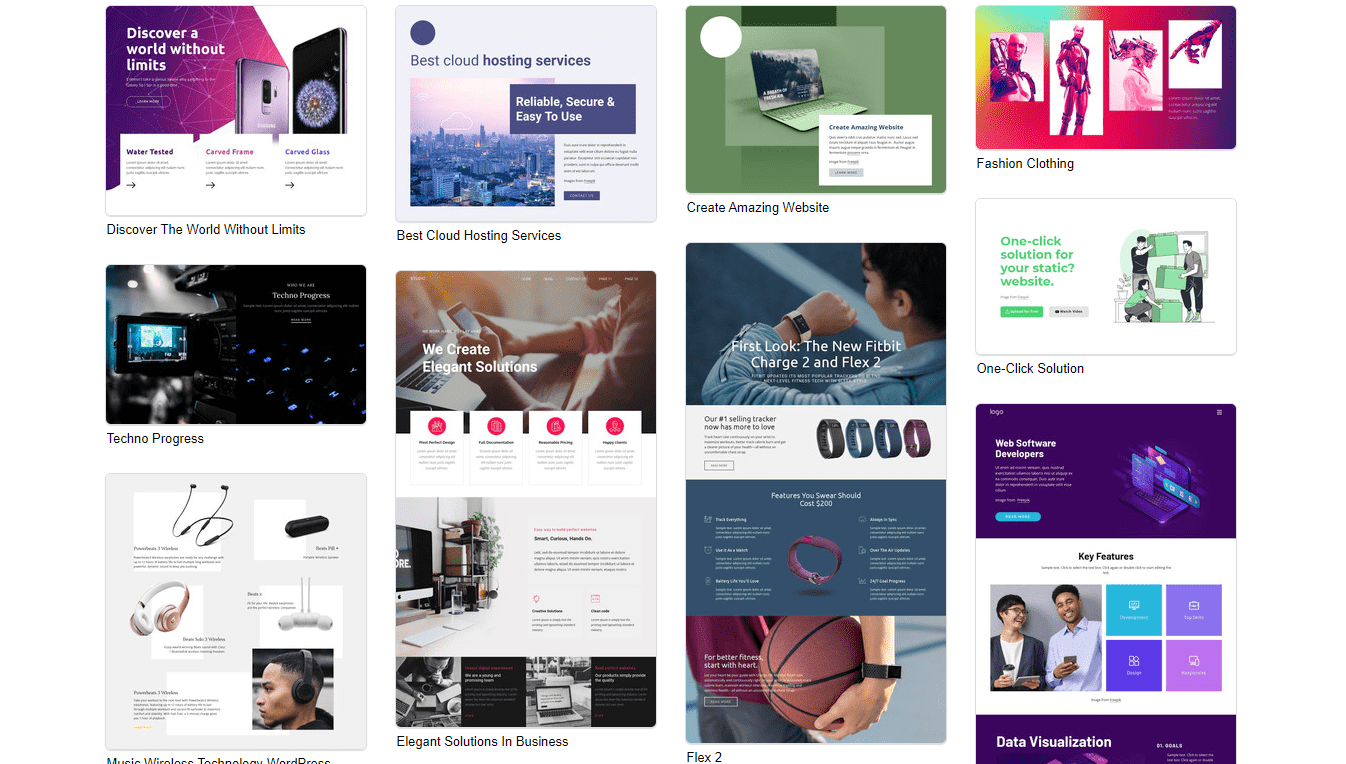 When you're starting a new business, one of the first things you have to do is create a website. But how much does a website cost? And what factors go into that price?
Typically, a one-page WordPress website can cost around $100-$200 to build. In my experience with building several websites, $19.95 is the cheapest I've ever spent. That includes only hosting and a domain (Cloudways + Namesilo).
I designed my own logo, customized a free theme, wrote my own content and configured SEO. But what about if you're a beginner?
That's where website builders come into play or hire a web developer.
In this blog post, we'll break down the different factors that go into pricing a website, and we'll also give you some tips on how to keep your costs down.
So read on for all the information you need to create a beautiful and affordable website!
Breakdown of Website Cost
| | |
| --- | --- |
| Domain | $9-$15 per year |
| Web Hosting | $2-$300 per month |
| Web Design & Development | $90- $500 single project (base on Fiverr) $10-$60 per hour (base on Upwork) |
| SEO and Marketing | $200 per month starting $600-$2000 per month on-going |
| Ecommerce | $200 one time |
| Business Email | $0-$4 per month (base on Zoho) |
| On Going Maintenance | $100-$200 per month (DIY) $600-$1000 per month hire pro |
How Much Does a Website Cost?
You can either build your website through self-hosted platform using WordPress or Drupal, or build using drag-and-drop page builder.
But first let's take a look at how much a self-hosted CMS platform cost.
Domain name registration
A domain name registration typically costs around $10 per year up to $15. However, there are some domain registrars that offer discounts for certain domain name extensions.
For example, Namesilo offers the .com extension for $9.95 per year regardless of renewal or introductory offer. Also, renewal price is the same unlike other domain registrars.
Additionally, many domain registrars offer bulk discounts if you register multiple domain names at once.
When choosing a domain name registrar, it's important to compare the price of domain name registration, as well as the features and customer support offered by each registrar.
Let's take a look at a sample pricing for domain from Namesilo.

In my entire career building websites from scratch, Namesilo is the only cheapest domain name registrar I can find.
But it doesn't end there. Namesilo offers free Whois Privacy for life!
I can also vouch for Namecheap. Though their renewal is more expensive, they have a lifetime Whois Privacy.
On the other hand, there's Namebright which might be the cheapest at $9.07. However, Whois Privacy only covers for one year. That being said, I'd rather choose Namesilo.
Now let's compare the domain name registrar pricing for their .com, .net and .org TLDs in a yearly basis.
| | | | |
| --- | --- | --- | --- |
| Domain Registrar | .COM | .NET | .ORG |
| Namesilo | $9.95; $9.95 Renewal | $11.79; $11.79 Renewal | $10.79; $10.79 Renewal |
| Namecheap | $8.98*; $13.98 Renewal | $9.98*; $14.98 Renewal | $12.98*; $14.98 Renewal |
| Namebright | $9 .07; $9 .07 Renewal | $10 .50; $10 .50 Renewal | $11 .97; $11 .97 Renewal |
| Name.com | $9.99*; $15.99 Renewal | $14.99*; $16.99 Renewal | $8.99*; $12.99 Renewal |
| Domain.com | $9.99*; $15.99 Renewal | $12.99*; $19.99 Renewal | $8.99*; $19.99 Renewal |
| Dynadot | $9.99; $9.99 Renewal | $10.99; $10.99 Renewal | $8.99; $10.99 Renewal |
| Godaddy | $0.01*; $19.99 Renewal | $14.99*; $21.99 Renewal | $7.99*; $20.99 Renewal |
| Google Domain | $12; $12 Renewal | $12; $12 Renewal | $12; $12 Renewal |
* Introductory price/promo.
Web Hosting
How much web hosting costs can depend on a few factors. The type of web hosting you need can affect the cost, as well as the company you choose and how long you plan to use their services.
Generally speaking, the cheapest web hosting option is shared hosting. This is where your site is hosted on a server with other websites.
While this is the most affordable option, it's also the least powerful, so it's not recommended for ecommerce websites or sites that expect a lot of traffic.
If you need more power, you'll need to look at VPS or dedicated server web hosting, which can be more expensive on a monthly basis.
However, many companies offer discounts if you pay for their services annually or up to quadrennially, so it's worth shopping around to see what deals are available.
In short, web hosting costs can vary depending on your needs and the company you choose, but there are ways to save money if you're willing to commit to a longer-term contract.
What types of hosting should you choose?
The answer to this question boils down to your requirements. What kind of website do you want to build? Is it a blog, ecommerce or subscription site?
If you have decided which kind of website you'll build, then it's time to look for a web hosting.
Shared Hosting
Shared hosting is a type of web hosting in which the server is shared among multiple websites. The cost of shared hosting depends on a variety of factors, including the size of the server, the number of websites hosted on the server, and the features included in the package.
Shared hosting is typically less expensive than other types of web hosting, such as dedicated hosting or virtual private servers. You can pay for as less as $2.99 per month on Hostinger given that you pay annually. You will also receive a free domain.
In addition, shared hosting packages often include a wide range of features, such as unlimited storage space, bandwidth, email accounts, and domain names.
For personal use such as blogging or other content written in textual form, shared hosting is often the best option.
WordPress, Drupal and Joomla are the best CMS platform to install in a shared hosting. Ecommerce platform like Magento should be installed in a more powerful server because it has different server needs.
Web hosting that offers shared hosting include but not limited to Hostinger, InMotion Hosting, GreenGeeks, Bluehost and Hostpapa.
Managed WordPress Hosting
The cost of managed WordPress hosting varies depending on the provider and the level of service offered.
For example, Rocket.net starts at $30 per month for entry-level service and goes up to $200 per month for premium service.
The main difference between managed and unmanaged WordPress hosting is that managed WordPress hosting includes help with tasks such as updates, security, backups, and performance.
As a result, managed WordPress hosting is typically more expensive than unmanaged WordPress hosting. However, it can be worth the extra cost for busy website owners who do not have the time or expertise to handle these tasks themselves.
Cloud Hosting
Cloud hosting costs can vary depending on the provider and the type of service required. However, it is generally more expensive than shared web hosting.
The main reason for this is that cloud hosting uses a pay-as-you-go model, which means that you only pay for the resources you use.
One example of cloud hosting is Cloudways. They offer managed cloud hosting that starts at $10 per month. Linode is another example of cloud hosting but it is unmanaged – meaning you are responsible in deploying your own application, updating , generating backup and securing your server.
In addition, cloud hosting offers a higher level of scalability and flexibility than traditional web hosting, which makes it ideal for businesses that experience fluctuating traffic levels.
As far as applications are allowed in cloud hosting, most providers will offer a wide range of options, including popular CMS platforms like WordPress and Joomla.
However, it is always best to check with your chosen provider to see what specific applications they allow on their servers.
Virtual Private Server Hosting
Virtual private server (VPS) hosting is a type of hosting that allows businesses and individuals to lease a private server for their website or application. VPS hosting is a good option for businesses or individuals who want more control over their server than they would have with shared hosting, but who don't want to invest in a dedicated server.
Virtual private servers are typically more expensive than shared hosting, but they offer many of the same features as a dedicated server, including high-performance processors, plenty of RAM, and fast storage. Some VPS hosting providers also offer managed services, which can be helpful for businesses or individuals who don't have the time or expertise to manage their own server.
Applications that are allowed on a VPS will vary depending on the provider, but common applications include WordPress, Magento, and Drupal. Some providers also offer specialized applications for specific industries, such as e-commerce, streaming service or gaming.
There are two main types of VPS hosting: Linux and Windows. Linux is a popular choice for businesses or individuals who want a stable and secure operating system. Windows is a good choice for businesses or individuals who need compatibility with Microsoft products.
Pricing of VPS hosting starts at $6 per month.
Dedicated Hosting
Dedicated server hosting costs can differ significantly depending on the provider and the level of customization and support that is required. Generally, dedicated servers are more expensive than shared servers, but they offer significantly more power and flexibility.
Dedicated servers are ideal for businesses that need to run resource-intensive applications or sites with high traffic levels such as big data processing, machine learning, ecommerce and marketing analytics. When choosing a dedicated server, it's important to consider the compatible operating systems and software, as well as the level of support that is offered by the provider.
Some dedicated server providers also offer managed hosting services, which can be helpful for businesses that don't have in-house IT staff.
Dedicated servers offer a wide range of benefits, but it's important to choose the right provider and plan to ensure that your needs are met.
Dedicated server pricing starts $169 per month.
Web Design and Development
The cost of web design and development can vary depending on the size and scope of the project. For a simple website, the cost may be as low as $500.
If you want to build your own website and install and customize a clean theme, the cost will be reduced.
However, for a more complex website, the cost can range into the thousands or even tens of thousands of dollars. The cost will also vary depending on the web designer or developer you choose to work with.
Some web professionals charge by the hour, while others charge a flat fee for the project. Before hiring a web designer or developer, be sure to get an estimate of the total cost so that there are no surprises later on.
Let's take a look at the cheapest way you can hire web developers and designers at Fiverr.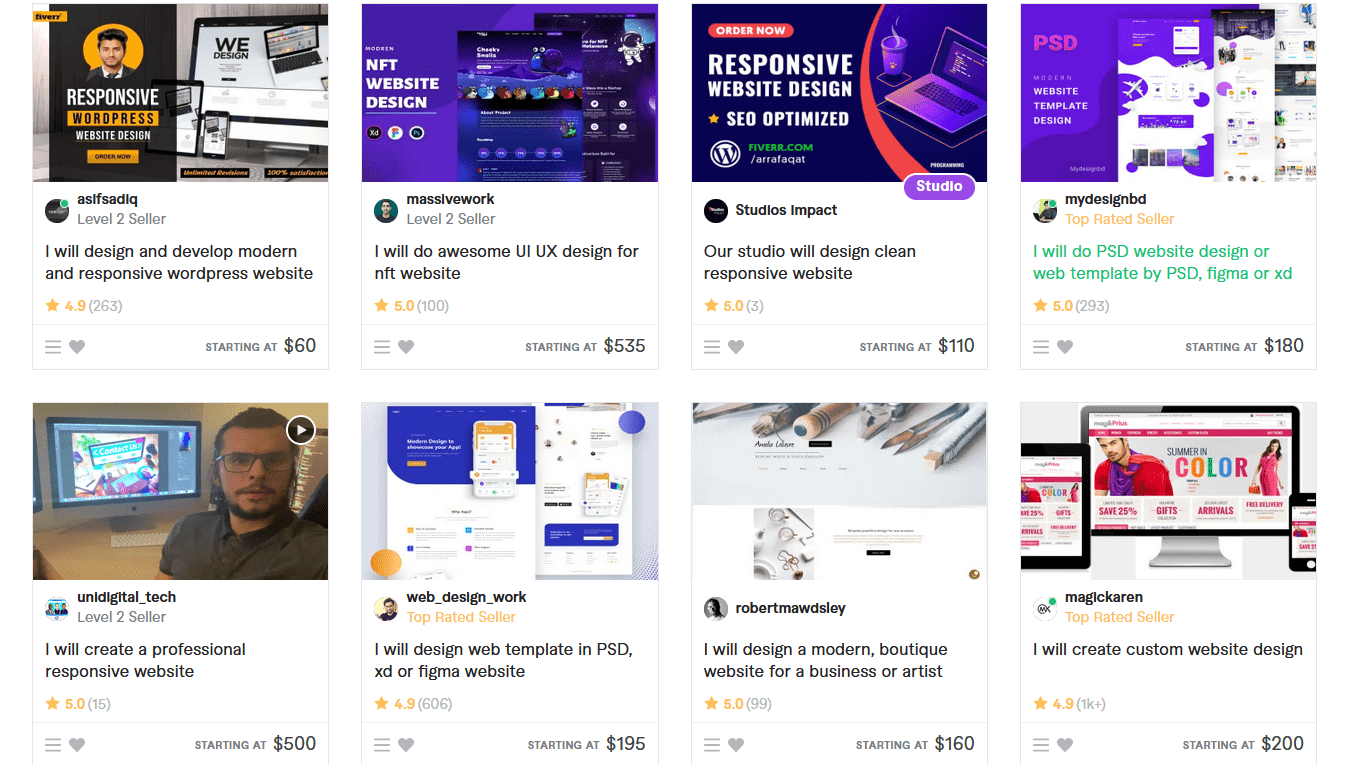 At Fiverr, you can hire a web developer for less than a 100 bucks all the way up to 500. You can hire developers to build WordPress websites or an ecommerce using WooCommerce plugin and design them according to your specific needs.
Other web development services you can find on Fiverr include full stack development, blockchain and NFTs development, digital animation and marketing applications.
If you want to look for an hourly rate, Upwork might help you with it.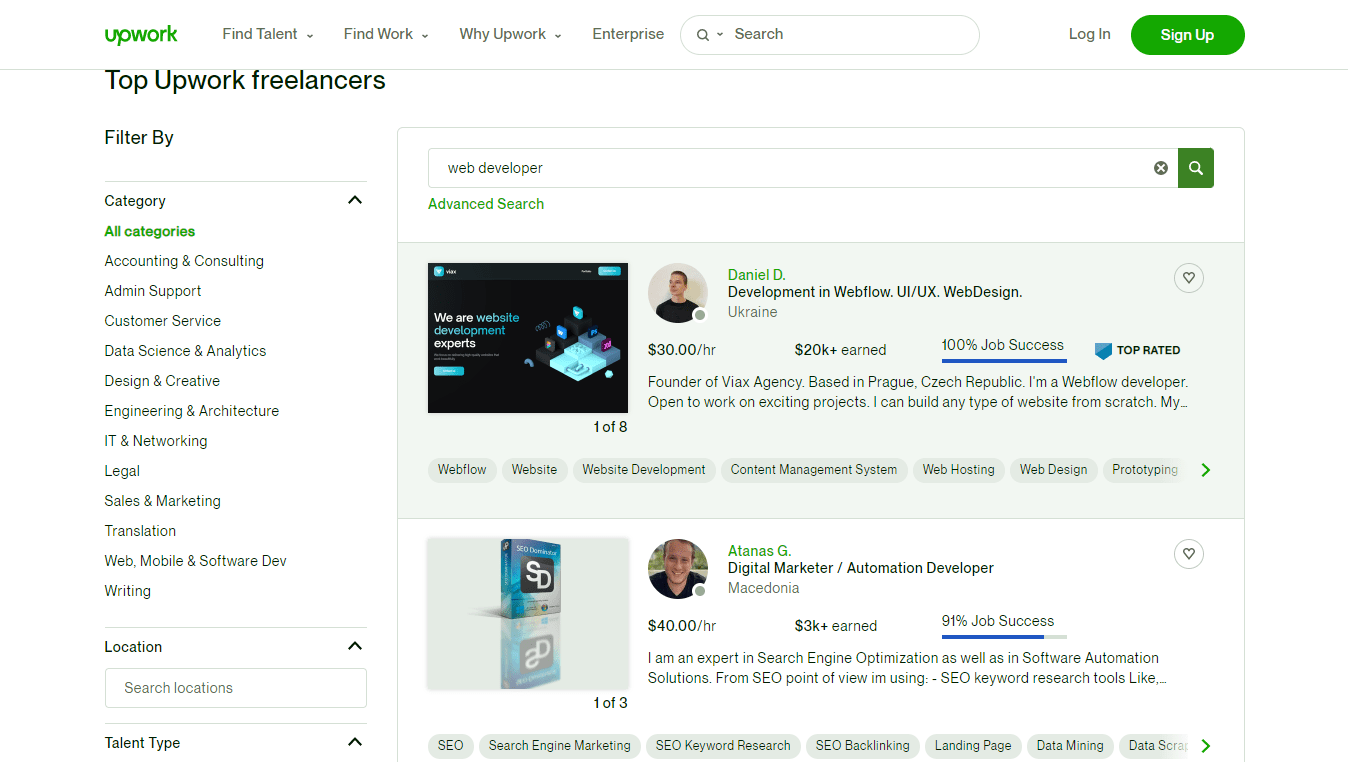 Upwork is one of the most popular platforms for finding web developers, and the cost can vary depending on the developer's experience and ratings. The cheapest I can find for a web development service on Upwork starts at $7 per hour. That's only for creating WordPress website with or without an ecommerce functionality.
Full stack development is a lot more expensive. You can find $10 per hour for stack development. And of course complex websites will cost $15 per hour or more.
You can view the profiles of different developers to see their ratings and reviews before deciding who to hire.
Content
Content writing is a vital part of any online marketing strategy. After all, without compelling content, it would be difficult to attract visitors to your website or blog. But how much does it cost to write content?
Unfortunately, there is no simple answer to this question. The price of content writing depends on a number of factors, including the writer's qualifications, the length and complexity of the piece, and the turnaround time.
If you need someone who has a degree in English literature, you might have to pay more than if you're just looking for someone who can write reasonably well. Similarly, if you need a lengthy piece or something with a lot of research involved, you can expect to pay more than if you just need a short blog post or article. On the other hand, if you're willing to wait longer for your content, you might be able to get a discount.
There are a number of ways to find content writers, including online job boards such as Upwork and Fiverr. Upwork has a variety of writers with different levels of experience and English proficiency, so you should be able to find someone who meets your needs.
However, I would not recommend Fiverr that much because most of the writers I have hired were not that good.
Images and videos
Website content actually refers to much more than just the written word. Images, videos and some graphics are put together to make it compelling. While creating images can be time consuming, there are several websites that offer free stock photos and videos for free – both personal and commercial use.
Some stock photo websites like iStockPhoto and 123rf have tens of thousands of superb photos and videos to choose from but they require a monthly subscription to use their royalty-free media.
SEO and Marketing
Search engine optimization (SEO) and marketing are two important aspects of running a successful website. Both can be costly, but the investment is often worth it in terms of increased traffic and sales.
The cost of SEO depends on a number of factors, including the competitiveness of the keyword phrase being targeted and the size and structure of the website. For smaller websites, SEO may cost as little as $500 per month, while larger, more complex websites could incur costs of $5,000 or more per month.
Similarly, the cost of marketing a product or website can vary widely depending on the goals of the campaign and the methods used. Generally speaking, however, most marketing campaigns will cost several thousand dollars per month. As such, businesses should carefully consider their budget before embarking on an SEO or marketing campaign.
What to expect to an SEO specialist?
SEO specialists are responsible for a wide range of tasks, all of which contribute to the goal of improving a website's search engine ranking.
These obligations include:
Conducting keyword research
Optimizing website content
Building links
SEO specialists must also stay up-to-date on the latest algorithm changes and SEO best practices. Furthermore, they often collaborate with other marketing team members to ensure that all of a website's marketing efforts are working together to achieve the best results.
In short, SEO specialists play a vital role in ensuring that a website is visible to its target audience. As such, they are an essential part of any successful digital marketing team.
All of these activities take time and effort, but they can be well worth it in terms of increased search engine ranking and visibility. Depending on the size and complexity of your website, SEO can cost anywhere from a few hundred to a few thousand dollars per month.
What about marketing?
Marketing is another important aspect of running a successful website. There are many different marketing strategies you can use to promote your website and products, including online advertising, search engine marketing, social media marketing, and email marketing.
Each of these strategies has its own associated costs, so it's important to do some research to determine which one will be most effective for your business.
A marketing specialist has many responsibilities, the most important of which is to develop and implement marketing plans.
This involves:
Conducting market research
Identifying target markets
Analyze marketing data
Developing strategies to reach those markets
The marketing specialist must also be able to track marketing trends and understand how to adjust marketing plans accordingly. In addition, the marketing specialist is responsible for creating marketing materials, such as brochures and website content, and for managing advertising campaigns.
They may also be responsible for managing social media accounts and developing marketing content.
The marketing specialist must also track the results of marketing efforts and report those results to upper management.
With so much on their plate, it is essential that marketing specialists are well-organized and have strong communication skills. So, now you know it's not that cheap to hire a marketing specialist.
Building a Website Using Website Builders
Over the past few years, website builders have become increasingly popular as a way to create a professional-looking website without the need for coding skills. There are now a wide range of website builders on the market, each with its own strengths and weaknesses.
Website builders cost $0-$49 per month. The cheapest you can get is Wix at $4.50 per month but Wix displays ads on your website.
Some of the most popular website builders right now include Wix, Weebly, and Squarespace.
Wix is a particularly user-friendly platform that enables users to drag and drop elements to create a website without any prior experience.
Weebly is another popular option that offers a range of templates and easy-to-use tools for creating a website.
Squarespace is also a popular choice, especially for businesses, due to its sleek and professional designs.
Online and offline website builders.
There are two main types of website builders: offline and online. Both have their own advantages and disadvantages, so it's important to choose the right one for your needs.
Offline website builders, such as Nicepage and Mobirise, allow you to create websites offline, without an internet connection.
Nicepage, for example, offers a range of plans starting at $59 lifetime with 1 year of updates. Mobirise costs $149 for life and there are other plugin options too. But that's just the cost of the software. You'll also need to factor in the cost of hosting, which will vary depending on your needs.
And if you're not comfortable creating your own website, you may need to hire a web designer to help you get started. When all is said and done, the cost of an offline website builder can vary widely. But with careful planning, it's possible to find an offline website builder that fits both your needs and your budget.
However, offline website builders can be more expensive than online builders, and they can be more difficult to use if you're not familiar with HTML or CSS.
Online website builders, on the other hand, require an internet connection to work. This can be an advantage if you want to be able to update your website from anywhere in the world.
Online website builders can also be more user-friendly than offline builders, making them a good choice for people who are not familiar with web development.
However, online builders can be less flexible than offline builders, and they may not offer as many features.
other costs of building a website
Business Email
The cost of setting up a business email account depends on the size of the business and the number of email accounts required.
But before we proceed, lucky you can get a free business email. We've written a definitive tutorial on how you can get a free business email. Be sure to check it out.
Let's go back to the topic.
A small business with only a few employees may only need one email account, while a larger business may need multiple accounts for different departments or staff members. A $1-$3 will be a good price point to start with.
In addition to the initial setup costs, businesses also need to pay for monthly fees for email service providers, as well as any additional storage fees if they choose to store their business emails on a separate server.
Hosting Upgrade
There are a few different hosting upgrades that you can choose from, and the cost will vary depending on which one you choose.
For example, if you upgrade to a VPS hosting account, you can expect to pay anywhere from $50 to $100 per month. If you want to go with a dedicated server, the cost will be much higher, starting at around $200 per month.
Of course, these prices can vary depending on the specific hosting provider you choose and the features you need. But in general, these are the approximate costs you can expect to pay for each type of hosting upgrade.
Premium SSL Upgrade
While some hosting providers offer free SSL as part of their plans, there is often a cost associated with premium SSL upgrades.
Free SSL options are typically more limited in terms of features and protection, making them less ideal for businesses that handle sensitive data.
Paid SSL options usually include features such as Wildcard SSL certificates and Extended Validation (EV) certificates, which offer a higher level of security.
The cost of premium SSL can vary depending on the provider and the features included, but it is typically a few dollars per month. For businesses that handle sensitive data, the premium SSL upgrade is well worth the cost.
Glossary
What is a domain registrar and what is its purpose?
A domain name registrar is an organization that allows you to purchase a domain name. Domain names are used to identify one or more IP addresses. A domain name registrar typically charges an annual fee for the right to use that domain name.
What is a website builder?
A website builder is a software application that allows users to create, edit, and publish a website without the need for coding or other technical knowledge.
Website builders are usually available as either a web-based service or as a software program to download and install on your own web server.
Most website builders include templates or themes to give your website a professional look and feel, and some also include features such as e-commerce functionality, contact forms, blog posts, and social media integration.
What is an SSL?
SSL (Secure Sockets Layer) is an essential part of keeping your website secure and ensuring that your visitors can browse with peace of mind.
SSL allows sensitive information such as credit card numbers, social security numbers, and login credentials to be transmitted securely.
Conclusion
"How much does a website cost" is always a tricky question. How much should you spend on your website? If you're not a web designer or developer, you can hire someone to build your website.
The cost of hiring a web designer or developer can vary widely, depending on the scope of work and the level of experience.
In general, you can expect to pay $500-$5,000 for a basic website, and $5,000-$10,000 for a more complex website. Of course, these are just rough estimates – the actual cost will vary depending on your specific needs.
So, if you're thinking about hiring someone to build your website, be sure to get several quotes to ensure you're getting the best value for your money.