Namecheap Email Review: Simply Affordable Business Email
This post may contain affiliate links. Please read our disclosure policy.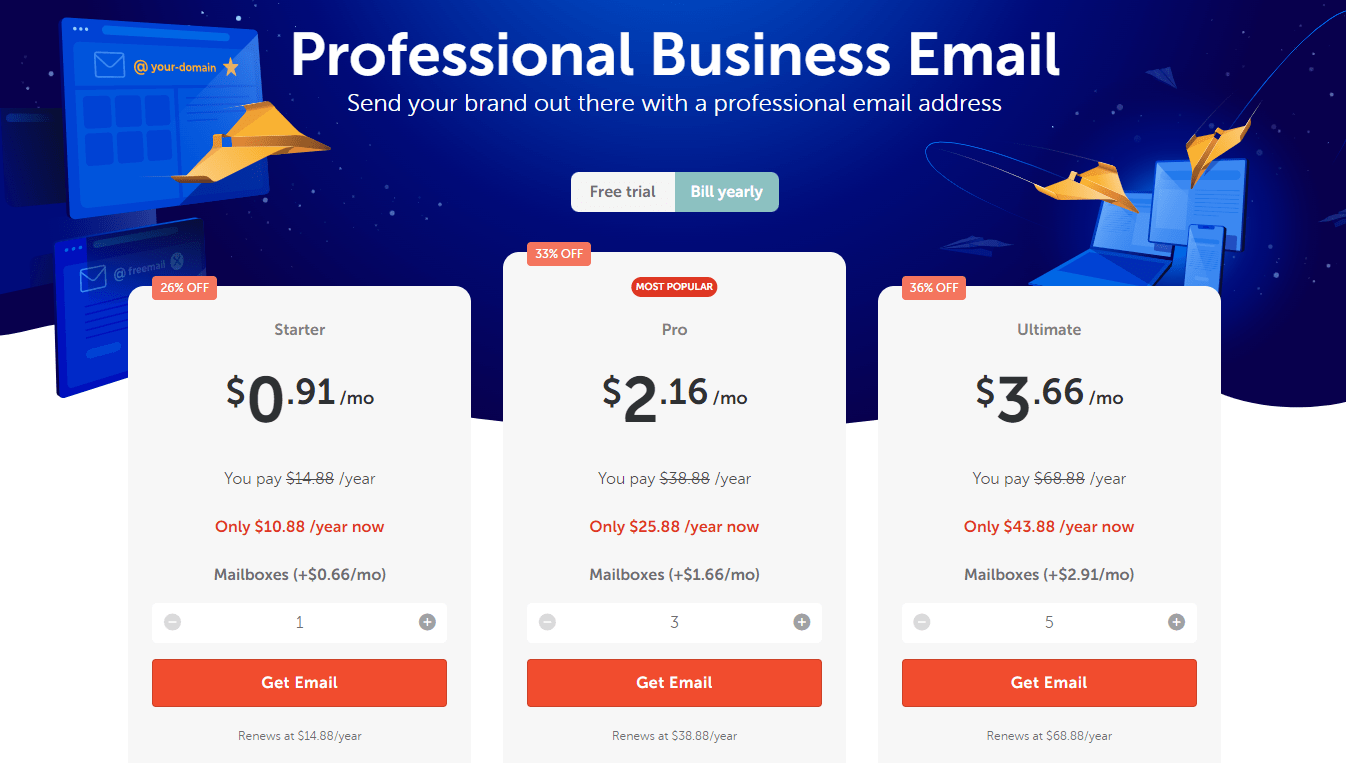 Namecheap Email Review
Namecheap email hosting provides reliable business email without the need of fancy features or steep price. They are an excellent choice for small businesses that need a reliable and easy-to-use solution for managing email.
Pros
Incredibly cheap
Comes with storage space for files
Multiple device connectivity
Minimalist design interface
Mobile synchronization
Cons
You need an Ultimate plan to access features like texts, sheets and presentation
Needs Pro and Ultimate plan for collaboration tools
Lacks few features in its price range
So when I heard about Namecheap email hosting, I immediately become interested and setup an Ultimate Plan to test their service. Here's my Namecheap email review about their business email hosting.
Namecheap Email Hosting Overview
Webmail
Open-Xchange
Email storage
Starter – 5GB, Pro – 30GB, Ultimate – 75GB
File storage
Starter – 2GB, Pro – 15GB, Ultimate – 30GB
Mailbox
Starter – 1, Pro – 3, Ultimate – 5
Aliases
Starter – 10, Pro – 50, Ultimate – Unlimited
Maximum attachment
100MB
Office Suite
Only for Ultimate Plan
Max Outgoing email

Starter – 500 emails/hour per domain
Pro – 1000 emails/hour per domain
Ultimate – 1500 emails/hour per domain
Size per mailbox

Starter – 5GB, Pro – 10GB, Ultimate – 15GB
Protocols
SMTP, IMAP, POP3
About Namecheap Email Hosting
Namecheap is one of the most popular domain name registrars on the market, and for good reason. They offer a wide range of services, including email hosting.
Namecheap email hosting plans come with a variety of features that are designed to make managing your email easy and efficient. These include ample storage, support for SMTP, IMAP and POP3, and a web-based interface that makes it easy to access your email from anywhere.
In terms of price, Namecheap is very competitive. Their plans start at just $10.88 per year for 5GB of storage.
Namecheap also offers excellent customer support. They have a team of experts that are available 24/7 to answer any questions you may have about their email hosting service.
Features
Minimalist Interface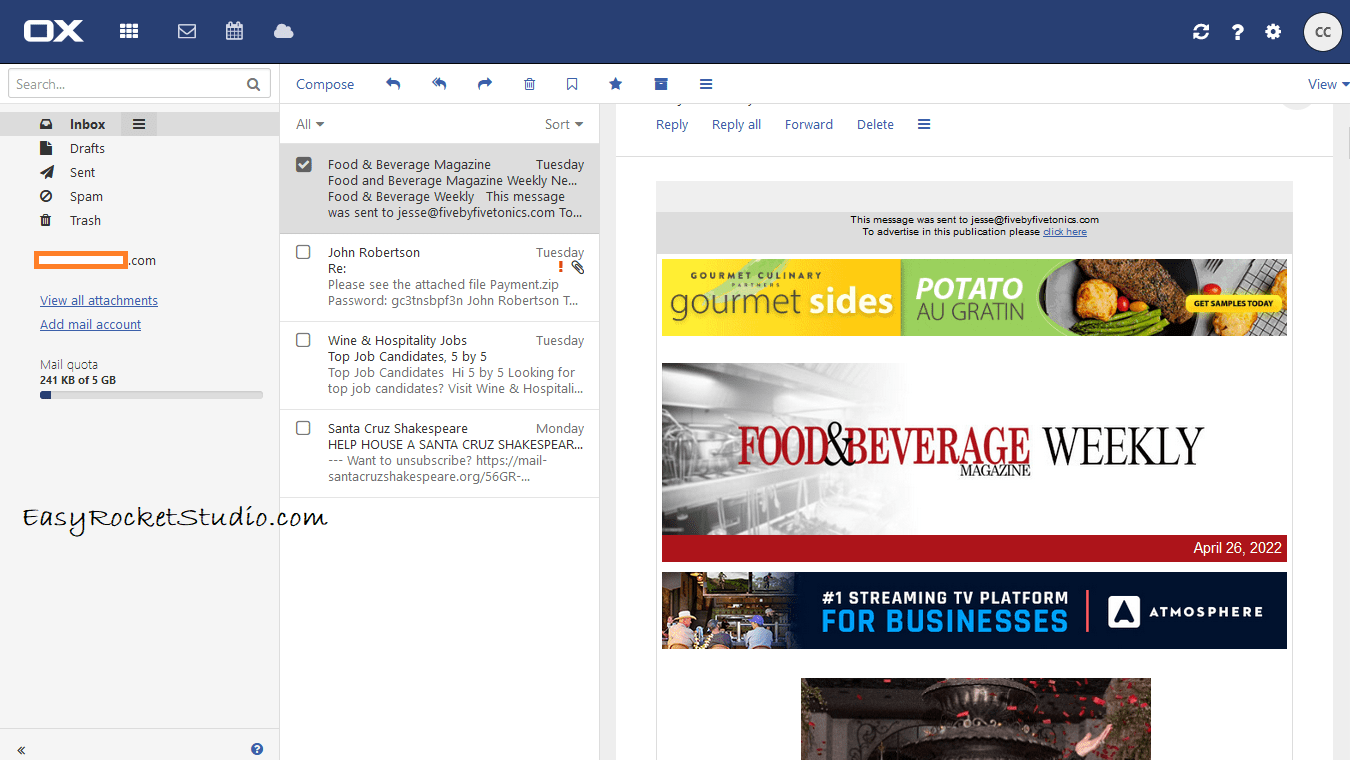 Namecheap webmail is a great choice for those who are looking for a minimalist and easy to navigate interface. I can compare it to SquirrelMail webmail simplicity if you happen to have a cPanel web hosting.
The main menu is located at the top of the page, and it is easy to find what you are looking for.
Namecheap webmail also offers a number of features that make it a great choice for business users. For example, you can easily create and manage multiple email accounts from within the Namecheap webmail interface.
You can also set up auto-responders and vacation messages, as well as add signatures to your outgoing emails.
Namecheap webmail is powered by Open-Xchange. Open-Xchange is a cloud-based software suite that provides businesses with a comprehensive set of tools for managing their online presence and communicating with their customers.
Easy Configuration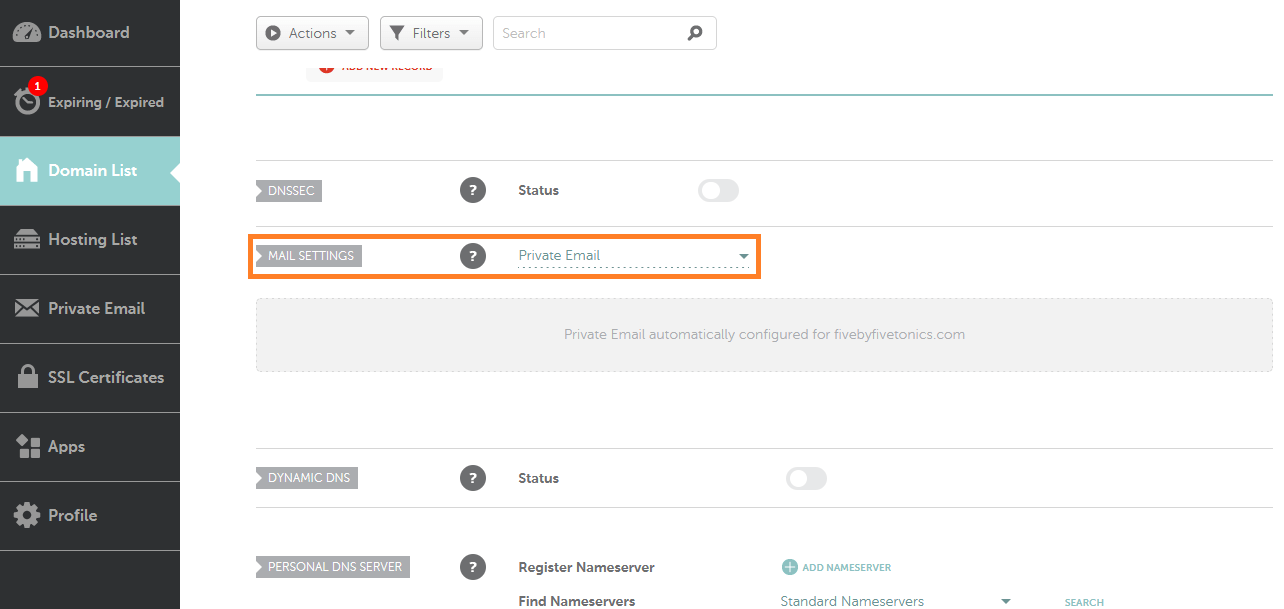 If you have a domain on Namecheap, it is a no-brainer when you setup your business email.
Even if your domain is not hosted on Namecheap, you will just need a few additional records to use their email service.
All-in-One Email Account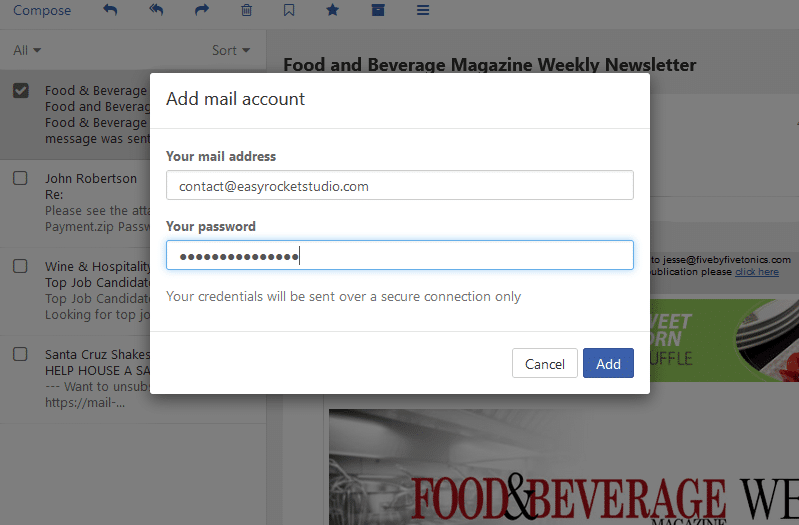 If you have multiple email accounts on Namecheap, you can add and access them without logging in or out to another account. This feature is also available on popular free email providers like Gmail and Outlook.
Email Client and Mobile Support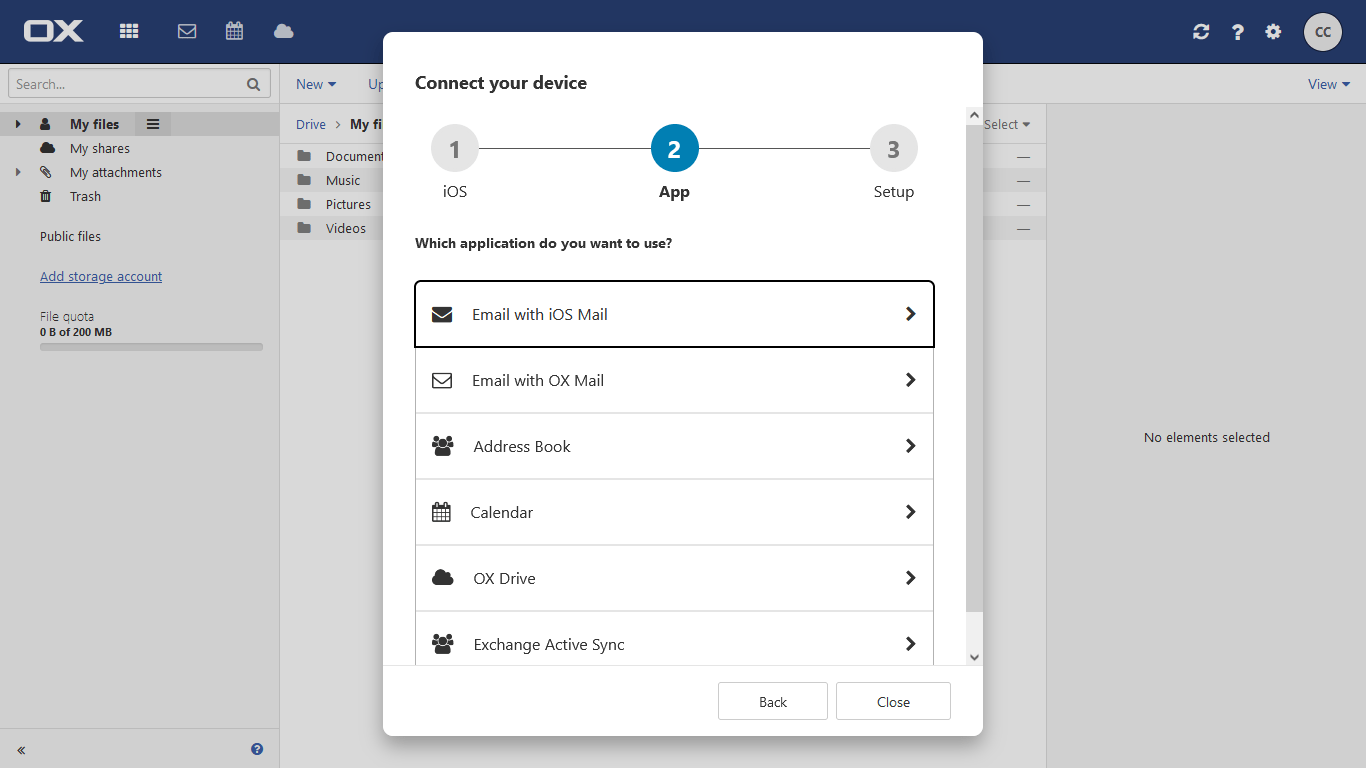 Namecheap email hosting is a great option for those who want to be able to access their email on the go. Their service offers mobile synchronization, so you can keep your email up-to-date no matter where you are. You can either choose Android or iPhone devices.
In addition, you can use OX Drive to easily access Namecheap email on your mobile phone. It's available on App Store and Google Play.
File Storage On the Go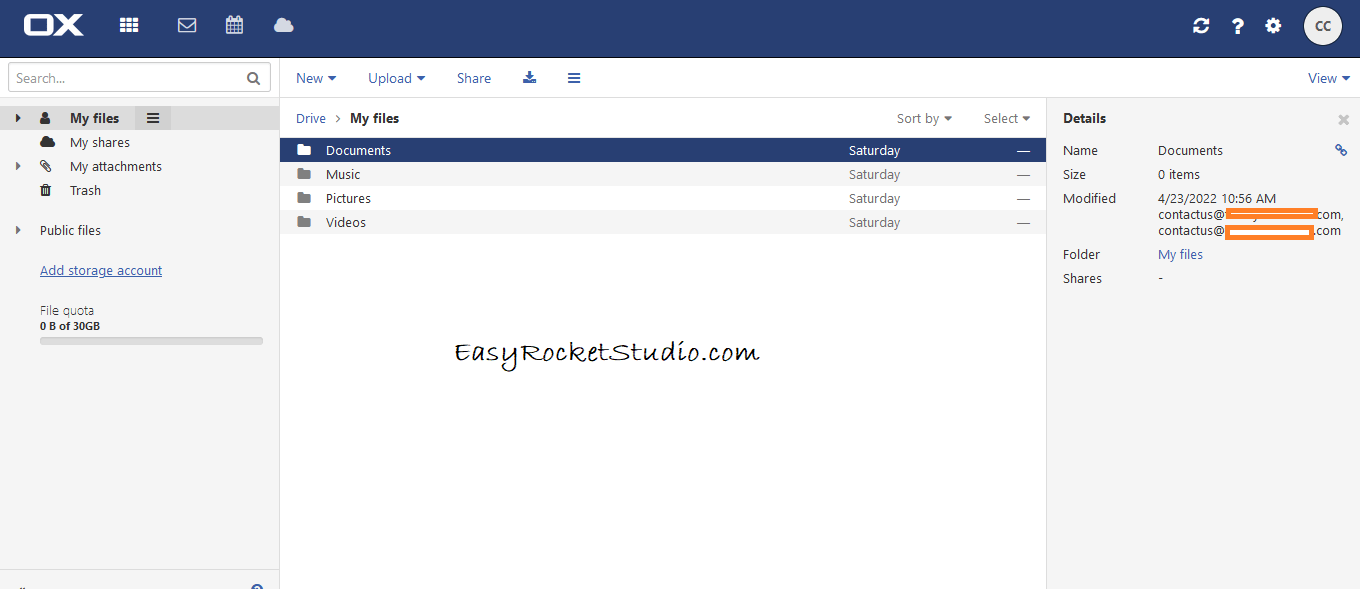 Namecheap file storage is a convenient and reliable way to store important files. The Starter Plan provides 2GB of storage, while the Pro and Ultimate Plans offer 15GB and 30GB, respectively.
Namecheap file storage is easy to use and offers a number of features, including the ability to share files with others and access them from any internet-connected device.
In addition, Namecheap email hosting offers a variety of other features, such as a calendar, task manager, and contact manager. With all of these features, Namecheap email hosting is a great way to stay organized and connected while on the go.
Navigating Namecheap Webmail
Namecheap webmail is not that hard to use. In fact it is easy. You can find where the inbox, drafts, sent emails, spam and trash are. There's no fancy buttons or what not. It's plain simple design.
You can access your email through privateemail.com.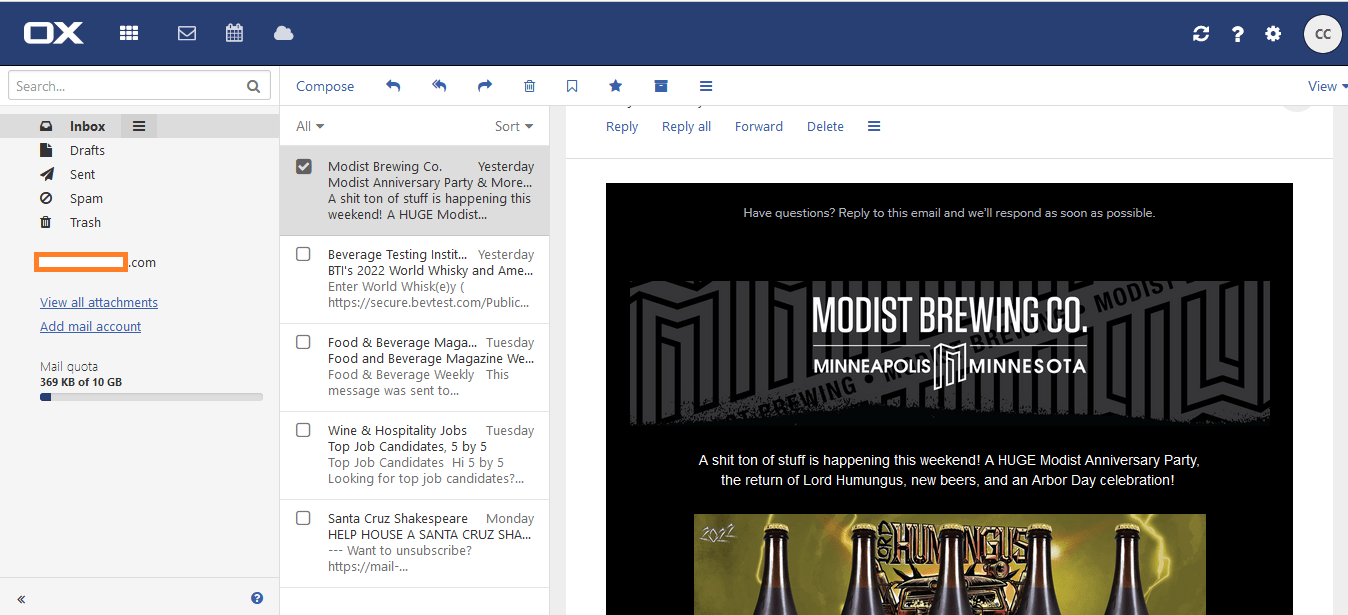 Namecheap's email settings are also easy to configure.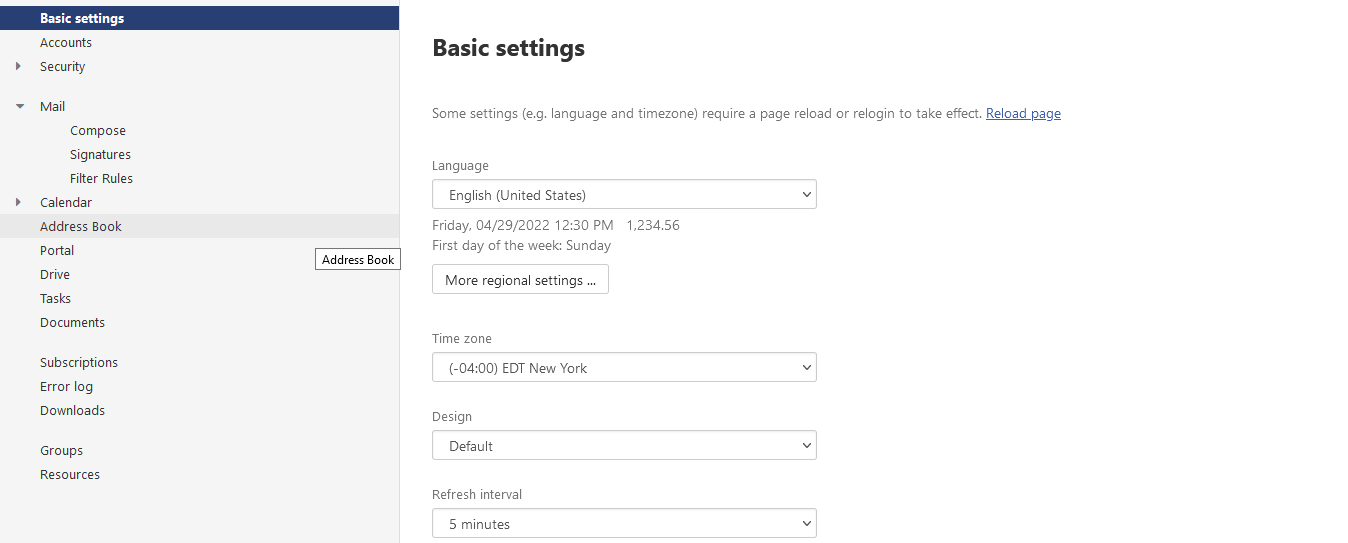 In addition, you can easily find collaboration tools in one tab located at the uppermost right of the webmail. Text, spreadsheets and presentations are available only on Ultimate Plan.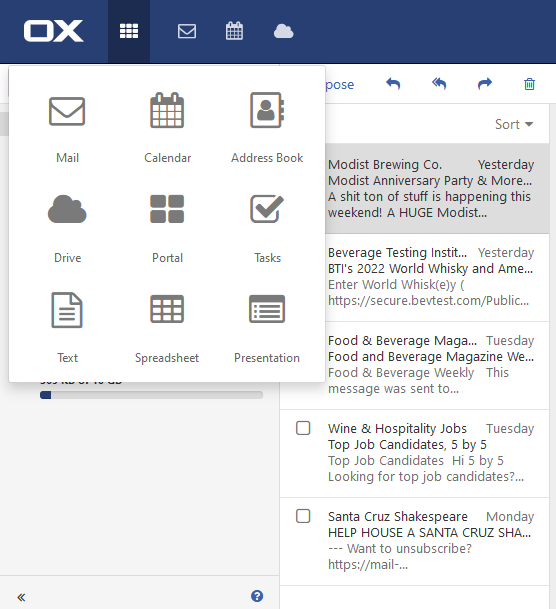 Setting up an email with Namecheap is not that difficult.
Once you sign up go to your Domain List and find the domain you signed up the email for. Then click Manage > Advanced DNS >Mail Settings. Choose Private Email in the drop down menu.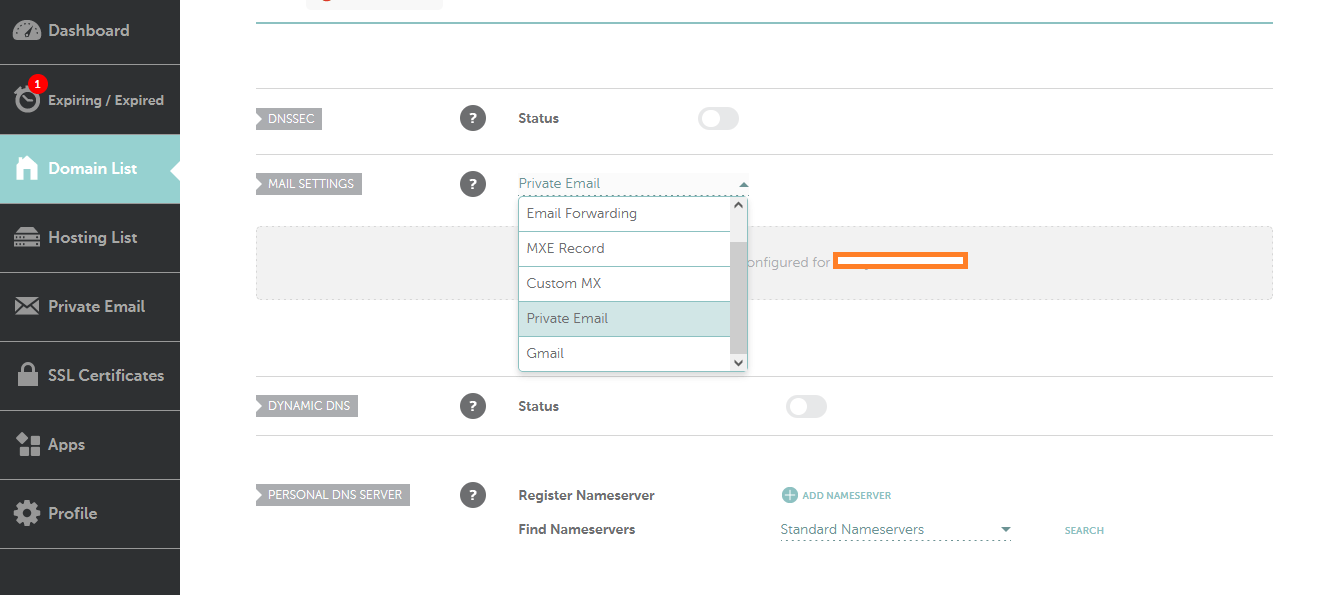 Strong Email Security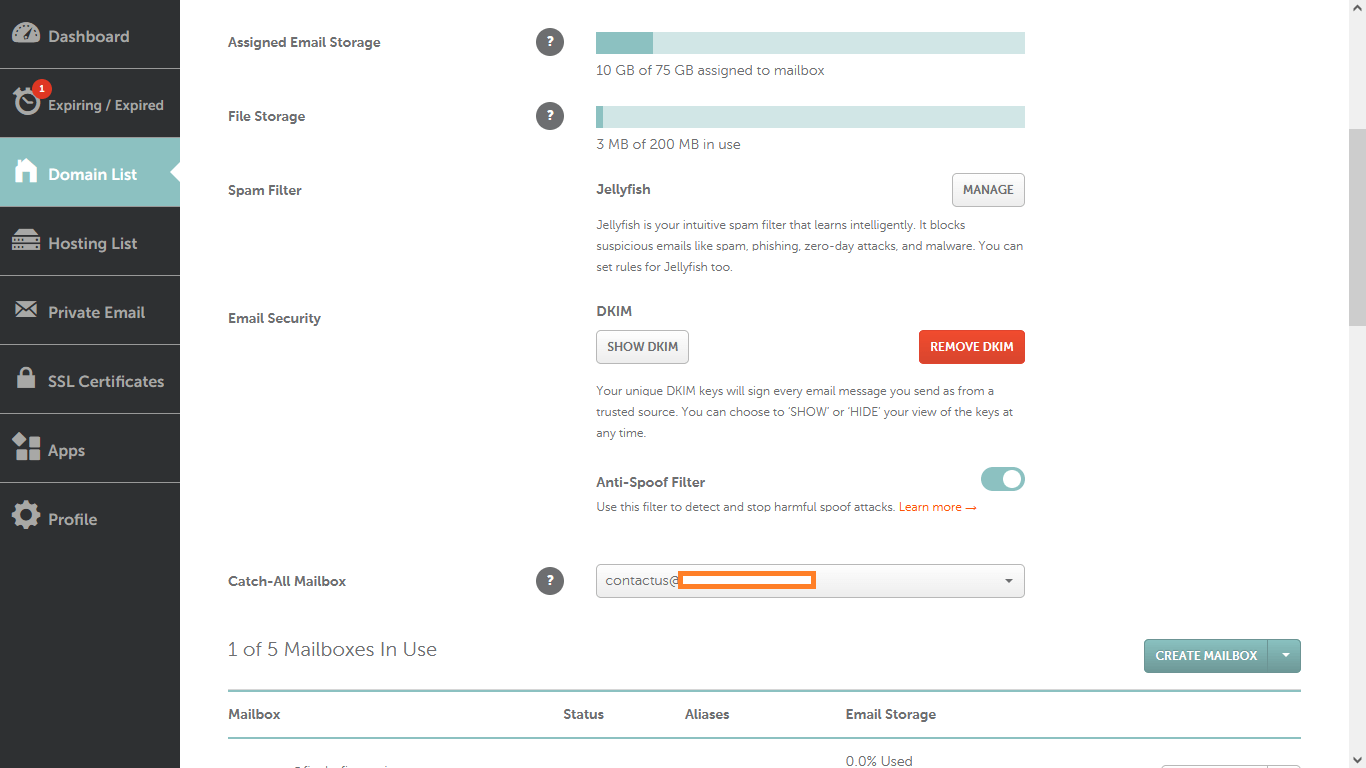 Namecheap offers a number of different email security features to help keep your account safe from unwanted attention. These include Jellyfish, DKIM, Anti-Spoof Filter and 2-Step Verification.
Jellyfish is an AI-powered spam filter that will help to keep your inbox clean and free from junk mail. You can manually create a rule to block email, domain, subject and create multiple sets of rules.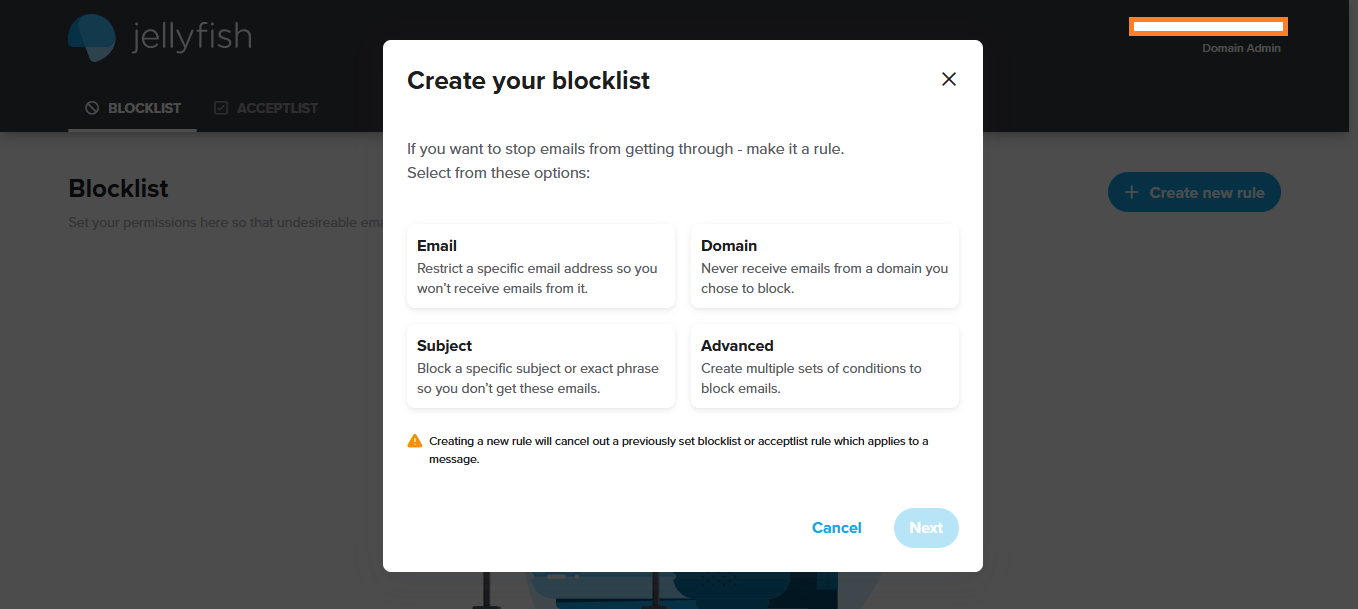 DKIM, or DomainKeys Identified Mail, is another tool used by Namecheap to improve email security. With their DKIM, each message is digitally signed using a unique key so that the recipient can verify its authenticity. This helps to ensure that any messages sent through Namecheap are protected from phishing attempts or spoofing attacks.
In addition to these tools, Namecheap also provides users with Anti-Spoof Filter. This feature blocks unwanted junk and spam messages in real time by automatically scanning your inbox for keywords that suggest dangerous content.
Moreover, the 2-Step Verification provides an extra layer of security to your email by requiring you to enter a code as well as your password when logging in.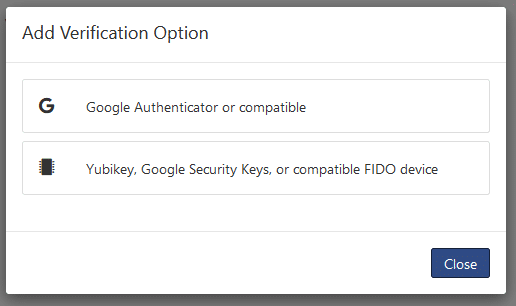 In addition to securing logins, you can also view which device your email is currently logged in. You can sign them all out if you think your email has been compromised.

Also, if you're using apps or email client, Namecheap can let you add password on these third party software through the Application Passwords on the security settings.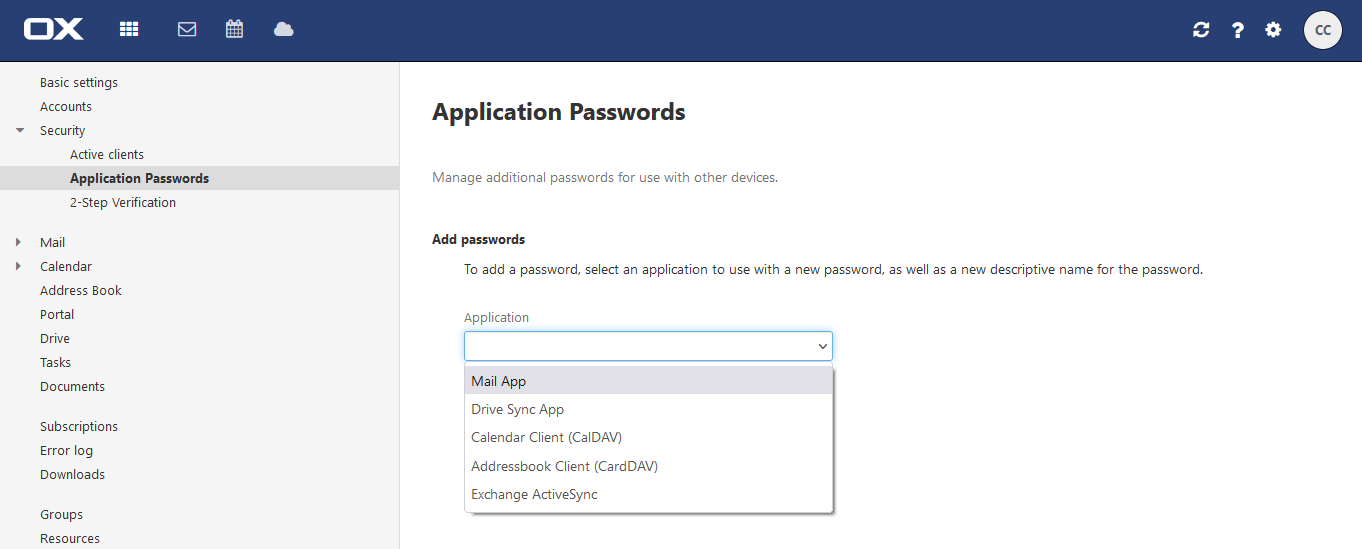 By making use of these features, you can be confident that your Namecheap email account is safe and secure.
Testing
So let's test Namecheap email to send on Gmail, Outlook and AOL Mail. Let's see if it will go through inbox and not spam without whitelisting the email address.
Subject: Hello from Namecheap Email
Message:
Hi there,
How are you?
Warm Regards,
John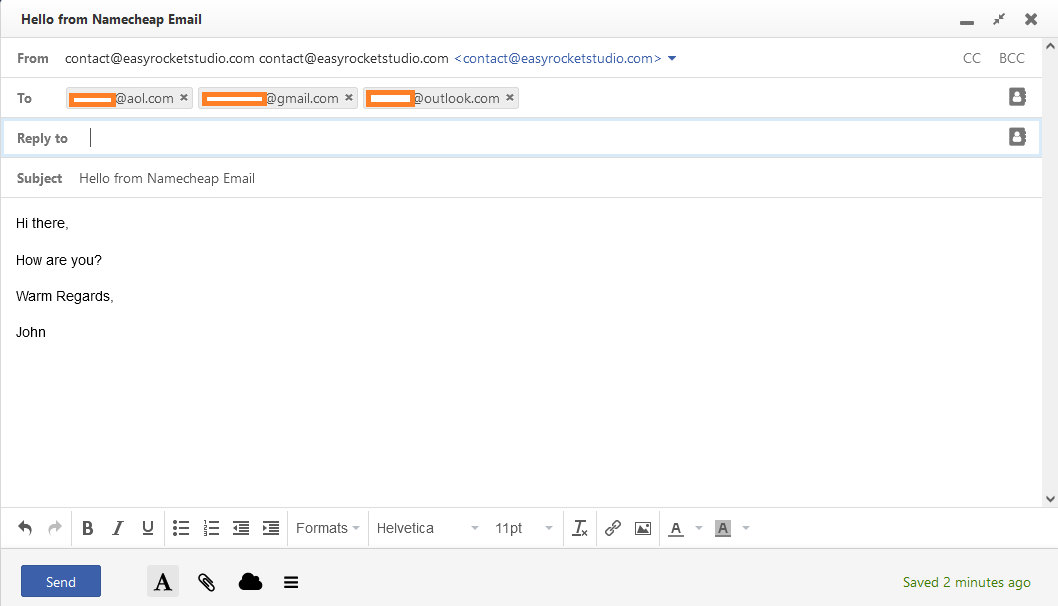 Gmail

Outlook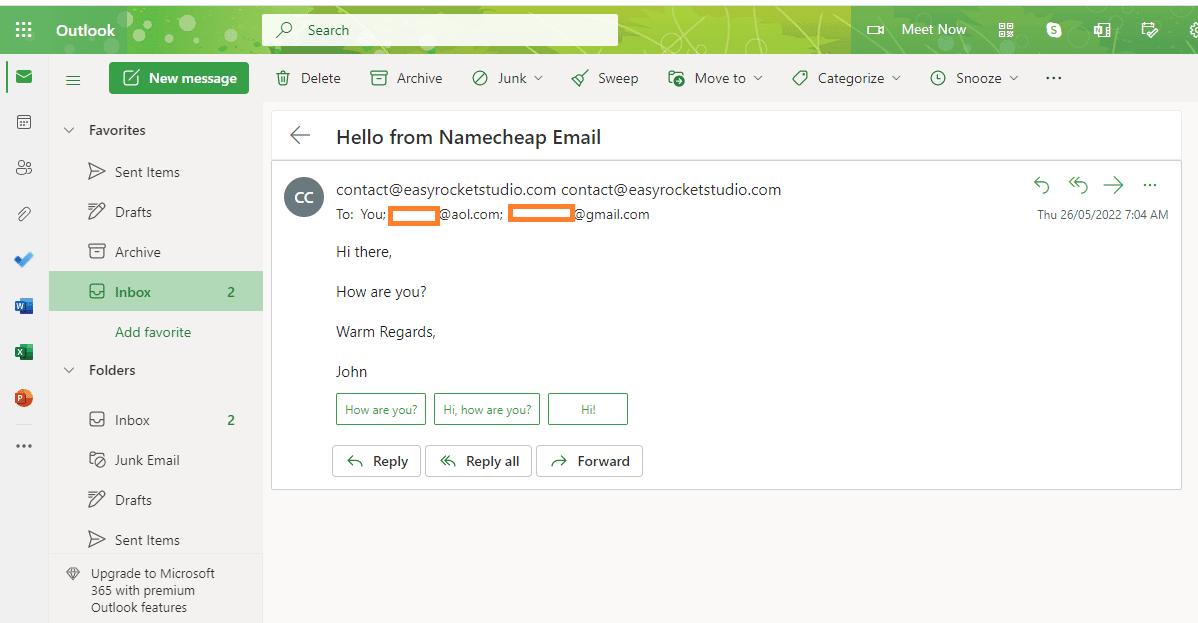 AOL Mail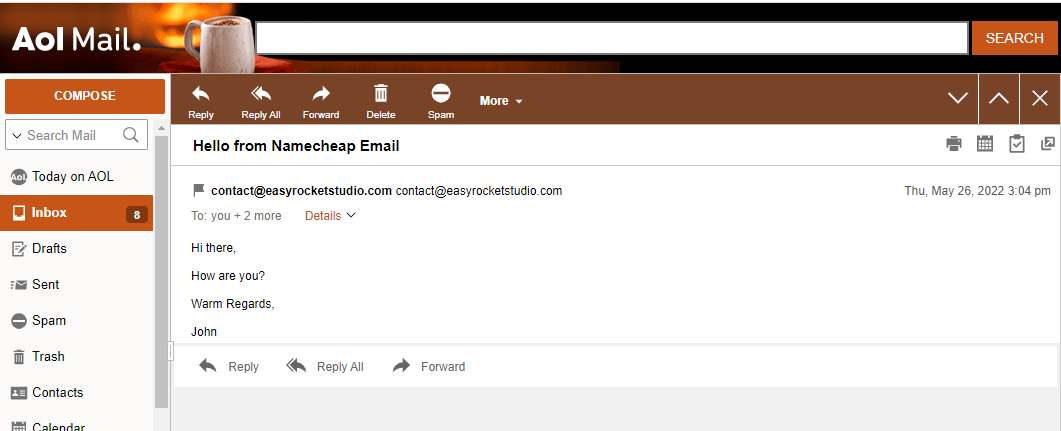 Base on our testing, Namecheap email hosting proves to be reliable. The test emails went directly to inbox and not to spam.
Pricing
| | | | | | | |
| --- | --- | --- | --- | --- | --- | --- |
| Email Hosting Plans | Pricing | Renewal | Email Storage | File Storage | Mailbox | Aliases |
| Starter | $10.88/year | $14.88/year | 5GB | 2GB | 1 | 10 |
| Pro | $25.88/year | $38.88/year | 30GB | 15GB | 3 | 50 |
| Ultimate | $43.88/year | $68.88/year | 75GB | 30GB | 5 | Unlimited |
Namecheap offers a variety of email hosting plans to meet the needs of businesses of all sizes. The most basic plan, Starter, starts at just $0.91 per month and includes 5 GB of storage and 2GB of file storage. If you just want to stick to sending and receiving emails, then this plan is for you.
For businesses that need more storage, Namecheap offers a Pro plan for $2.16 per month, which includes 30 GB of email storage and 15GB for files.
Namecheap also offers an Ultimate plan for $3.66 per month, which includes 75 GB of email storage 30GB for files. This plan is intended for collaboration. If you have several people in your team, go straight for this plan.
Each plan comes with Namecheap's 99.9% uptime guarantee and 24/7 customer support. Namecheap's email hosting plans are really an affordable and reliable way to keep your business connected. They could be your first business email host.
Namecheap Email Alternatives
| | | | | |
| --- | --- | --- | --- | --- |
| Email Hosting | Pricing | Renewal | Storage | Free Trial |
| Hostinger | $0.99/month | $0.99/month | 10GB | No |
| Zoho | $1/month | $12/year | 5GB | Yes |
| Hostpapa | $2/month | $2/month | 5GB | No |
| Name.com | $2/month | $2/month | 1GB | No |
| InterServer | $2.50/month | $2.50/month | 25GB | No |
| Bluehost | $2.95/month | $8.99/month | 50GB | No |
Namecheap is one of the most popular email hosting providers, but it's not the only option out there.
If you're looking for Namecheap email hosting alternatives, there are several options worth considering. Hostinger, Zoho, Hostpapa, Name.com and InterServer are all solid choices that offer features similar to Namecheap.
Depending on your specific needs, one of these providers may be a better fit for you than Namecheap. What I can see as a close competitor for Namecheap Email Hosting is Zoho. They offer free for life email hosting at 5GB. I've written a tutorial and I hope you can check it out.
So be sure to do your research and compare the features of each before making your decision.
Frequently Asked Questions
What is Namecheap email hosting and what are its benefits?
Namecheap email hosting is a service that provides users with a convenient and reliable way to access and manage their email. This unique service offers a number of benefits for business owners, professionals, and anyone who relies on email for communication.
For one thing, Namecheap email hosting allows its users to create custom domain addresses for their email accounts, which helps to improve brand recognition and credibility.
In addition, this service includes powerful spam filtering features that help keep unwanted messages out of the user's inbox.
Where can I access my email?
You can access your email through Namecheap's webmail powered by Open-Xchange: privateemail.com
What is Open-Xchange?
Open-Xchange is a flexible and customizable platform that allows users to manage their email, contacts, calendars, and documents in one place.
Designed for organizations of all sizes, Open-Xchange offers a range of features that enable collaborative workflows and allow businesses to stay connected and up-to-date at all times. Whether you are looking for a simple email account or more advanced tools such as synchronizing your calendar with a mobile device, Open-Xchange has you covered.
With a robust set of built-in apps and the flexibility to add even more through an app store, Open-Xchange is the ultimate tool for staying organized and productive both inside and outside the office.
What is Namecheap's anti-spam control Jellyfish Spam Protection?
Jellyfish Spam Protection is Namecheap's anti-spam control that helps to protect your inbox from spam. It uses a variety of techniques to detect and block spam, including blacklist checking, whitelist checking, and heuristic analysis.
Jellyfish Spam Protection is constantly learning and evolving to stay ahead of the latest spammer tricks. It's easy to set up and use, and it's available free of charge for all Namecheap customers.
Jellyfish Spam Protection is just one more way that Namecheap is working to keep your inbox clean and your communications safe.
And thanks to Namecheap's highly secure servers and top-notch customer support team, users can rest assured that their data will always be protected and they will never have to worry about downtime or technical problems.
What are the steps to setting Namecheap email up?
If you have a domain name registered to Namecheap, follow this guide.
If you are using Namecheap's hosting services, follow this guide.
If you are using another registrar or third part DNS, follow this guide.
If you want to setup email clients and mobile applications, follow this guide.
What are some of the most common problems people experience with Namecheap email hosting, and how can they be fixed?
Namecheap is a popular web hosting and email provider, but like any service, it's not without its fair share of problems.
One of the most common Namecheap email hosting problems is its email configuration especially if your domain is not registered on Namecheap. If you know a little about DNS configuration, you can find their guide here. If the problem still exist, you can seek help on your registrar or Namecheap themselves.
Another problem is email deliverability. This is when emails sent from a Namecheap account are either not delivered at all, or delivered to the recipient's spam folder.
There are a few reasons this can happen, but the most common is that the Namecheap IP address has been blacklisted or if you just updated the DNS. This can happen if Namecheap customers have been sending a lot of spam emails, or if someone has been using a Namecheap account to send phishing emails.
If you think your Namecheap account has been blacklisted, you can check here: mxtoolbox.com/blacklists.aspx. Once you confirm that your IP address has been blacklisted, you'll need to contact Namecheap support to have it removed.
Where can I find more information about using and troubleshooting Namecheap email hosting?
The fastest way you can solve the problem you are having is to chat with a live agent. You can also submit a ticket.
Can I upgrade my account if my needs change in the future?
Absolutely.
Conclusion
All in all, Namecheap email hosting is a great option for small businesses or bloggers on a budget. The interface is easy to use and the customer service is responsive. If you are looking for an affordable, reliable email hosting solution, we recommend giving Namecheap a try.
Do you have any questions about Namecheap email hosting? We would be happy to help!