9 Best Cheap Email Hosting Options for Business 2022
This post may contain affiliate links. Please read our disclosure policy.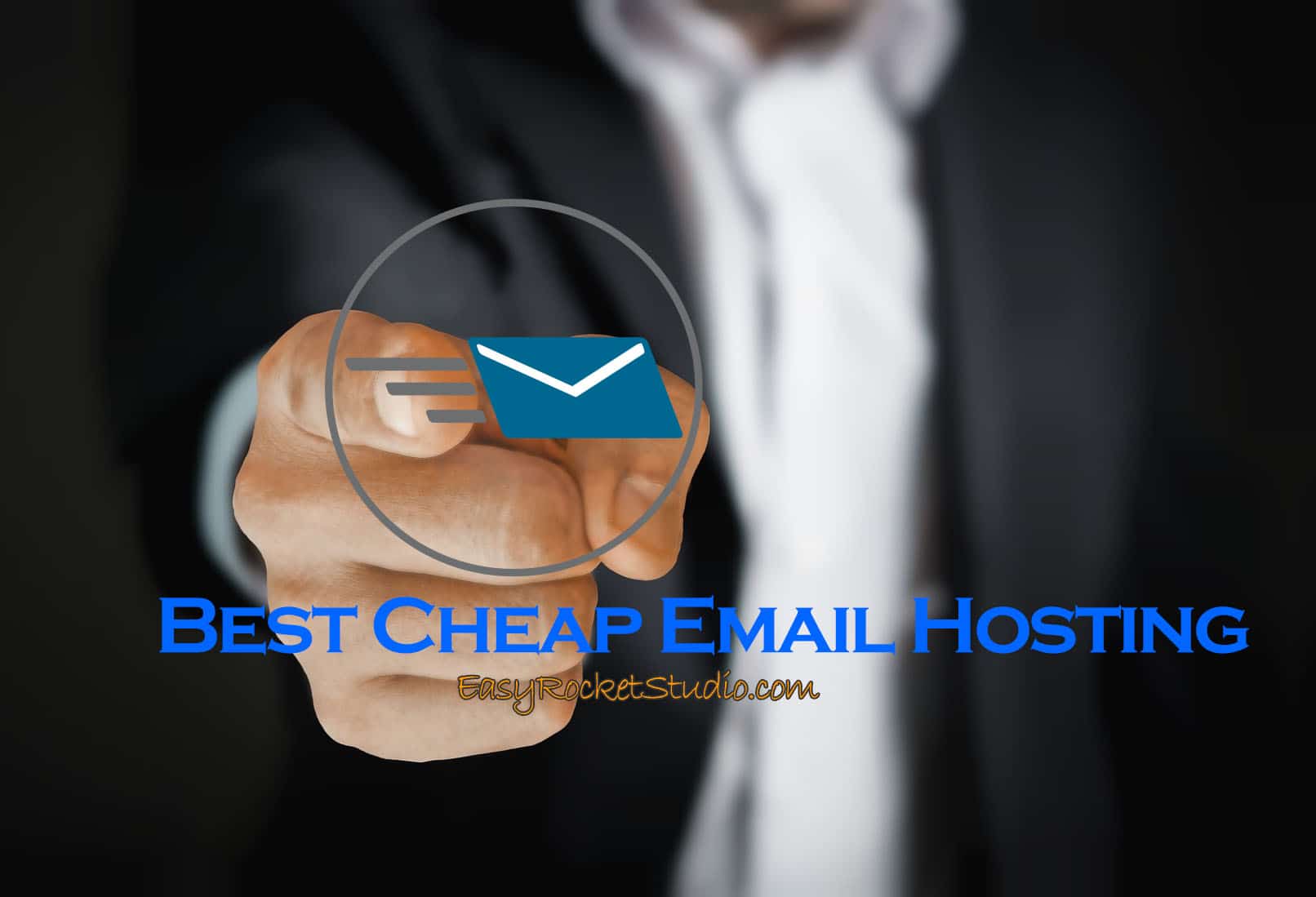 A custom email address for your business adds a sense of professionalism and allows better communication. While lots of companies claim to provide quality services, most of them struggle offering slow and unreliable email hosting.
Waste of time, right?
We've analyzed some of the most popular cheap email hosting providers and checked their services for a while, only to figure out if they raise to the expectations. Some of them do, others don't. We've cut a long list down to the best nine.
9 Best Cheap Email Hosting Providers
| | | | | |
| --- | --- | --- | --- | --- |
| Email Hosting | Pricing | Renewal | Storage | Free Trial |
| Namecheap | $0.91/month | $14.88/year | 5GB Email/2GB Files | Yes |
| Hostinger | $0.99/month | $0.99/month | 10GB | No |
| Zoho | $1/month | $12/year | 5GB | Yes |
| Hostpapa | $2/month | $2/month | 5GB | No |
| Name.com | $2/month | $2/month | 1GB | No |
| InterServer | $2.50/month | $2.50/month | 25GB | No |
| Bluehost | $2.95/month | $8.99/month | 50GB | No |
| Domain.com | $2.99/month | $4.99/month | 15GB | No |
| Web.com | $3.49/month | $3.49/month | 25GB | No |
Sorted by monthly price. All price are based on starter plans and may include introductory price. Monthly price may depend on annual, biennial, triennial or quadrennial payment.
Here's how to gain as much as possible from each provider.
How to Choose the Best Cheap Email Hosting
If you think you don't need to worry too much about finding a cheap business email hosting, think twice. It's quite hard to find both a good price and quality services. There's nothing to be concerned of, though – we've already done the hard work for you.
So, what do you need to pay attention to when choosing a provider?
Here are the key points.
Reliability – It's quite simple to give out free or cheap email hosting, but few companies can actually provide access to redundant servers and high speeds.
Uptime – The uptime is often advertised to skyrocket and exceed 99%. You can't tell before signing up, but you can read some reviews before making a decision.
Resources – As we said before, resources are limited when you pay little to nothing. The services we've selected offer plenty of resources for a proper test.
Locations – You want more than just a couple of servers on two continents. You want at least dozens of them scattered all over the world to ensure prompt service for your visitors.
Interface – If you struggle to find the new email button or you have no clue how to organize folders after a day or two, chances are you need a different service.
Scalability – Your business will grow, and so will your inbox. You'll need new features, extra space, and more possibilities – simply put, you want a provider that will allow you to grow.
Access – You need to be constantly connected to your email, so figure out what type of email account you'll get. You should connect it to all of your devices – including your smartphone.
Long-term costs – If the first year comes with a great special offer, the second year could be a nightmare if prices double or triple up. Check long-term costs, too, then.
Now that you're aware of the main considerations, what is the best cheap email hosting out there?
1. Namecheap – Possibly the cheapest option
Webmail: Namecheap webmail
Protocols: SMTP, IMAP, POP3
Security: SSL, 2FA, Jellyfish Anti-Spam Protection, Secure Email Storage
Storage: 5GB for Email and 2GB for File Storage
Mobile support: Yes
Namecheap has a self-explanatory name and offers one of the cheapest options out there. It has more plans, with the starter one providing access to a single email address.
There's the possibility to purchase as many email addresses as you want. Each plan comes with a free trial for a couple of months.
The cheapest plan offers access to 5GB per email and up to 2GB storage for files. You also have SMTP, IMAP and POP3 access.
In terms of security, the two-factor authentication may be more than enough, but the Jellyfish, DKIM and Anti-Spoof Filter brings more security and reliability of their email hosting.
Namecheap's webmail is powered by Open-Xchange – a cloud-base email suite that allows users to manage their email, contacts, calendars, and various documents in one place.
More expensive packages provide access to extra features – more disk space, collaboration features, or the possibility to share emails though.
Pros
Great value for money
Minimalist design
Email and file storage
Scalable
Free trial
Cons
You need an Ultimate Plan to use their texts, sheets and presentation
Starter Plan doesn't include features that much
Bottom line: Namecheap is an excellent provider if you require professional solutions at an affordable price – as well as only a few emails and not dozens or hundreds of them.
---
2. Hostinger – Excellent for Long Term Commitment
Webmail: Titan email
Protocols: SMTP, IMAP, POP3
Security: SSL, 2FA, Antivirus Check, Spam Filtering
Storage: 10GB
Mobile support: Yes
Hostinger is primarily known for its web hosting services, but the cheap email hosting packages are just as attractive.
There are two packages – Business Email and Enterprise Email. The starter one will cost you less than $1 a month. However you should purchase in a quadrennial term or 48 months in order to avail the cheaper price.
You'll get 10GB of storage, 10 email aliases, and 10 forwarding rules – much more on the premium package, though.
Each email is checked by antivirus for security, and both packages come with an advanced anti-spam setting. The enterprise-grade security is handled by Titan Email.
Pros
Advanced email interface
Renewal prices don't change
More storage space that you'll probably need
30-day money back
Cons
The $0.99 per month requires 48-month subscription
Enterprise plan has on 30GB storage limit
Bottom line: Hostinger is a reliable choice if you run a small business and you're trying to look more professional – probably not the best as your business grows into a massive company since its Enterprise plan has only 30GB storage.
---
3. Zoho – Good for both free and premium email hosting
Webmail: Zoho webmail
Protocols: IMAP, POP3
Security: SSL, 2FA, Malware protection, Spam Filtering, Single Sign-On and more
Storage: 5GB
Mobile support: Yes
Zoho offers free email hosting too, but there are some limitations. Most people will opt for the premium service, though.
The plain plan will cost less than a takeaway coffee a month – around $1. You get 5GB of storage – more than enough for most people.
The service comes with lots of extras, such as email recall, email sharing, and dedicated mobile apps. You can't choose them individually – they come as a package, including those you don't need.
While you do have IMAP and POP3 access for the premium plan, Zoho only allows web access for the free one that means no IMAP/ POP or Active Sync for free users.
Then, you get domain aliases, a high attachment limit, up to 250MB and email routing for the premium plan.
I've used their email hosting for my small business. Their webmail interface is somewhat confusing at start but as you navigate through it you'll get the hang of it. You can change it's theme by the way.
Pros
More plans to choose from, including a free one
Dedicated mobile apps
Allows email hosting for multiple domains
Email recalling
Good value for money
Money-back guarantee
Free trial
Cons
Free email has some limitations for businesses
Webmail interface takes some time to load
Bottom line: All in all, Zoho offers cheap email hosting once you decide to upgrade, as well as free email hosting to familiarize yourself with the service.
---
4. Hostpapa – Suitable for low volume Emails
Webmail: Hostpapa webmail
Protocols: IMAP4, POP3, SMTP
Security: SSL, Malware and Virus protection, Spam Filtering
Storage: 1GB
Mobile support: Yes
Hostpapa is one of the classic options out there and provides a cheap business email for both business and personal uses.
You can create custom addresses and get them up and running within minutes only. The process is straightforward, and the interface is intuitive – excellent for beginners as well.
Hostpapa is quite versatile and allows using email anytime, anywhere thanks to its mobile-friendly interface.
Hostpapa Business Email account comes with 1GB of storage for Basic Plan and 5GB for Advanced plan. They also have other email account plans on Google Workspace and Microsoft 365.
Maximum attachment for Basic and Advanced plans is 35MB. They have anti-Spam, anti-malware and antivirus protection to secure your email. On the Basic plan you don't have a storage for files. You might want to opt for the Advanced Plan for a 5GB file storage.
You won't experience too much hassle or frustration either. The provider guarantees for 99.9% uptime for consistency and reliability.
Pros
Dedicated customer support – phone number included too
Easy to setup and straightforward interface for newbies
Affordable plans
Unlimited email addresses
Good uptime
Cons
1GB of storage for $2 per month is rather small compared to Zoho
Bottom line: Hostpapa is a good and reliable choice for individuals, small and middle-sized businesses, rather than large corporations.
---
5. Name.com – Ideal for Small-Medium Enterprise
Webmail: Titan Email
Protocols: IMAP, POP3
Security: SSL, 2FA, Virus protection, Spam Filtering, Data Encryption
Storage: 10GB
Mobile support: Yes
Running under Name.com, the Titan Email is a cheap business email that can cover most of your business needs with a powerful, yet simple and efficient solution – lots of extras are also worth some attention.
Name.com uses Titan Email as an email suite just like Hostinger.
There are two plans you can choose from – pro and premium – and each of them will cost $1.67 and $2.50 a month respectively. You'll be billed on an annual basis, though.
The cheaper plan is great for individuals and small businesses – 10GB of storage per user, contacts, calendar, and multiple account support. Data encryption is also included for security.
On the other hand, the more expensive plan will bring in 30GB of storage per user and pretty much the same features. Simply put, the difference is in how much space you need – both plans offer plenty of it.
You have a single-click import feature, so you don't need to start from scratch – bring over your contacts and emails from a different provider or client.
Finally, you obviously have superior data protection and a built-in antivirus for all incoming emails. The Titan Max package also allows read receipts, scheduling emails, or different email templates.
Pros
Plenty of storage space for each plan
Titan Max set of extra features for convenience
Easy to import contacts and emails
Good value for money
Cons
All the storage pace may soon feel like a waste if you're not leading a large corporation.
Max of 30GB per user for the premium plan
Bottom line: The Titan email package from Name.com gives you two opportunities and great value for money, plenty of storage, and a superior mix of features.
---
6. InterServer – Suitable for big companies based on the Storage
Webmail: InterServer webmail
Protocols: SMTP, IMAP, POP3
Security: SSL, Spam and Virus Protection
Storage: 25GB per email address
Mobile support: Yes
Do you need a business email account that is secure and easy on your budget? InterServer private email hosting could be perfect for you!
With their private email hosting, you'll get all the features and security of a corporate email system without the high price tag. Plus, their easy-to-use interface makes managing your account a breeze.
InterServer email hosting plan starts at $2.50 per month with an option to upgrade on storage and email archives.
The $2.50 price tag per month is prepaid for a year.
Pros
Multiple webmail to choose from
Cheap business email plan
99.9% guaranteed uptime
Secure, encrypted emails
Cons
Expensive if paid monthly
Bottom line: InterServer will not disappoint. Established decades ago, the provider had time to try everything and become a front-runner. Make sure its offer can actually match your needs, though.
---
6. Bluehost – Excellent value for money
Webmail: Microsoft 365
Protocols: SMTP, IMAP, POP3
Security: SSL, Antivirus Protection, Anti-phishing and Spam Filtering, Disaster Recovery Protection
Storage: 50GB
Mobile support: Yes
Bluehost is somewhere in the middle – not the cheapest, not the most expensive on our list. It is not the most advanced email client, at least on the starter plan, but not a basic one either. It represents the perfect choice for the vast majority of people.
There are four plans to choose from – Essential, Plus, Choice Plus and Pro. Each of them has its own specs, as well as different prices. The cheapest plan starts at $2.95 a month. The Plus, Choice Plus and Pro email package comes with Microsoft 365 – suitable for company meetings.
The cheapest plan offers 50GB of storage space, a domain name email, Outlook web access, and world class security standards. The plus plan offers unlimited of storage space, Microsoft Teams, 365, and 1TB OneDrive.
Then, you have the Pro plan, with extra mobile apps and multiple device access – definitely an option for large businesses that require seamless connectivity.
All plans come with regular updates for security, anti-spam and antivirus protection. A guaranteed 99.9% uptime is also worth some attention for consistency.
The dashboard management is intuitive and straightforward – even if you've never used such an email account before. Should any issues arise, there is 24/7 expert support at your disposal.
Pros
Excellent middle choice based on price and features
Top notch security features
Three packages for a custom experience
Intuitive and straightforward dashboard
Free domain on all plans
Cons
Will most likely renew at a higher price
Free domain doesn't include domain privacy
Bottom line: Bluehost is a fairly cheap email hosting provider offering access to more plans, ranging from basic features suitable for everyone to advanced features suitable for large companies.
---
8. Domain.com – Good for a more professional business approach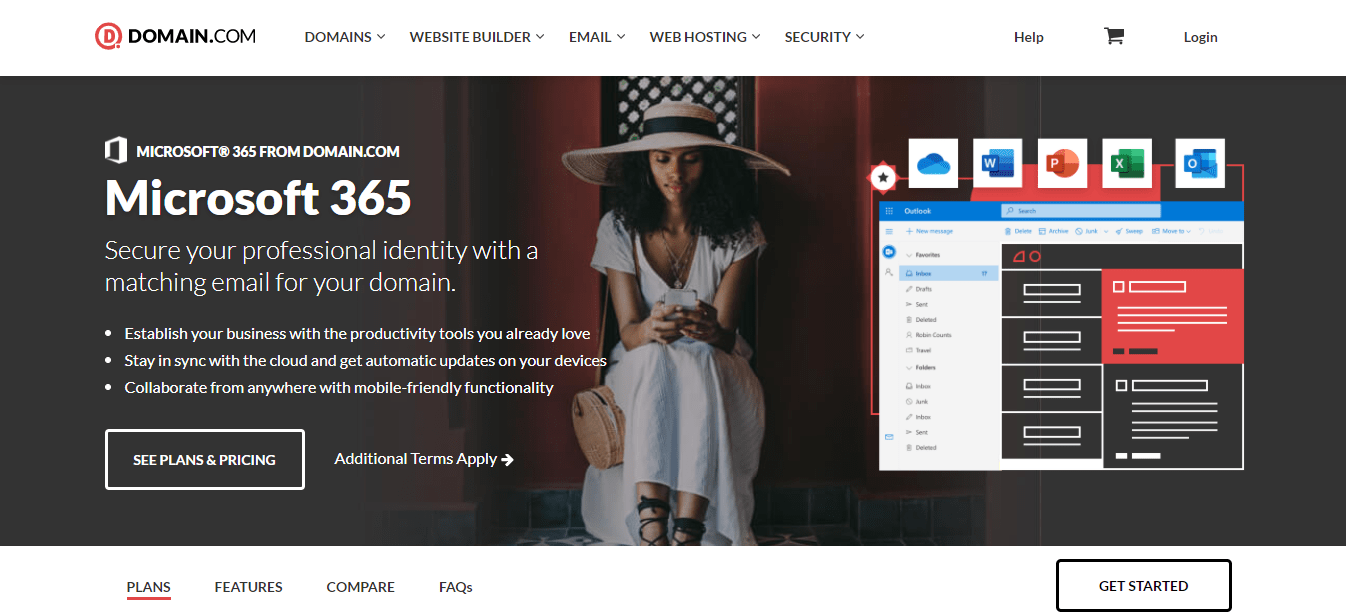 Webmail: Microsoft 365
Protocols: SMTP, IMAP, POP3
Security: SSL, 2FA, malware and spam protection from Microsoft
Storage: 15GB
Mobile support: Yes
You just can't go wrong with Domain.com's cheap email hosting and the wide variety of choices out there. You have three different plans, and each of them features its own specs – as well as some common extras.
Having an email address and domain name that matches the business name is a professional aspect. You have access to Outlook webmail too, so you can check your email from any internet-connected device.
Spam and malware viruses are up to date and feature the latest technology standards from Microsoft. The 99% uptime is guaranteed, regardless of the email package you choose for your business.
Microsoft 365 tools and features are implemented in all plans. The essential plan has 15GB of storage, a built-in business class calendar, and the familiar interface of Microsoft Outlook.
The business plus package has 50GB of storage and 1TB OneDrive for business cloud storage. Finally, the business pro package offers a bunch of extra apps and features – syncing, appointments, and others.
The basic plan is quite enough for small businesses and individuals. The more expensive one is suitable for large corporations. Most companies can do with the middle option, though.
If there is one thing to complain about, that is the fact that it makes no difference how you pay. You could pay monthly, or you could pay yearly – there are no discounts, not a single cent.
That's good for those who like monthly payments, but not great for those who hope to save money by buying long-term deals.
Pros
Three plans to choose from
Deep implementation of Microsoft and its services
More storage space that you might need
Unique extras for more expensive plans
Cons
No discounts for long term plans
No access to Microsoft Office and Microsoft Teams for starter plan
Bottom line: Microsoft's influence on Domain.com's cheap email hosting is obvious and gives users a sense of confidence. Packages are professional and well put together, so they're clearly worth some attention. Though you may need to choose the higher plans to access Microsoft's full features.
---
9. Web.com – Best Deal Email Hosting Package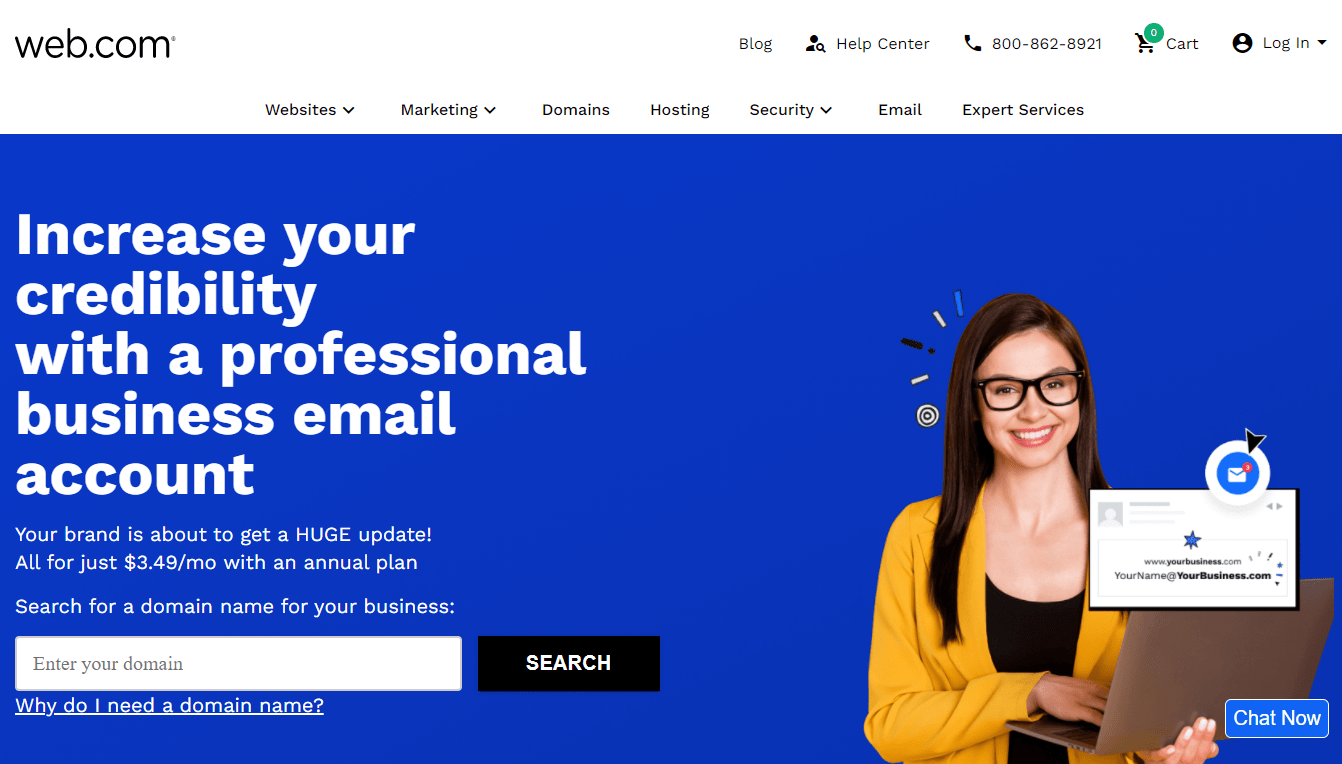 Webmail: Web.com webmail
Protocols: IMAP, POP3
Security: SSL, Domain Privacy, Antivirus Protection, Anti-phishing and Spam Filtering
Storage: 25GB
Mobile support: Yes
The cheap email hosting from the Web.com is more than getting an email account. It's the best deal out there for email hosting.
Organization shouldn't be a problem either – built-in business calendar, contacts, notifications, and tasks. Plus, the email account is accessible from any device out there, regardless of the location.
There is only one package to purchase, and it comes with 25GB of storage. You can create more aliases, which help with outgoing emails – everything will be sent to the main account, though.
As your business needs grow, you can add more storage space and pay a bit extra, yet 25GB is usually enough for most businesses.
As for extras, you have anti-spam features and antivirus scanning for each incoming email or attachment, only to prevent potential security issues.
A free domain name is included with the email address – handy if you need to build a website later on. Domain privacy is also included. As for payments, it's cheaper to pay annually than monthly – just $3.49 a month.
You'll see potential savings as you proceed to the checkout. Pay for two years, and you'll save even more money over this time frame.
Pros
Different savings for payments
25 aliases for each mailbox
Free domain name and privacy included
Multiple email addresses supported
Cloud storage
Cons
Bottom line: The cheap email hosting from Web.com is not a bad choice if you want a stable, scalable, and well-organized email provider. Its email has limited features unlike the Hostinger and Name.com which uses and advance email suite.
---
FAQs
Still undecided or unsure about certain aspects?
What is the message attachment limit?
The limit depends on which provider you choose. You can find hosting providers offering up to 10MB, as well as providers allowing you to attach files up to 250MB in size. The higher limit is most commonly associated with premium packages.
Can I use Outlook with my new email?
Most cheap business email providers will allow integrating your new email address into Outlook – or different other systems. It's not a general rule, so it's worth double-checking the integration capabilities upfront.
What should I expect to pay for cheap email hosting?
Email hosting will cost anywhere between $1 and $10 on average – per month. In order to stay competitive, many providers keep the prices between $1 and $2, but they also remove unnecessary extras.
Based on your business needs, you may also need to pay over $10 a month.
What does a hosted email service mean?
To keep it simple, a hosted email service is basically a dedicated email service. Servers are operated on your behalf.
You can use the email account just like any other. However, you will look more professional by having a custom address – such as [email protected].
Is there any Way I can use a free hosting with my domain name?
Of course! Check out our step by step guide on how to avail a free domain email hosting.
Wrapping up..
As a short final conclusion, we've provided the best cheap email hosting options on the market based on our tests and research.
Some of the above-mentioned providers are cheaper than average and will cost you around $1 a month. Some others are more suitable for large businesses and can cost way over that range.
Deciding on cheap email hosting is not always about the price or features, but about finding a middle solution – at the end of the day, you want good value for money.
Don't sacrifice important features and personal needs to save a few cents a month. Over a year, you won't even notice the difference in your budget anyway, so put your needs first.