7 Free Timeline Makers You Can Use for Your Blog Post
This post may contain affiliate links. Please read our disclosure policy.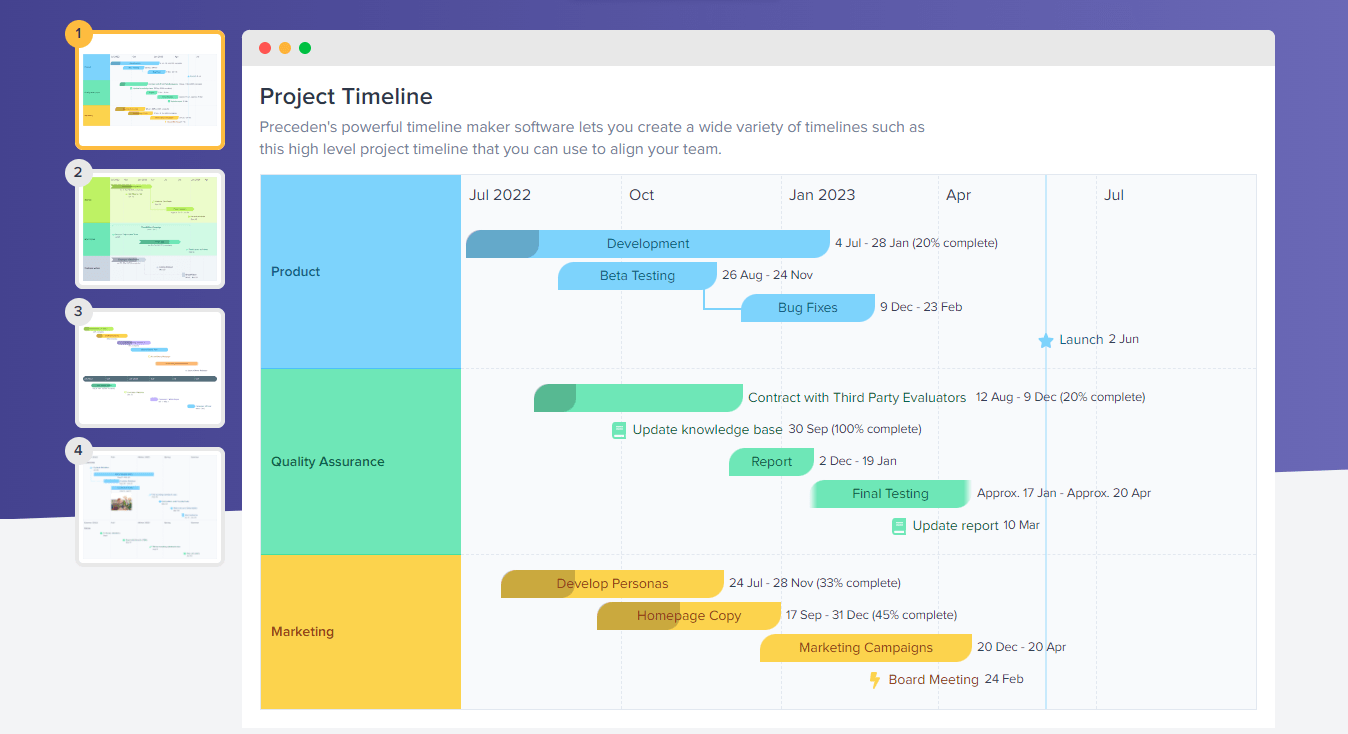 A timeline maker can be a valuable tool for any website. By displaying a timeline of events in your blog post, a timeline maker can help to provide context and perspective for your website's visitors.
In addition, a timeline maker can also be used to highlight important dates or milestones. It can be used for a variety of purposes, including project management, budget flow, historical research, and event planning.
Today, we'll look at some of the best online timeline makers you can try. Best of all, they're absolutely free! You can add text, images, and videos to their timeline canvas, and can select from a variety of different timeline templates.
With a timeline maker, you may just find that it's the best way to engage and inform your visitors.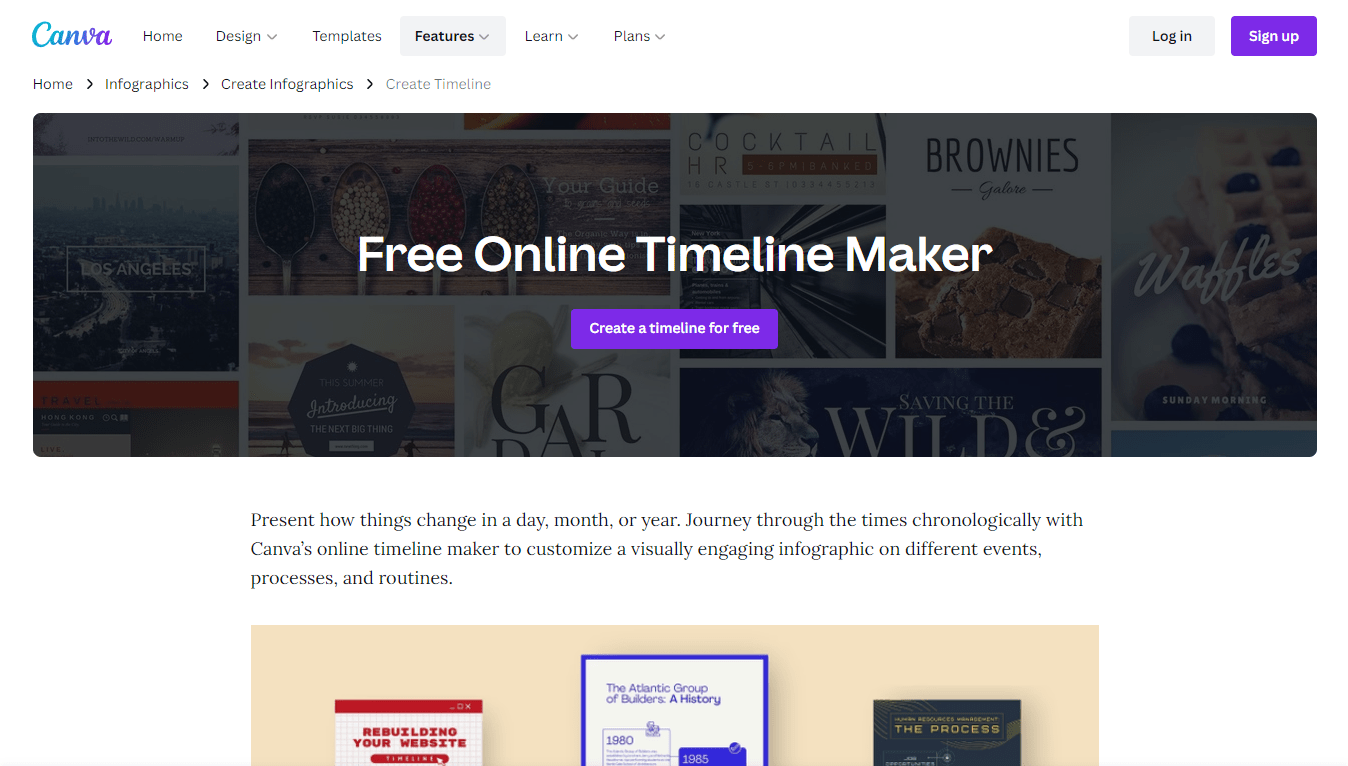 Canva is a user-friendly graphic design tool that anyone can use to create stunning designs. The Canva timeline maker is a great way to create visually appealing timelines that can be used for various purposes, such as presentations, reports, or infographics.
With the Canva timeline maker, you can easily add text, images, and shapes to your timeline, and then customize the colors and fonts to match your brand. You can also share your timeline with others via email or social media.
You can download your work in JPEG, PNG, and PDF.
Best of all, the Canva timeline maker is free to use. If you're looking for an easy way to create a beautiful timeline, you can start with Canva.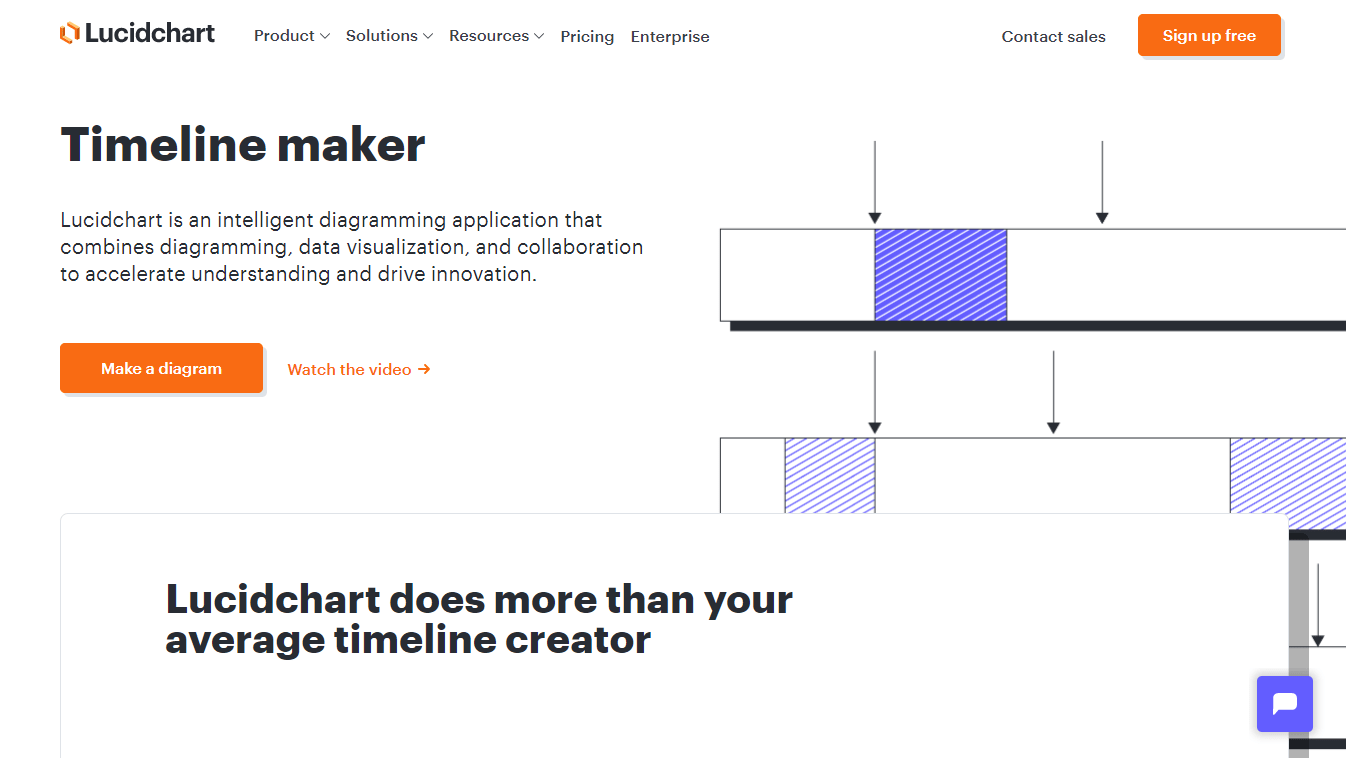 Lucidchart's timeline maker is the perfect tool for creating professional-looking timelines. With its easy-to-use interface, you can quickly add events and customize their appearance.
You can also add photos, videos, and other multimedia content to your timeline to make it more engaging.
Likewise, you can import from Visio, Gliffy, Draw.io, and Omnigraffle to start your own project. You can also choose from different templates available.
You can publish your work in JPEG, PNG, SVG, Visio, CSV and PDF formats.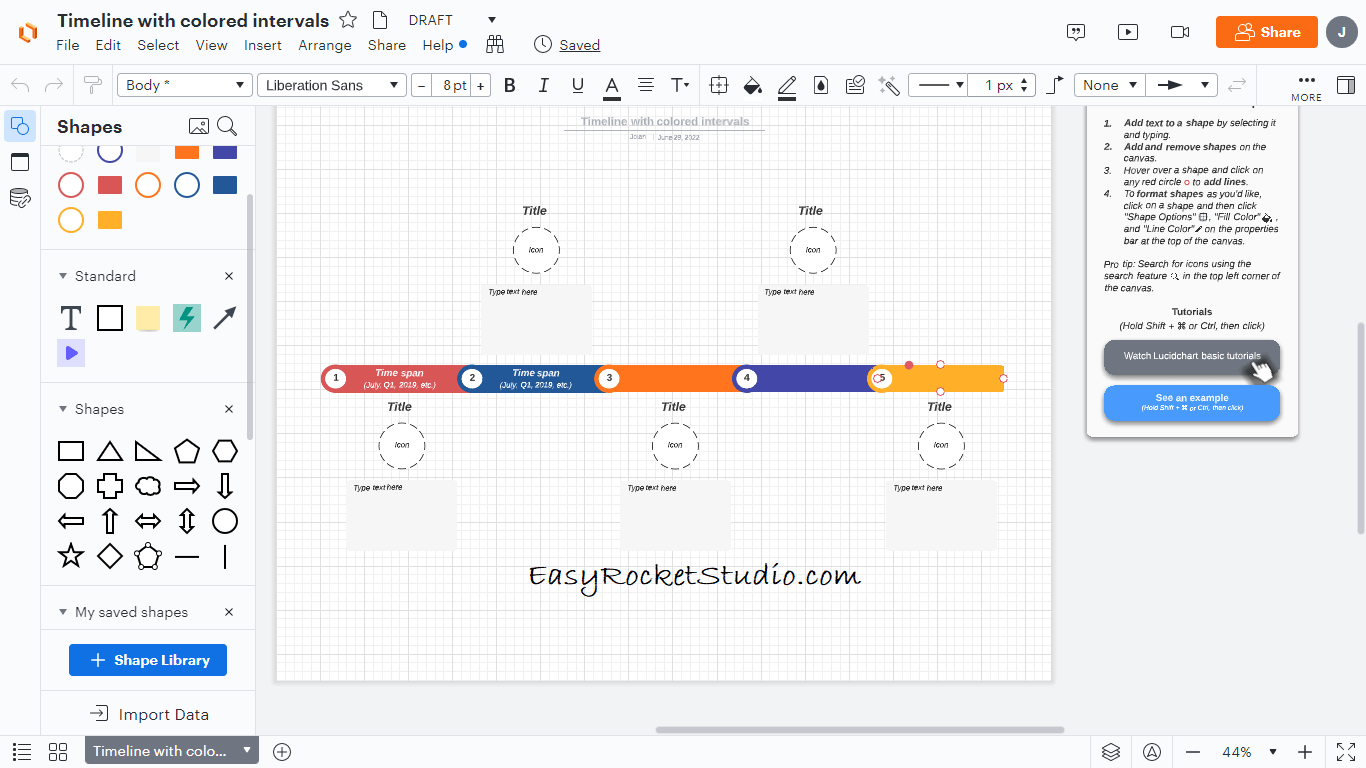 Best of all, Lucidchart's timeline maker is free to use, so you can create timelines for your personal or professional projects without breaking the bank.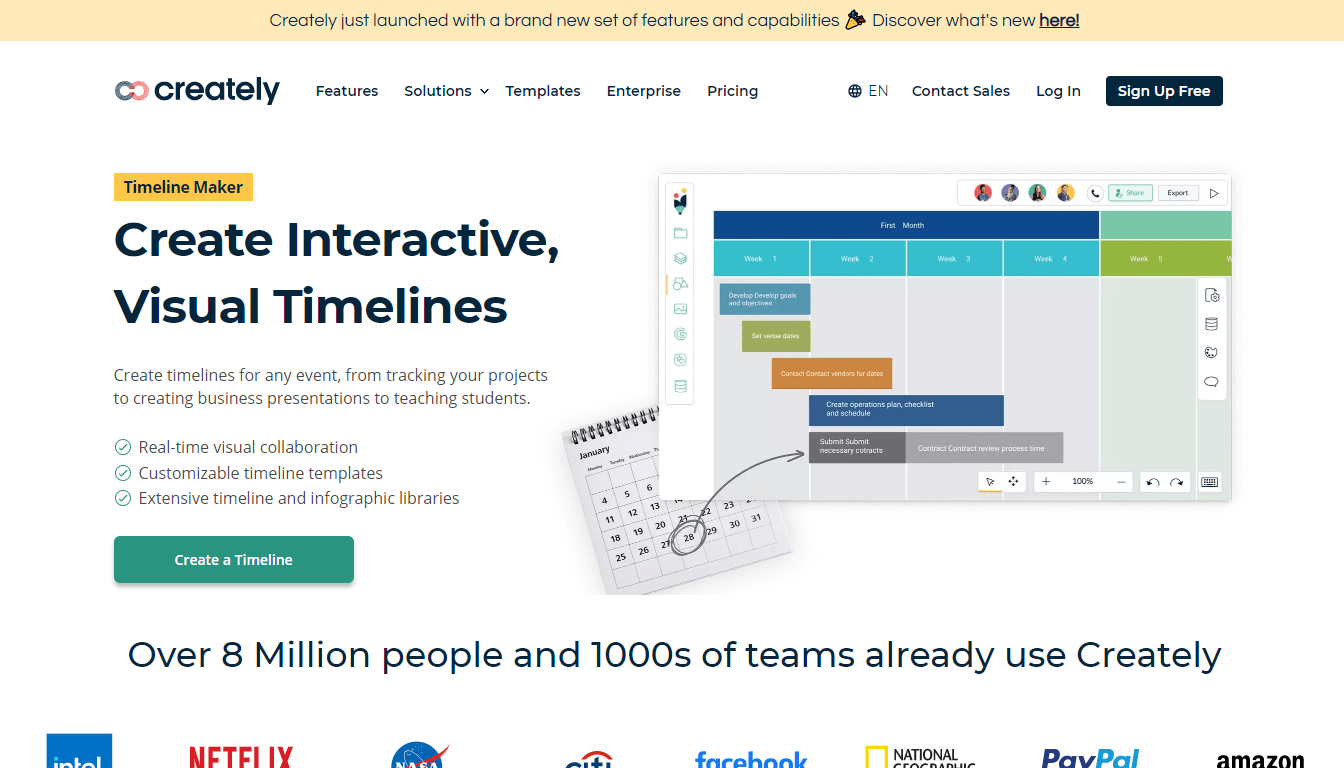 Creately is a cloud-based diagramming and collaboration platform that helps users visualise and communicate ideas, concepts and processes with ease.
Creately timeline maker is a great tool for creating timelines for presentations, businesses, and personal use. You can easily create an event timeline, company timeline, or business timeline with Creately.
Creately's timeline maker enables users to import images, vectors and documents into the canvas to create stunning timelines.
The infinite canvas allows users to scale up to 1000s of items in a single view. Embedded previews of documents and assets help users to present their timelines in an engaging and professional way.
And when you're ready to share your timeline, you can export it as an SVG, PDF, JPEG, or PNG.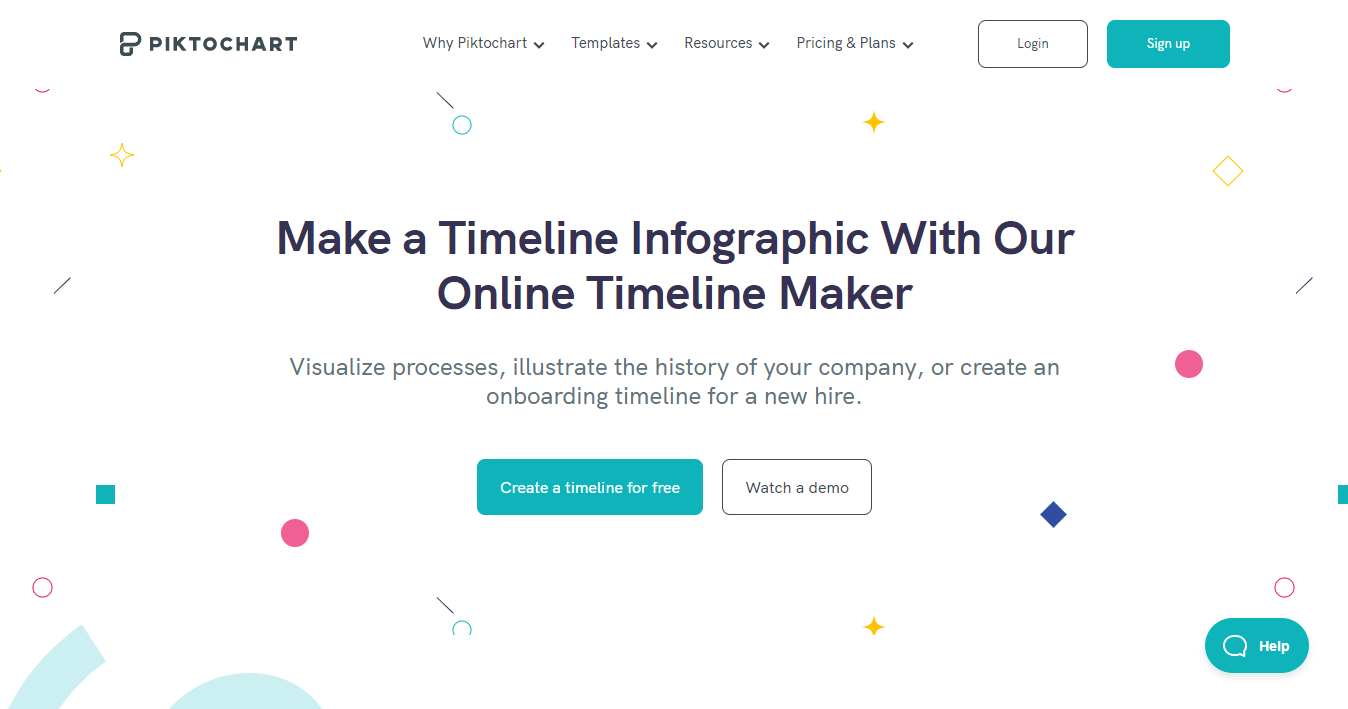 Piktochart is a free online service that makes it easy to create and share beautiful timelines.
With Piktochart, you can easily add text, photos, and videos to your timeline, and then use our drag-and-drop interface to rearrange your content.
You can also customize the appearance of your timeline, choosing from a variety of fonts, colors, and background images.
Simply enter your data into the Piktochart timeline maker and then download your graphic as a JPG, PNG, or PDF file. Piktochart makes it easy to share your timelines with others and to add them to your website or blog.
TimeGraphics is a timeline maker that allows users to create visually stunning timelines. The software is easy to use and comes with a wide range of features, making it a great choice for those looking to create professional-looking timelines.
One of the key features of TimeGraphics is its ability to allow users to add photos, videos, and other media to their timelines. This makes it a great tool for creating visual representations of historical events or telling stories.
TimeGraphics also offers a range of templates and layouts, so users can easily create timelines that match their specific needs.
What's great about TimeGraphics is it has multiple formats to choose from – PDF, PNG, JPG, PPT, DOC, XLS, JSON, XML and even TXT.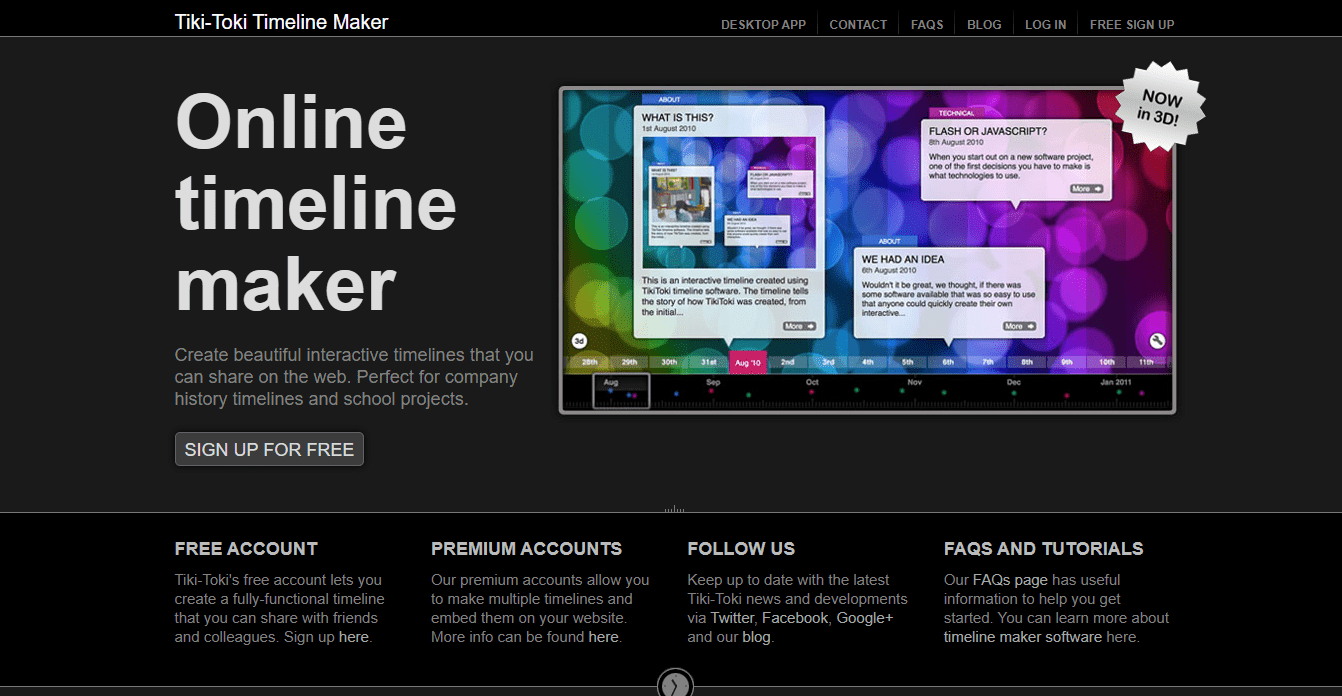 Tiki-Toki is a timeline maker that allows users to create beautiful, interactive timelines.
Tiki-Toki timelines can chronicle any subject, from personal history to world events. Tiki-Toki timelines are easy to make and can be customized with a variety of skins, fonts, and colors.
With the free account you are limited to one timeline with 50 events. However, you can view your timeline in multiple ways, including embedded Youtube and Vimeo videos. You can also share your timeline with others, colour-code stories, and choose a background image.
You can export your graphical timeline into PDF, CSV, JSON, or HTML formats.
Tiki-Toki also offers a range of premium features, such as the ability to create five timelines, embed timelines into your website and group editing.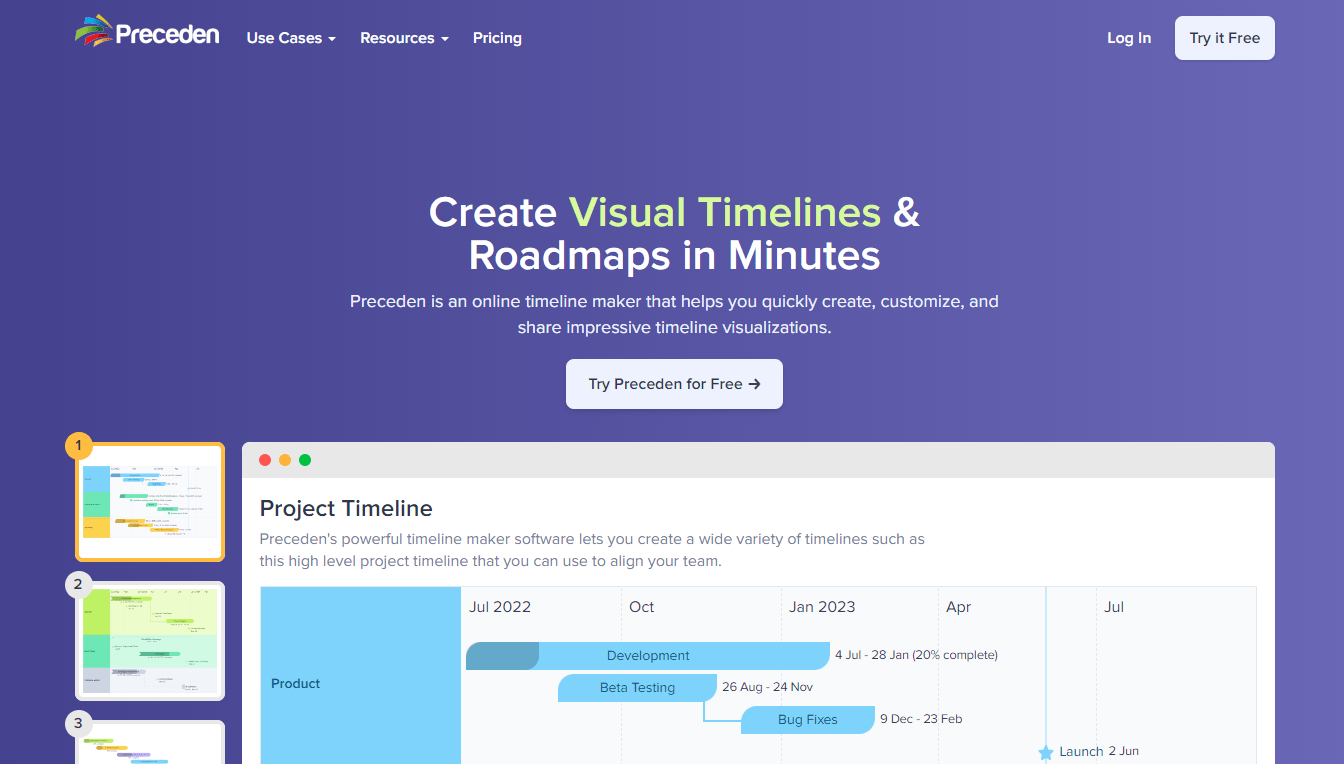 Preceden is a powerful timeline maker that helps you quickly create beautiful timelines. It's simple to use; just enter your events and Preceden will automatically arrange them in chronological order.
You can customize the look of your timeline with colors, fonts, and images, and Preceden makes it easy to share your timelines with others.
Preceden also provides a variety of templates to choose from, or you can create your own custom template.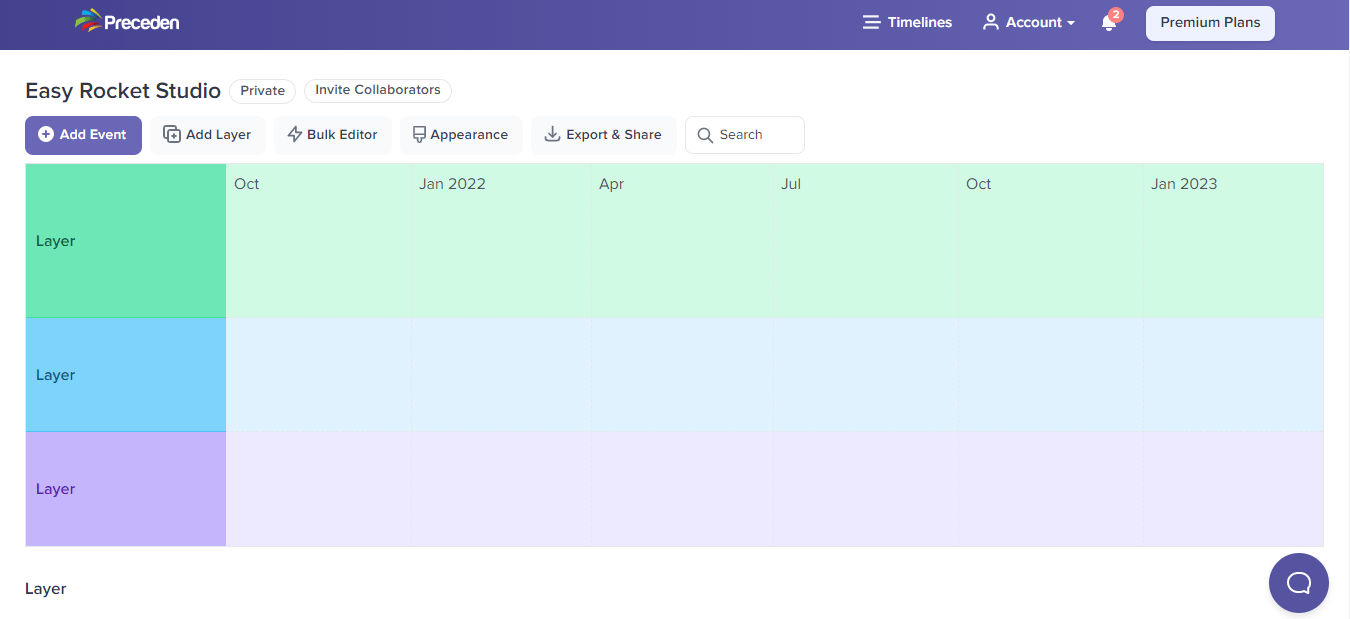 When you are done creating your timeline, you can export it in PDF, JPEG, Keynote, PowerPoint, CSV, Excel or even embed it in your website.
What's the Difference Between Timeline and Infographics?
Timelines and infographics are both visual tools that can be used to communicate information. However, there are some key differences between the two.
Timelines typically depict information chronologically, while infographics are more flexible in their arrangement.
Additionally, timelines often include more textual information than infographics, which rely primarily on images and symbols. Finally, infographics are generally more concise than timelines; they are designed to convey a large amount of information quickly and effectively.
Ultimately, the choice of timeline or infographic depends on the specific needs of the project. Both can be powerful communication tools, but each has its own strengths and weaknesses.
What are the Uses of Timeline?
One of the most popular uses for timeline is to track the progress of a project. This can be particularly useful for large projects which may span multiple teams and departments.
For example, creating a website can be a daunting task. By creating a timeline, you can achieve your desired output and deadline by following each order of event.
By creating a timeline, project managers can easily see where each team is at in terms of completing their tasks, and identify any potential bottlenecks. Additionally, timeline can be used to monitor the performance of individual team members.
This can be helpful in identifying underperforming employees, or those who may need additional training.
Finally, timeline can also be used simply as a way to organize information. This is often done chronologically, but timeline can also be used to create categories and sub-categories. This can be helpful when trying to find specific pieces of information quickly.
In each case, timelines can help us make sense of data and find new ways to improve our understanding of the past, present, and future.
Where Can I Share or Submit My Timeline?
There are a few ways you can share or submit your timeline.
One way is to post it on a project management forum or website. This can be a great way to get feedback from other project managers and timeline experts.
Another way is to submit your timeline to a journal or blog dedicated to project management. This can help to showcase your work and give you some exposure to a wider audience.
Another way would be to submit it to a timeline directory or search engine. Be sure you host your timeline in a reliable host if you want them viewed quickly by your audience.
Finally, you can also present your timeline at a conference or workshop. This can be a great way to network with other professionals and get some valuable feedback on your work.
Whichever way you choose to share or submit your timeline, make sure you do so in a professional and polished manner.