8 Free Online Image Optimizers to Optimize Your Images
This post may contain affiliate links. Please read our disclosure policy.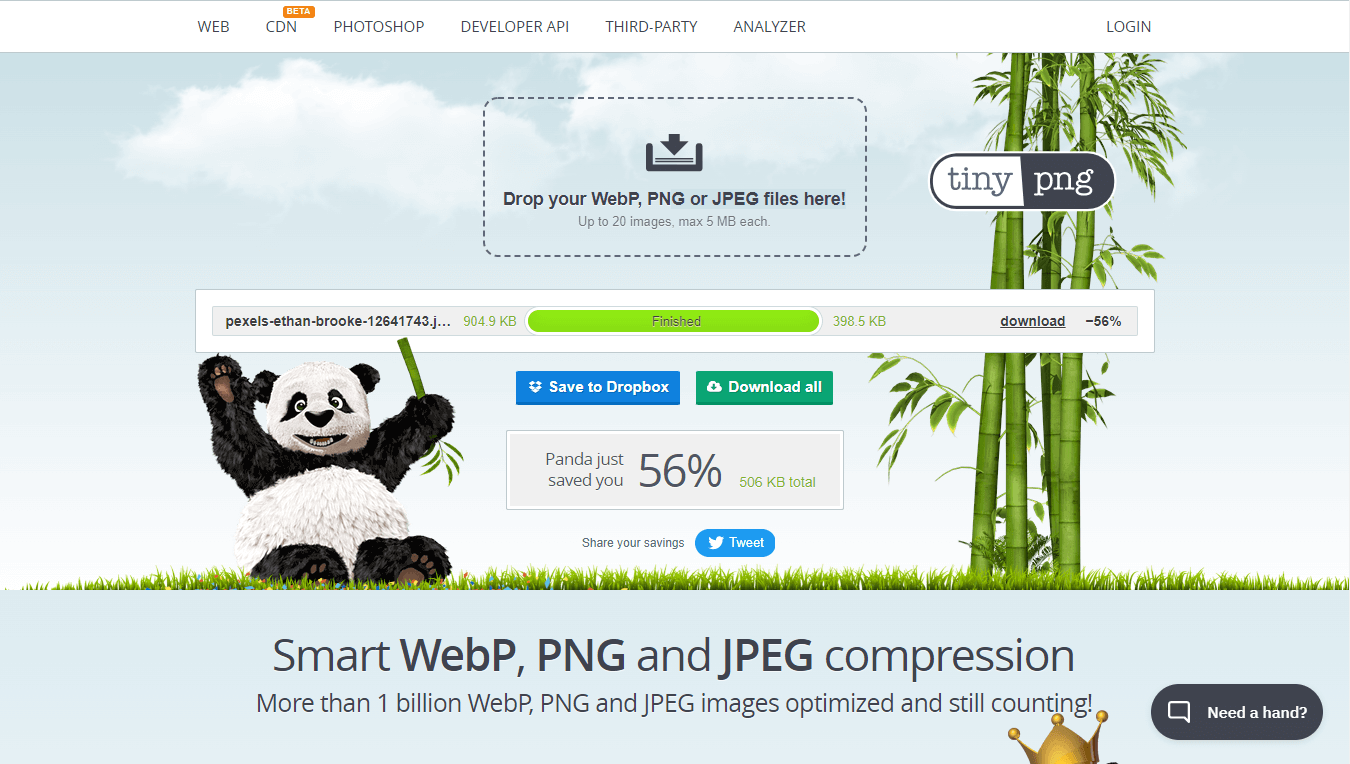 Images are an essential part of any online content, but they can also be one of the biggest sources of page bloat. Uncompressed images can take up a lot of space, slowing down page loading times and eating into your bandwidth.
An online image optimizer is a great way to optimize your images for the web. By using an optimizer, you can reduce the file size of your images without sacrificing quality. This can help improve your website's loading time and make your site look better overall.
Today we'll share our top picks for the best online image optimizer out there.
What is an Image Optimizer?
An image optimizer is a software tool that helps to reduce the file size of digital image files. The file size of an image can be reduced by compressing the image – that is, by reducing the amount of data that is required to represent the image.
Lossless vs Lossy Compression
There are two main types of image compression: lossless and lossy.
Lossless compression retains all of the image data, while lossy compression discards some of the data in order to achieve a more efficient encoding. Image optimizers typically use algorithms specifically designed for image data in order to achieve the best possible results.
When used effectively, image compression can drastically reduce file sizes without noticeably affecting image quality.
8 Free Online Image Optimizers
We will be testing each online optimizer to see which is better at compression at default settings. Since I am using a compression plugin, I'll be using Google Drive to store the compressed image for you to check its quality after compression.
Test image link: Original Test Image | Original size: 340KB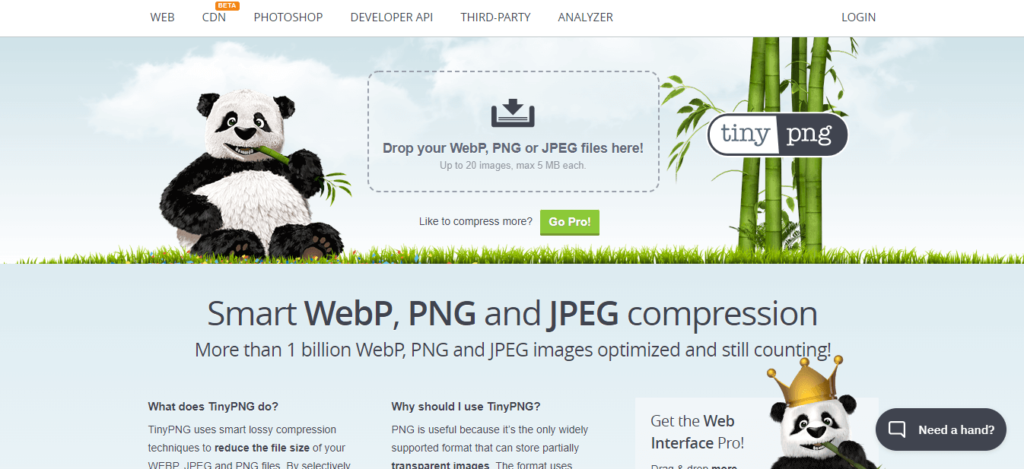 TinyPNG is a image optimizer that can compress WebP, JPEG and PNG formats. It is a great tool for optimizing images for websites. It's easy to use and it doesn't require any registration. You can't customize the settings of compression though.
TinyPNG is free to use for personal and commercial use. It's quick and easy to use to optimize your images. Simply upload your image and let TinyPNG do its job. In just a few seconds, TinyPNG will compress your image and you'll be able to download the optimized version.
You can also continue to optimize your images by compressing multiple images at once up to 20 with a maximum of 5MB per image.
If you have a WordPress website, their simple plugin tool can optimize your images inside your website automatically.
Compression Result: 238KB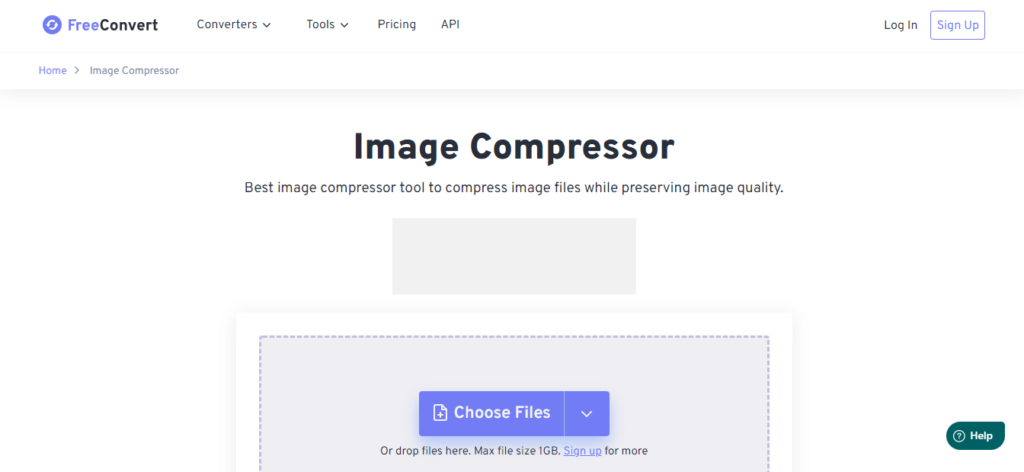 FreeConvert is a free image optimizer that can compress JPEG, GIF, PDF, PNG and even Video formats. You can also save the compressed image to Google Drive or Dropbox.
With FreeConvert, you can easily compress images without losing quality. It doesn't have the same customization options like TinyPNG, but it's still a great tool for quickly compressing images.
It does not require a software download or registration and supports widely used image formats such as JPEG, GIF, and PNG. You can compressed multiple images at once with a maximum of 1GB per image. You can choose images to compress from your device, Google Drive, Dropbox or from a URL.
FreeConvert's video compression tool optimizes video between popular video formats such as AVI, MPEG, WMV, MOV, and FLV.
Compression Result: 173KB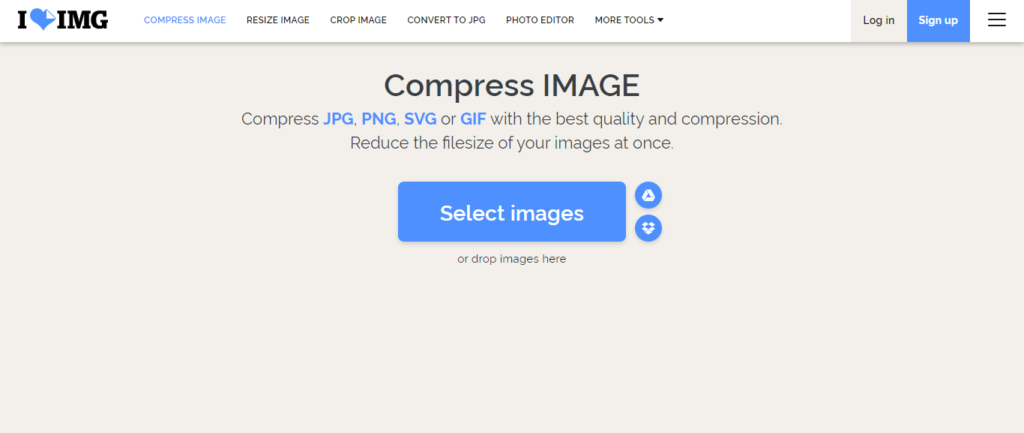 iLoveIMG is a convenient way to optimize your images for web use. It can compress JPEG, PNG, SVG or GIF files.
Simply select the desired file format or drag-and-drop the image into the iLoveIMG interface. It supports selection of files on your Google Drive or Dropbox. iLoveIMG will automatically compress the image and after compressing, you have the option to edit your image.
It has tools to rotate your image, add watermark, resize, crop or even convert to other format. You can also share your compressed image to Google Drive or Dropbox. You can even create a QR code to download into your phone.
In addition, iLoveIMG offers a bulk optimization option for users who need to optimize multiple images at once.
iLoveIMG is available in English, Spanish, Portuguese, French, German, Italian, Dutch and Chinese.
Compression Result: 188KB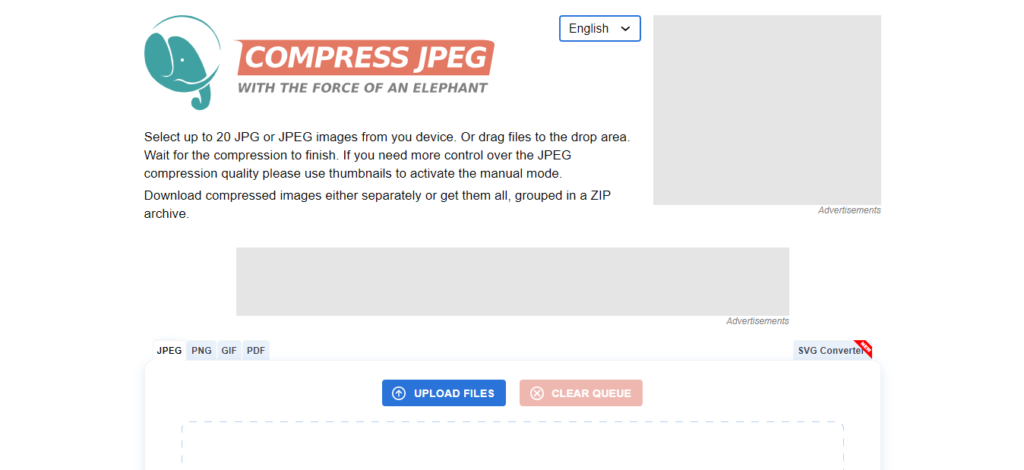 This image optimizer is one my favorites. After you compress your image, you can choose a higher compression option.
You can preview your image and compare its compression differences.
CompressJPEG also offers a wide range of advanced features, such as batch processing and support for multiple file formats like JPEG, PNG, GIF, PDF and SVG.
Though by default it has 90% quality, you can adjust it to your desired result.
Compression Result: 332KB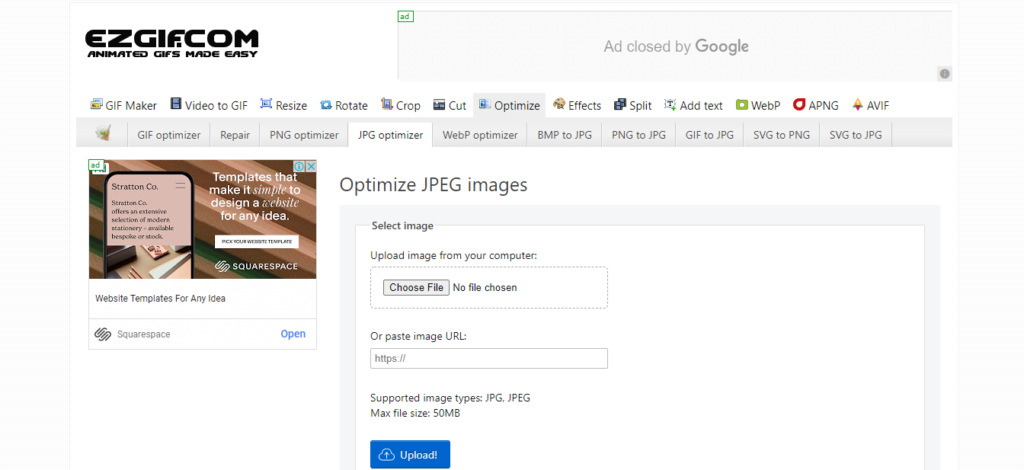 ezGIF is a cutting-edge image optimizer that can help you to reduce the size of your image files without compromising on quality
What's different about this image compressor is that you can choose the optimization level before you can start the optimization process. You can choose the best quality or small file or you can choose from different levels from 0 to 100.
After uploading your images, you have many options to do your image before optimizing. You can crop, resize, rotate, add effects and many more.
ezGIF can optimize GIF, JPEG, PNG and WebP.
You can select files from your device or URL with a maximum size of 50MB per image.
Compression Result: 318KB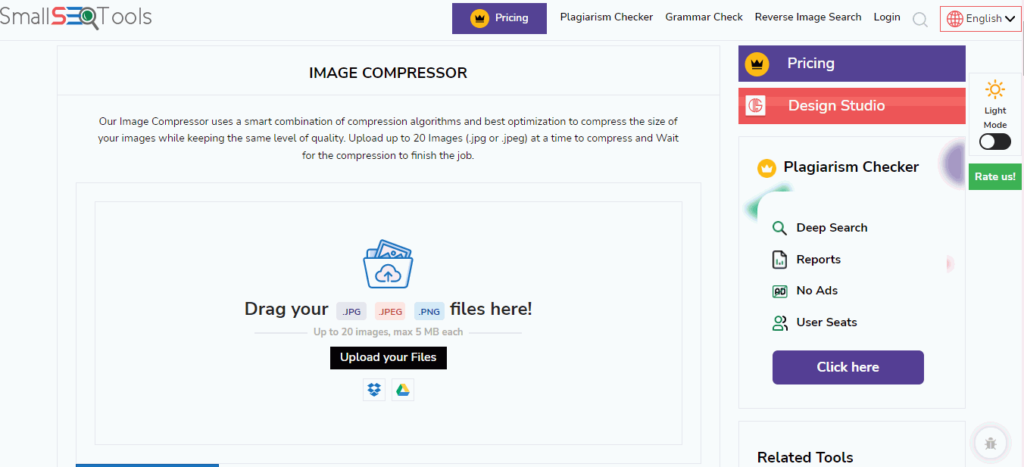 SmallSEOTools is not just an image compressor. It has other tools like plagiarism and grammar checker.  Its image compressor is one of the easiest ways to compress your images.
The online tool is free to use, and it only takes a few seconds to get started. Simply upload your image from your computer, Google Drive or Dropbox. It can only compress JPEG and PNG.
A maximum of 20 images are allowed for batch compression and 5MB maximum size per image. By default, this tool will only compress images at maximum compression. You can check the result below.
SmallSEOTools Image Compressor is ideal for website owners who want to optimize their images for faster loading times.
Compression Result: 128KB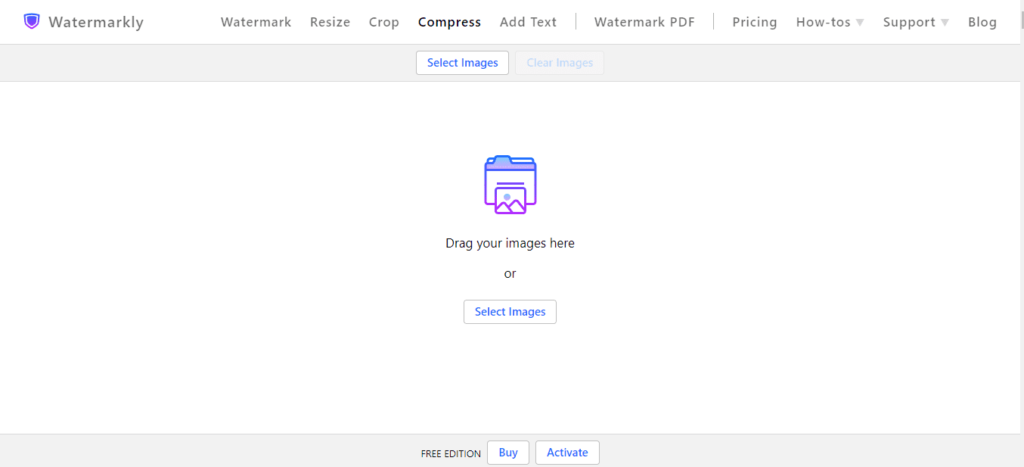 Watermarkly can let you compress JPEG, PNG or GIF images in seconds. Simply upload your image from your computer, Google Drive, Google Photos or Dropbox, select your desired compression level, and download the compressed file.
Watermarkly also offers a batch compression feature, which lets you compress multiple images at once. This can be particularly useful for bloggers and webmasters who often need to optimize their images for faster loading times.
In addition to JPEG compression, Watermarkly also offers PNG compression and GIF compression. Watermarkly is also available in multiple languages.
Compression Result: 150KB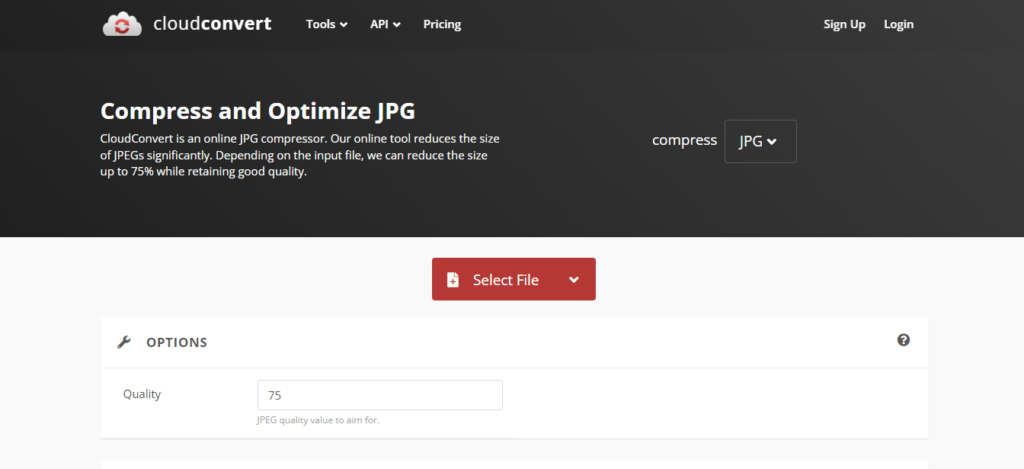 Our final list of image optimizer is CloudConvert. This tool supports only JPEG and PNG compression. You can choose how much level of compression you'd like your images compressed.
You can upload images from your computer, URL, Google Drive, Dropbox or OneDrive.
CloudConvert has a lot of image optimization tools such as image converter. You can choose to convert your photos to WebP for maximum optimization for the web.
Compression Result: 172KB
Compression summary for image optimizers from the original uncompressed test image of 340KB:
[list icon="icon: file-image-o" icon_color="#0fce15″ indent="0″]
TinyPNG – 238KB
FreeConvert – 173KB
iLoveIMG – 188KB
CompressJPEG – 332KB
ezGIF – 318KB
SmallSEOTools Image Compressor – 128KB
Watermarkly – 150KB
CloudConvert – 172KB
[/list]
Online Image Optimizer VS WordPress Image Optimization Plugin
Online image optimizers are quick and easy to use. Just upload your image, choose your settings, and download the compressed version.
WordPress image optimization plugins, on the other hand, require a little more setup. But once they're up and running, they can automate the process of optimizing your images for you. Compared to an online optimizer, optimization plugins have limited compression levels.
So which should you use? It depends on your needs. If you're just looking for a quick and easy way to compress your images, an WordPress plugin is probably your best bet. As a part of your cost of hiring SEO, you can lessen your cost by using free image optimization tools.
But if you want more control over the process, or if you need to optimize a lot of images in higher level of compression, an online compressor is probably a better choice.
To Summarize
Online image optimizers are a great way to make your images take up less file space, without sacrificing any quality. We've recommended 8 of the best online optimizers out there, and we hope you'll give them both a try.
With smaller image files, you can speed up your website loading time and provide a better experience for your visitors – all while reducing the strain on your server.
Have you tried using online image optimizers before?