15+ Best Shopify Themes for Dropshipping Business 2022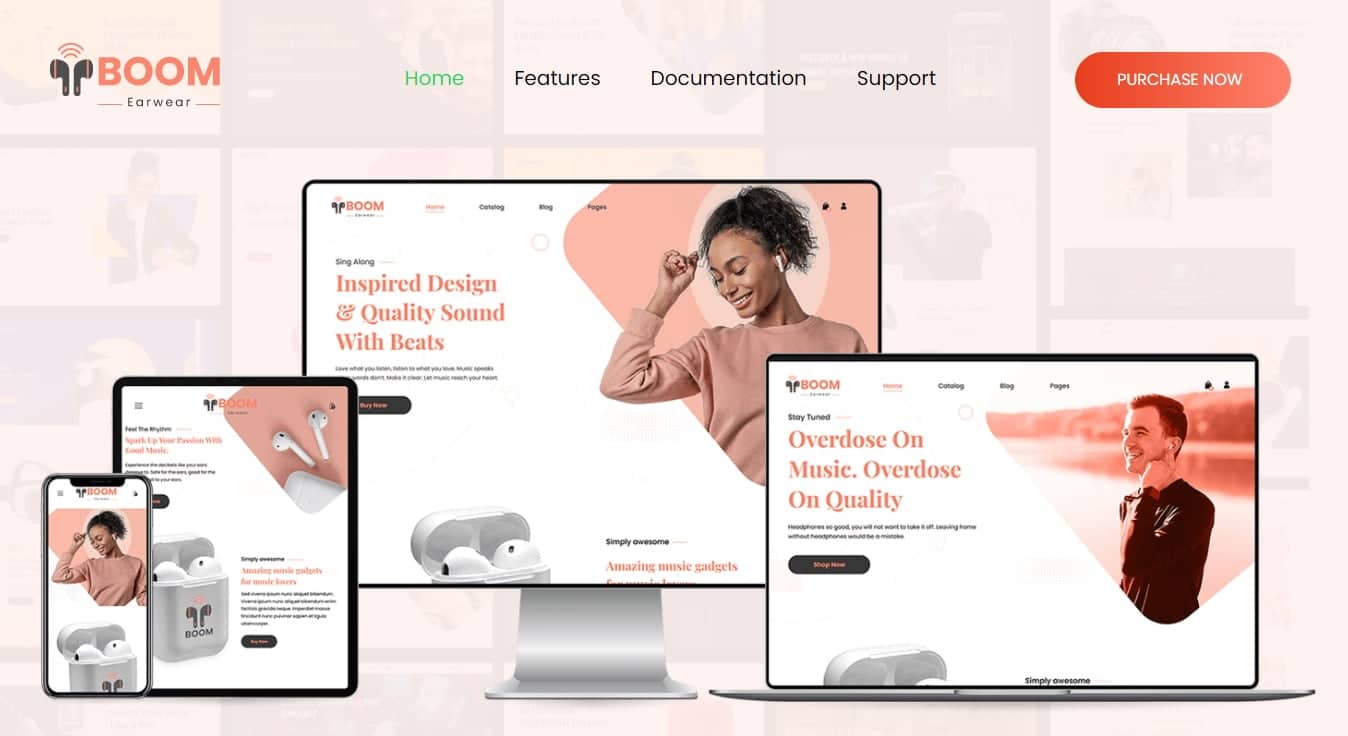 Shopify is the most popular platform for dropshipping businesses, and there are tens of thousands of themes available for their platform. In this blog post, we're going to look at the best Shopify themes for dropshipping businesses.
We'll be considering factors such as design, features, and ease of use. If you want to start a successful dropshipping business, then you need to choose the right theme for your store. Let's get it on!
Best Shopify Themes for Dropshipping
In this list, we researched and collected the best themes for dropshipping. These themes are responsive, feature-rich and newbie-friendly.
When starting dropshipping, choose fewer products and as you grow, scale up.
First on our list is the Boom. This theme is a responsive, single page product theme. In its homepage, you will be greeted with a wide slider to let your customers know a wide view of what you are selling. There are many sections in the homepage where you can describe thoroughly your product to dropship.
Moreover, Boom has 70+ demo templates you can choose from. It has the important features you need in a Shopify theme. Mainly, the dynamic product filtering so that your customers find the right color, availability, price or product type.
Boom also features like mega menu, color options, product quick view and multiple layout options.
Download
Demo
---
Looking to start dropshipping beauty products and cosmetics? Oworganic Shopify Theme is the perfect starting point!
This theme is packed with features that will make your store look great, and is easy to use – even if you don't have any coding experience.
With a responsive design, your customers will be able to shop on your store no matter what device they're using. And with powerful built-in 9+ homepage customization options and 8+ product layouts to choose from, you'll be able to create a unique look and feel for your cosmetic store that represents your brand perfectly.
Download
Demo
---
Ella is the perfect theme to help skyrocket your sales and put your products in the spotlight. This theme is great for apparel stores and can also be used for dropshipping.
With 22+ homepage and skin layouts, 9+ shopping pages, 12+ product page layout options, and multiple headers and footers, Ella gives you everything you need to create a beautiful dropshipping store that engages and converts shoppers into customers.
And thanks to the gorgeous banner and product blocks featured on all of these pages, your products will look better than ever before! So if you're looking for a theme that can help take your business to new heights, Ella is definitely the perfect choice.
Download
Demo
---
If you're looking for a versatile, feature-rich Shopify template that can handle pet foods and accessories dropshipping store, Kate is your one-stop shop theme.
This Shopify multipurpose design theme is perfect for dropshipping stores, offering a professional and user-friendly experience for your customers. It has one demo template though but still rich in features such as multi-currency support, customizable homepage, Ajax add-to-cart, pop-up product quick view and more!
With Kate, you can easily create a sophisticated online dropshipping store that focuses around pet lovers.
Download
Demo
---
Looking for a versatile Shopify theme that can handle any kind of business? Look no further than Optimal theme! This powerful theme comes packed with all the features you need to create a successful dropshipping store.
With drag-and-drop sections and exclusive features, Optimal makes it easy to customize your site and get your business up and running in no time. What I like about this theme is it's optimized not just for users but also for search engines.
This theme has 21+ demo templates and that includes the phone case demo. So if you're into phone case dropshipping, then Optimal is your perfect theme to start with.
Moreover, theme customization is your partner to achieve your desired store. It has several header layouts as well as its footer. It also has several product layouts you can choose from. Plus it is packed with premium Shopify plugins such as megamenu, wish lists, product countdown, product quick view and so much more!
Download
Demo
---
Votto is another single page theme we listed here. This theme is highly customizable from header to footer. You can start creating your dropshipping store in minutes with its demo templates.
With a sleek and modern design, Votto will help showcase your product in the best light possible. Plus, with powerful features like built-in search and social media integration, you'll be able to connect with potential customers from all over the web.
Votto has 8+ demo templates for homepage, header and footer. In addition, it has various premium plugins included such as megamenu, wish lists, popup advertise, product countdown and stock notification.
If you're looking to start dropshipping a single product then this theme might be just the right one for you. With Votto, you'll get a beautiful and professional website that will help you sell your product in style.
Download
Demo
---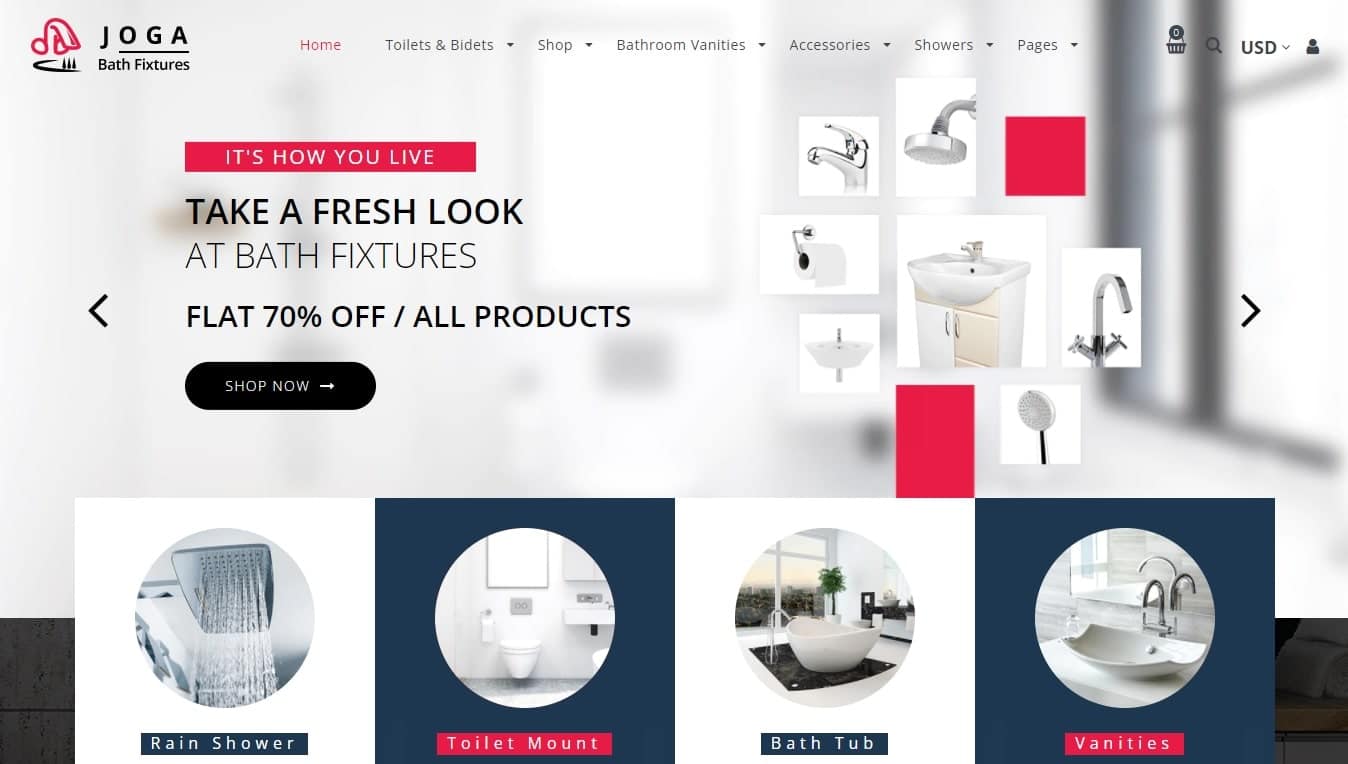 Looking to start selling bath accessories online? Then we'd like to introduce you to  Joga Shopify theme.
This theme has everything you need to create a stylish and user-friendly dropshipping store that will attract customers from around the globe. With well-categorized page layouts and a shop page specifically designed for displaying your products, Joga is perfect for any bath accessory store.
Download
Demo
---
Elessi is another multipurpose theme in our list. If you happen to dropship bags, clothing, pet accessories, jewelries, furniture or cosmetics, you may try this theme out.
With Elessi, you'll enjoy an easy to use, fully customizable theme for dropshipping. This sleek and stylish Shopify Theme features unique product filtering, unique compare, multiple ajax off-canvas, wish list and cart sidebar, product quick view, and so much more. With 20+ demos, you'll not stuck with small ideas in terms of design.
Download
Demo
---
Vendy is the perfect choice for anyone who wants to start dropshipping clothes, shoes or other fashion supplies. It has a simple clean design that suits any kind of online fashion store.
With its 17+ homepage demos to choose from, you will not ran out of any design ideas. Features like compare, popups, mosaic section, dynamic product filtering, make this theme a great starting point to build your store.
Vendy has also pre-built demos for product pages so you can better view how will store look like when you get this theme.
Download
Demo
---
Are you into personal care niche? Glow may be the perfect Shopify theme for you. With tons of features and a responsive, cross-browser compatible design, your customers will have an amazing shopping experience.
This responsive theme is packed with features that will make it easy for you to create a beautiful and professional online store. It has 2 different header styles as well as its footer. Of course you have the drag-and-drop visual page builder to create the style of your liking. There is also the filter product feature, swatches options and currency and language selector.
Download
Demo
---
With Minimog, you'll get the most advanced and conversion-optimized Shopify theme on the market. This theme is one of the best selling themes on Themeforest. Let's see why this theme emerges at the top of its competition.
Minimog is a perfect for any kind of dropshipping store, and comes with over 60+ demos to choose from. There are lot of rooms to design your store. Whether its fashion, home accessories, jewelries, electronic gadgets or cosmetics, you are covered.
Plus, with FoxKit – the exclusive app that comes with Minimog – you'll have everything you need to set up and manage your store quickly and easily.
Download
Demo
---
Looking for a modern and responsive Shopify theme that's perfect for your furniture or electronics dropshipping store? Barberry might be your top one choice!
This theme is fully responsive and retina ready, so your customers will love the beautiful high-resolution displays. Plus, Barberry comes packed with features like customizable homepages and product pages.
With Barberry, you'll have a professional and polished website that will help you stand out from the competition.
Download
Demo
---
Ready to take your Shopify store to the next level? Woodmart is a powerful responsive Shopify theme that has everything you need to create a fast, modern and user-friendly store.
With 10+ niche demos and layouts, Woodmart makes it easy to build the perfect online store for your any niche. Plus, with its easy-to-use customization tools, you can tweak every detail until it's just right.
Download
Demo
---
Aero is the perfect theme for auto parts and accessories dropshipping websites. With its sleek design and customizable features, you can create a website that looks great and functions perfectly.
You can showcase your products and services with large slideshows of beautiful car images, car parts and accessories. Plus, this theme is fully customizable so you can create the perfect website for auto business.
Download
Demo
---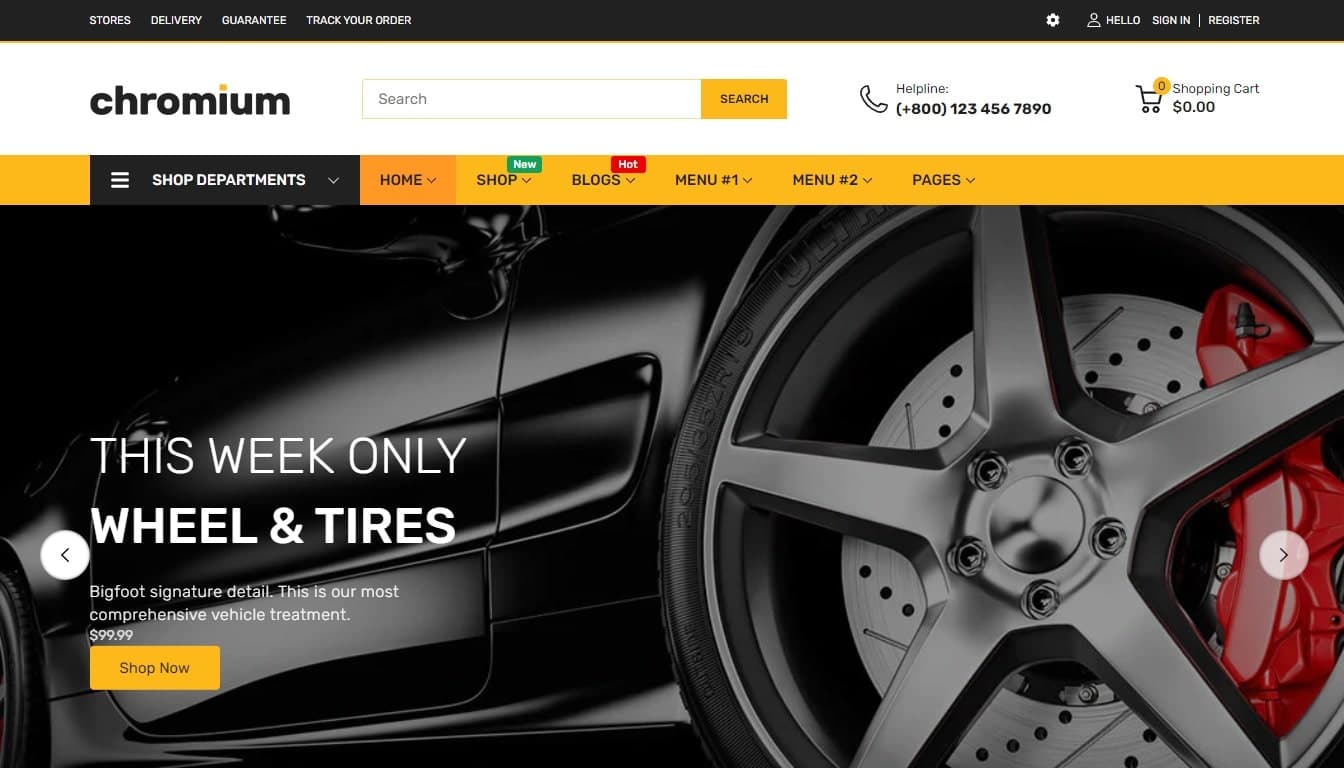 Chromium is yet another auto Shopify theme on our list. This theme is the perfect theme for your auto parts store. It's fast, modern, and features great plugins and theme options.
If you are planning to use this theme for auto parts dropshipping, no problem! This theme has parts finder built-in to make it easier for your customers to find auto parts.
With Chromium, you'll have a stunning site that attracts customers and helps you sell more auto parts.
Download
Demo
---
Can you dropship scooters? Of course you can! You can dropship anything as long you've find the trends stable. With the help of Escoot theme, you can start your scooter dropshipping business!
This theme is a single page theme dedicated to scooters. Well, you can always use this theme for other niche.
With its sleek, mobile-friendly design and easy-to-use features, Escoot makes it easy to set up and manage your one product shop. Plus, its handy built-in features will help you market your product like a pro.
Download
Demo
---
Are you planning to dropship baby accessories? Well, you've come to the right theme for that! With Baby Planet, you can easily engage with your customers, most likely parents.
With its fun and innovative design, this theme will give your shop an energetic edge that is perfect for showcasing children's clothes and toys. And with its easy customization options and one-click demo installation, you can quickly create a unique and eye-catching store that perfectly reflects your brand.
Download
Demo
---
Wrapping Up
Dropshipping is a great business model for new ecommerce entrepreneurs. It's simple to set up and manage, and it doesn't require a large up-front investment.
To be successful with dropshipping, you need to find the right platform and theme for your store.
But now that you know about the best Shopify themes for dropshipping stores, it's time to get started on your own store! These themes are perfect for entrepreneurs who want to create a professional and stylish online store without spending too much time or money on design and development.
So what are you waiting for? Start browsing through these themes and choose the one that's right for you. And if you need any questions, don't hesitate to reach out to us or comment below. We would be happy to give you a hand!